We are setting aside the baking today, but I promise it's for a good reason! I promise we will back to our regularly scheduled programming as soon as possible, but today, we are focusing something very exciting: my new apartment tour.
Kyle and I recently moved into a new apartment here in New York City, and we are loving how it has come together. We have had our fair share of apartments together—he has moved nine times in nine years, and I have moved six times in six years here in NYC.
Our new apartment is in Harlem, in the northern part of Manhattan above Central Park. Personally, I love the location of our apartment—I can easily go on runs in Central Park, and my commute to work each day is very convenient. We lived in Brooklyn for a few years, and I have to say I prefer being in the heart of Manhattan.
In today's post, I'm going to go through my apartment room-by-room to give you an overview! I'm also sharing a bit more of an in-depth look on my YouTube channel, so be sure to check that out below.
A quick note before we get into it: this post contains referral links for products I love and use myself. The Baker's Almanac earns a small commission on these links at no cost to you, and the links will always be marked with an asterisk.
The Kitchen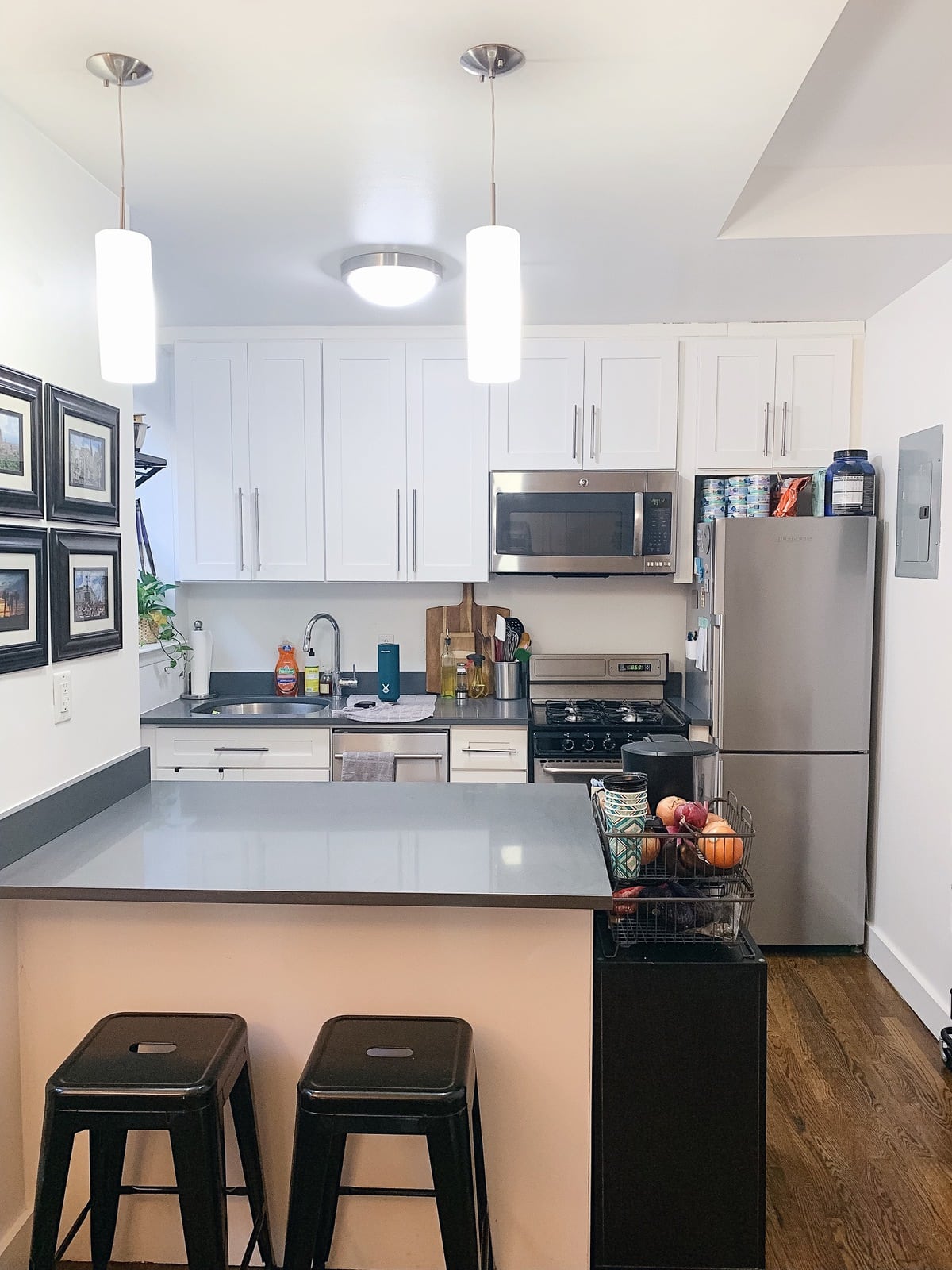 When we first toured the apartment, the kitchen was what sold me on the place. I love how open and modern it looks, and having a kitchen island like this is such a rare gem in NYC.
Our last apartment was definitely lacking in kitchen space, so this has been a major upgrade. Kyle and I can actually cook at the same time and not feel like we are constantly bumping heads. Honestly, it has been inspiring me to cook and bake more, which in turn means more content here on The Baker's Almanac.
The "Office"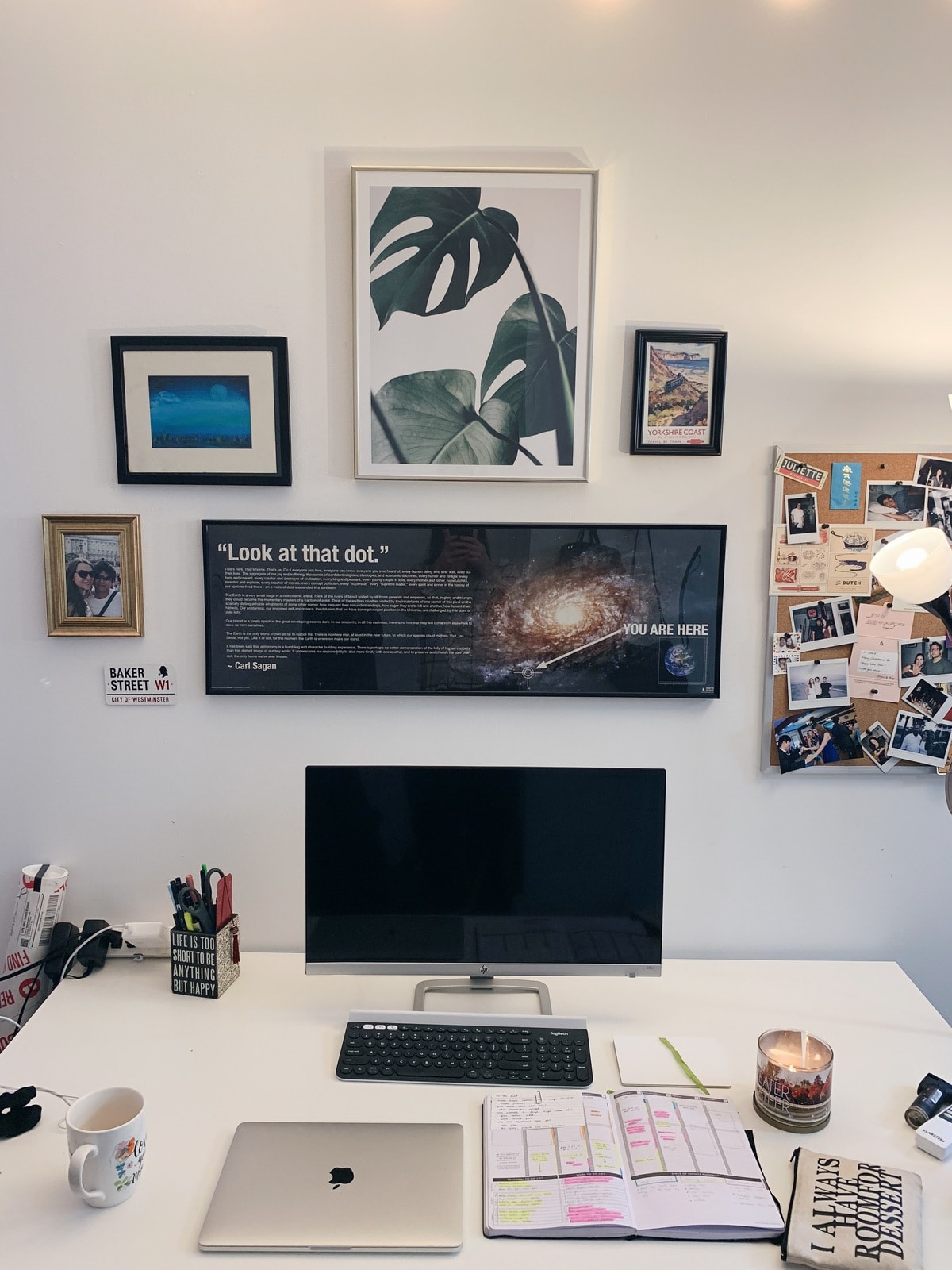 Next to our kitchen, we have our desk set up, and this is where I do blog work on my days off (and where Kyle works from home sometimes). I have to put 'office' in quotes because the kitchen/living room/office is really just one big room. Oh, the joys of apartment living!
At the desk, we usually hook our laptops up to our computer monitor* while we work, and we have a set of ALEX drawers on the left side of the desk for extra storage.
However, my favorite part of the office area by far is the gallery wall! I think I still might add a few more pieces, but I love how it's looking right now. Here's what we have on it:
The Carl Sagan poster is Kyle's, as well as the print of the night sky
I picked up the Yorkshire Coast postcard while on my solo trip in England
The photo on the left is of the two of us at Buckingham Palace
I actually also got the Baker Street sign from the Sherlock Holmes museum in London (can you tell I'm a bit of an Anglophile?)
The Monstera print and gold frame are from Desenio
Finally, we just have a bulletin board on the right side with various pictures and polaroids
I think this area will change and evolve over time, but I am loving how it's looking currently. Down the line, I am thinking of possibly getting another desk so that Kyle and I don't have to share, but I think this works fine for now.
Living Room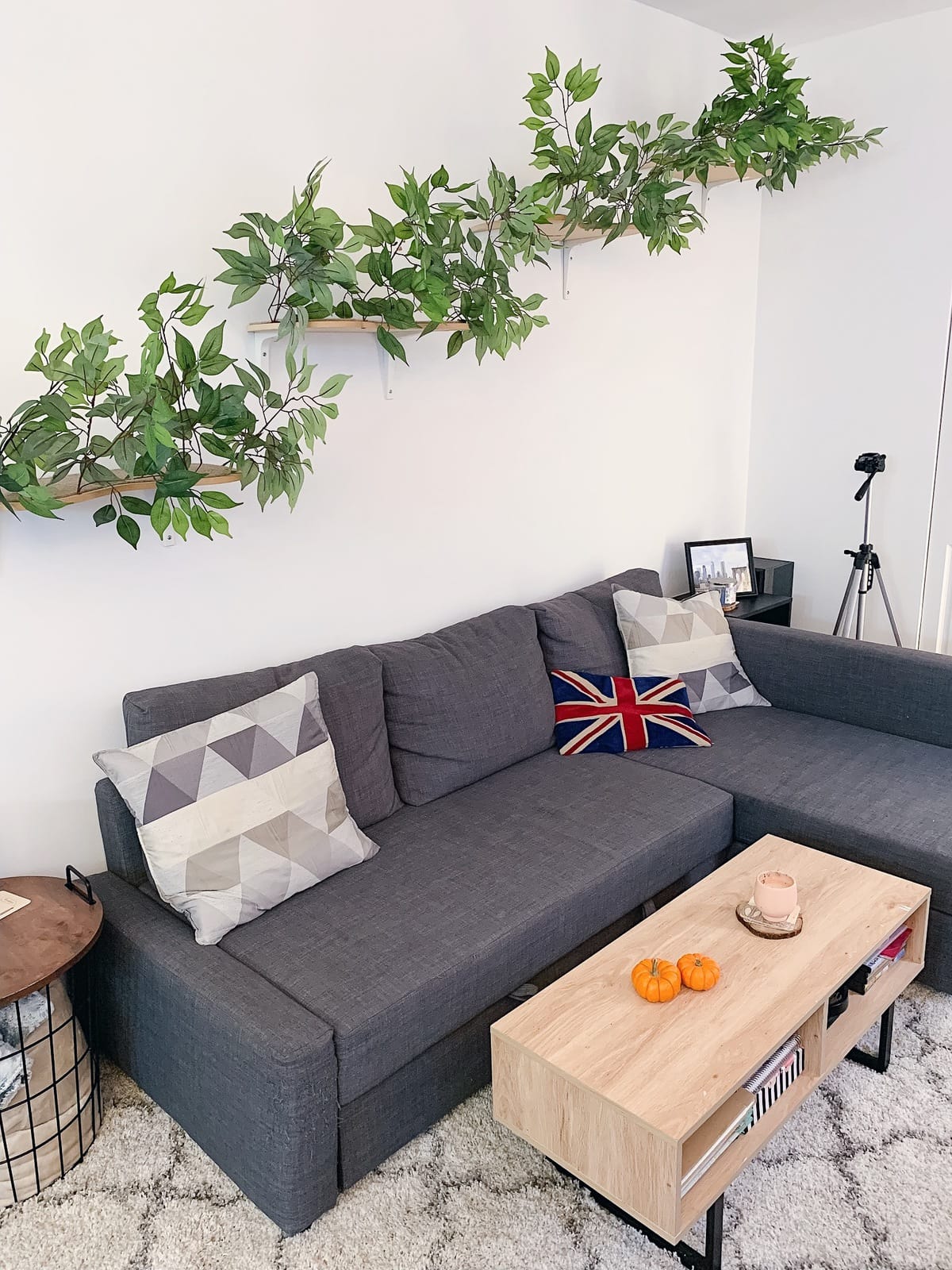 Turning around, you are in the living room! Like I mentioned, it's technically all one big room in this part of the apartment, but we have separated it into distinct areas.
To accommodate guests, we have a sectional that pulls out into a bed, as well as the world's tiniest coffee table. Our coffee table got a bit banged up during the move, so we might get a new one soon.
Above the couch, we have these amazing cat perches, and our cats are absolutely obsessed with them. They love to jump from the couch up to the first one, and then they run up and down them like crazy. They also like to just sleep on them or just peer down at us from time to time.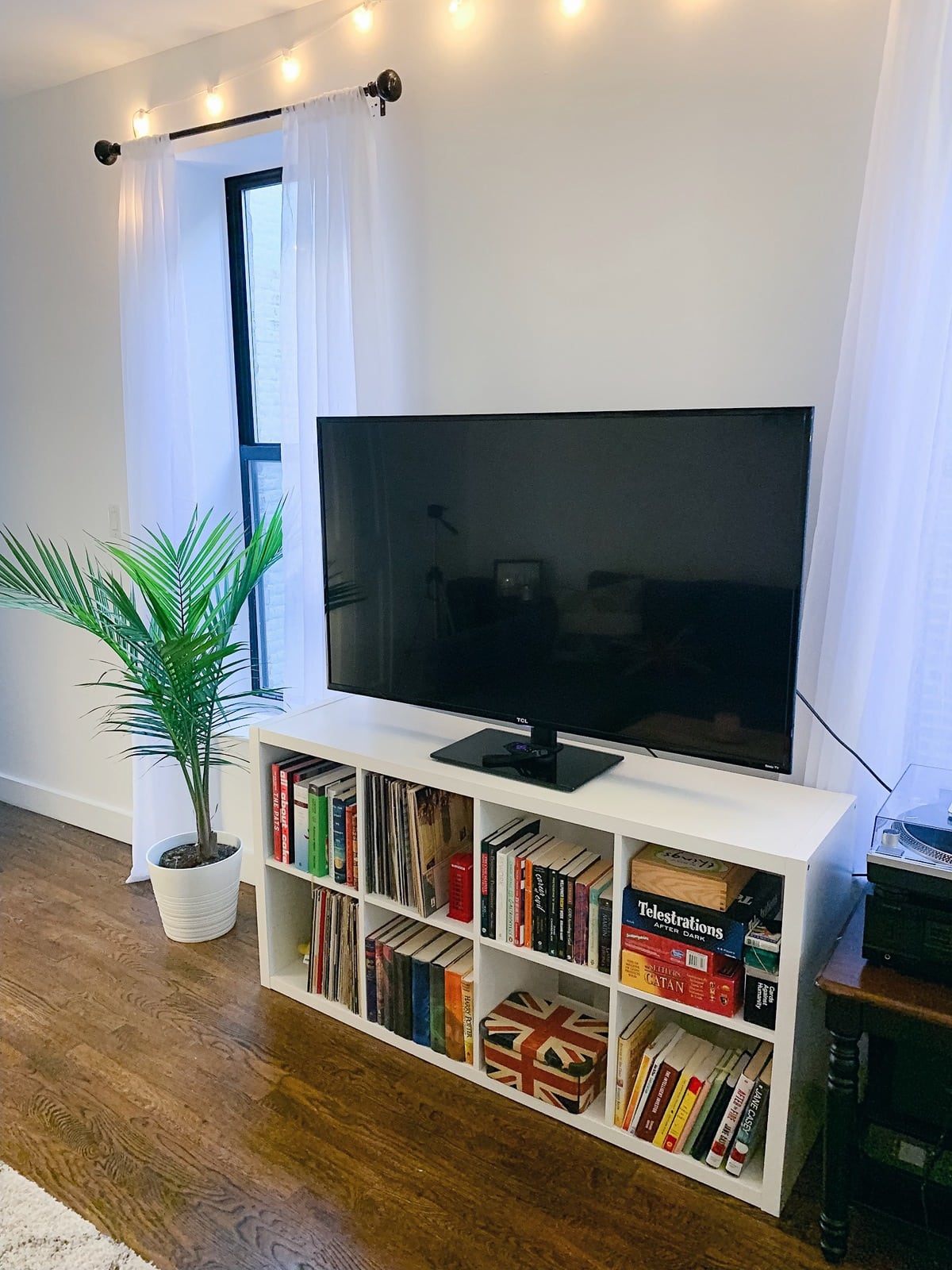 Across from the couch, we have our TV perched on top of this cube organizer, which holds all of our books, records, and board games.
We used to have our TV mounted on the wall, but it was a bit difficult logistically to mount it in this apartment. Anyways, I feel like the TV seems bigger sitting on top of the cube organizer as opposed to being on the wall. Does that make any sense, or am I just crazy?
Bathroom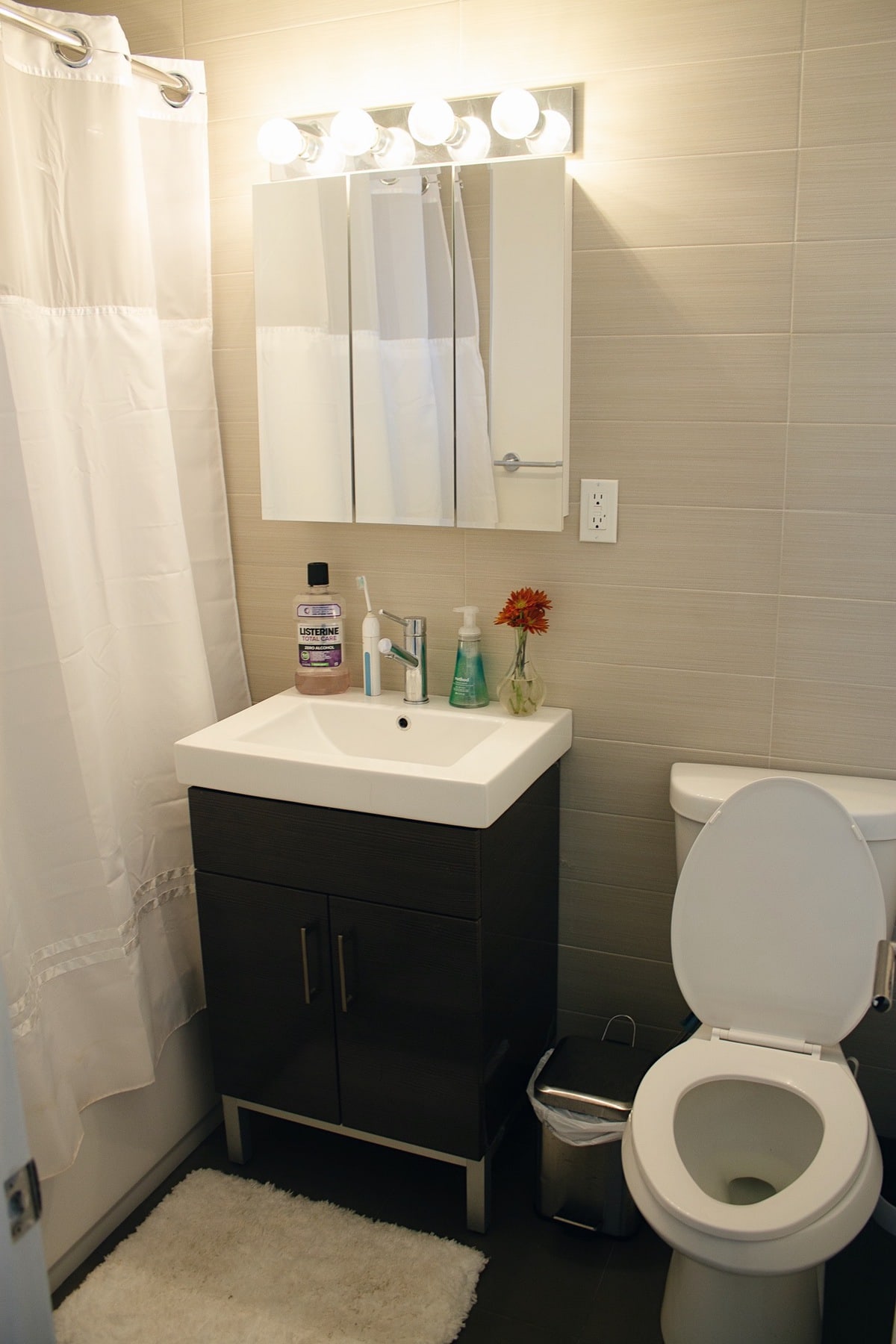 Moving down into the hallway, you will find our one and only bathroom. Personally, I think it feels a bit like a hotel bathroom, but I'm cool with that!
The Bedroom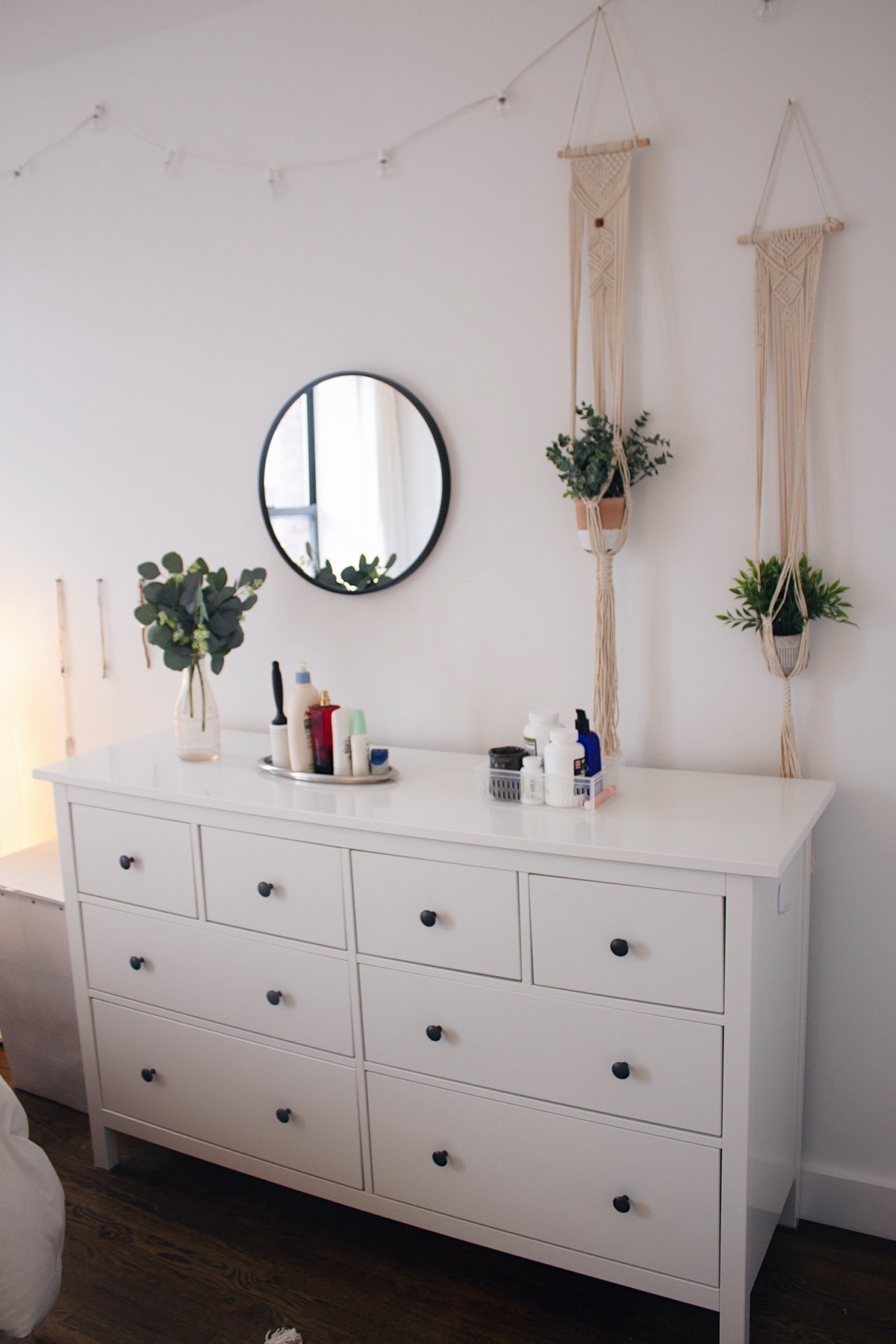 Last but not least, we have our bedroom! Since we are trying to keep our work and relaxing space completely separate, the bedroom only has a bed and a dresser in it (plus a few sleeping cats from time to time).
Here are some of my favorite pieces in our bedroom: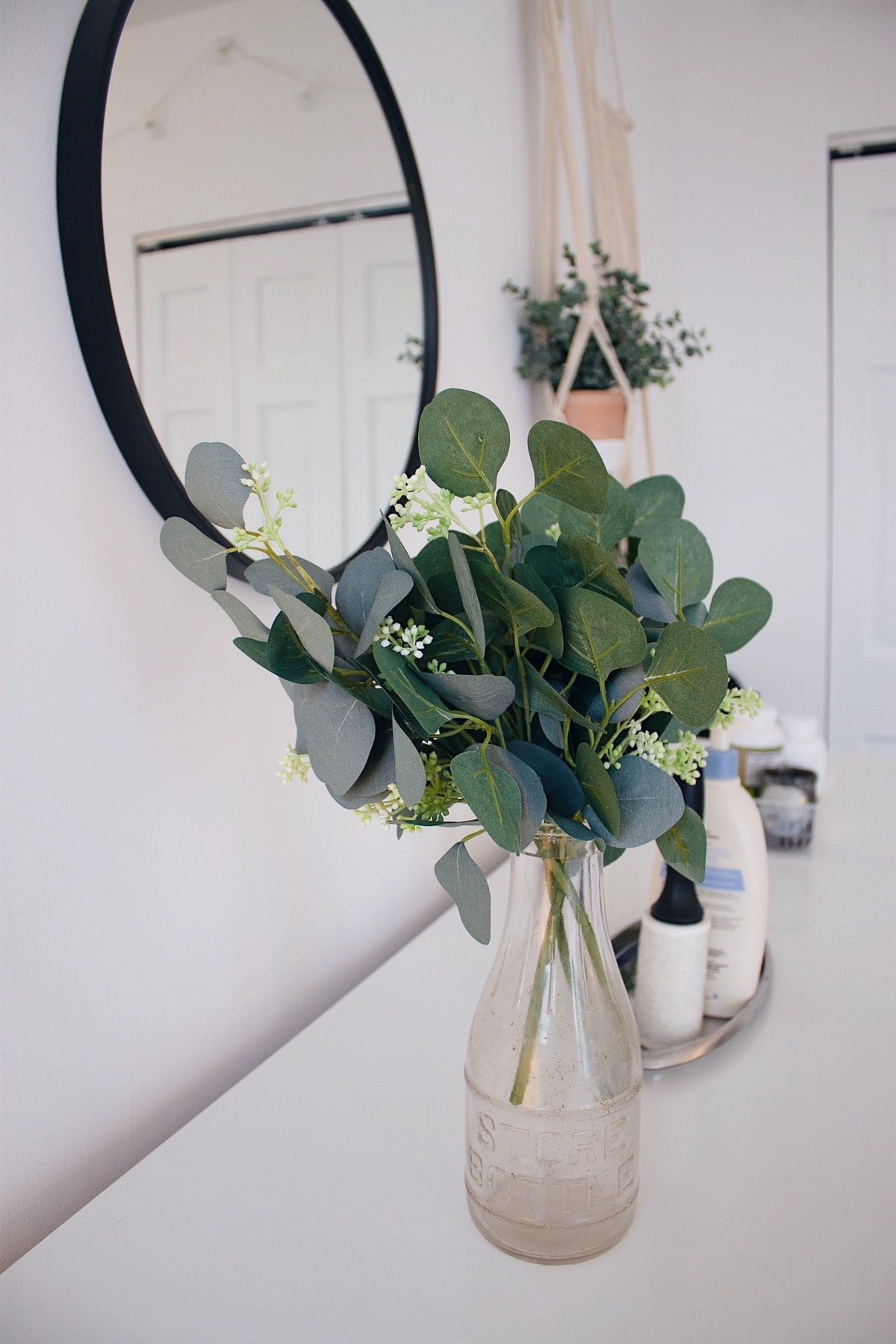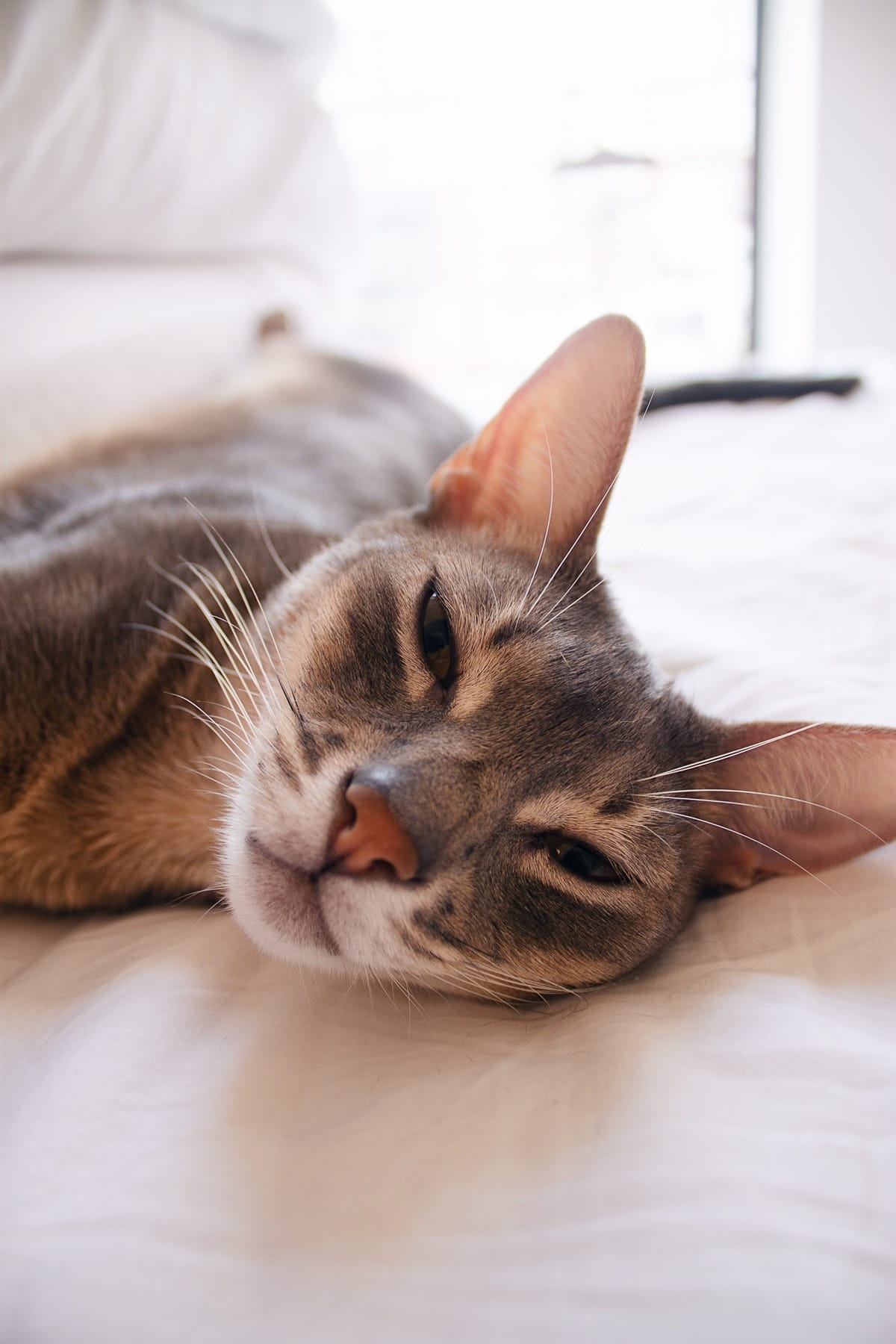 I know our space will never feel entirely perfect to me, but I am really enjoying where we are at with this new apartment. Learning my own personal style and design preferences has been a long process, but it's definitely one I enjoy.
Here's to many good memories in this apartment, as well as lots and lots of baking!
You Might Also Like These Posts: