This post may contain affiliate links. Please read my disclosure policy for more details.

Crumbly and light, these Pumpkin Cranberry Scones are a perfect breakfast or snack during the fall season!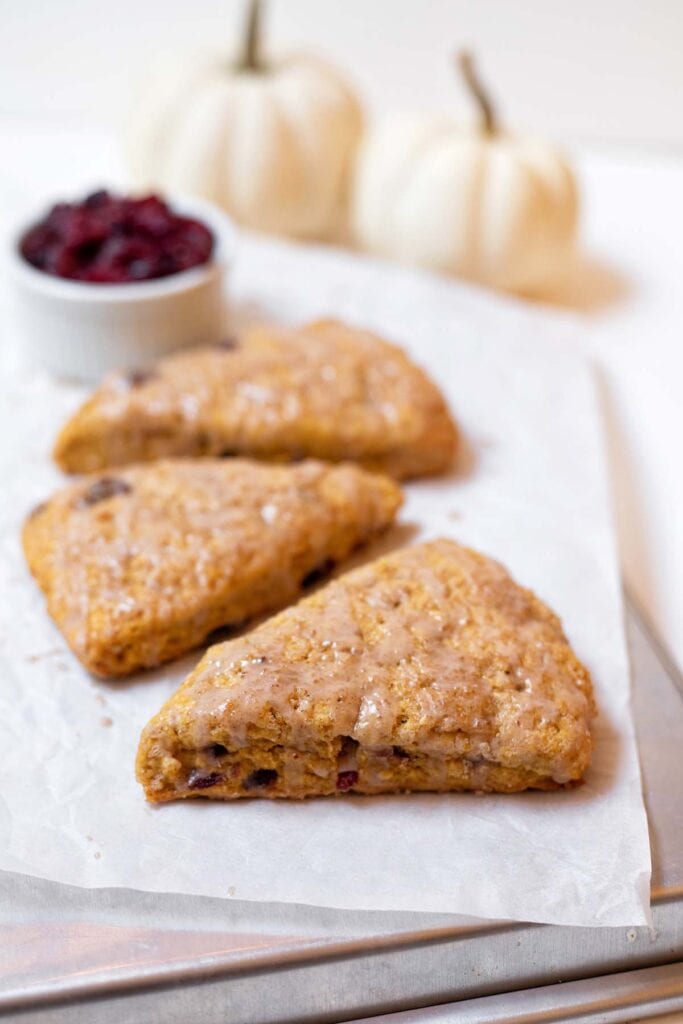 Today, we are combining pumpkin with one of my all-time favorite loves: scones.
Out of all the breakfast pastries, I always gravitate towards scones. I think it's because they have such a unique texture and taste—crumbly yet soft, they are usually not overly sweet. Plus, they are especially delicious when paired with a steaming cup of tea or coffee.
In my opinion, these pumpkin cranberry scones are the epitome of fall. Packed full with pumpkin flavor and studded with cranberries, they practically exude coziness.
Want some bonus points? Try burning an autumn-scented candle while baking these scones for maximum satisfaction. There's truly nothing better!
Tips for Making Pumpkin Cranberry Scones
Here are a few tips to get perfect scones every time:
Keep your butter as cold as possible. When you cut cold butter into your mixture, it stays solid until it goes into the oven. Once the scones start to bake, the butter melts and creates those flaky layers that we all love. When making your scones, keep the butter in the fridge (or even freezer) right up to the moment that you need to use it.
Don't overmix your dough. Overmixing your dough leads to tough and chewy scones, which nobody wants! After adding in your liquid ingredients, make sure to only mix until just combined.
Chill your scones in the fridge before baking. Chilling the scones in the fridge for at least 30 minutes before baking lets them firm up and helps the gluten relax. This also helps keep the butter cold, which enhances those beautiful layers.
Drizzle the glaze on the scones while they're still a bit hot. Don't drizzle the glaze immediately after the scones come out of the oven, but don't wait too long either. If the scones are still a bit warm, they will soak up the glaze and taste just that much more delicious.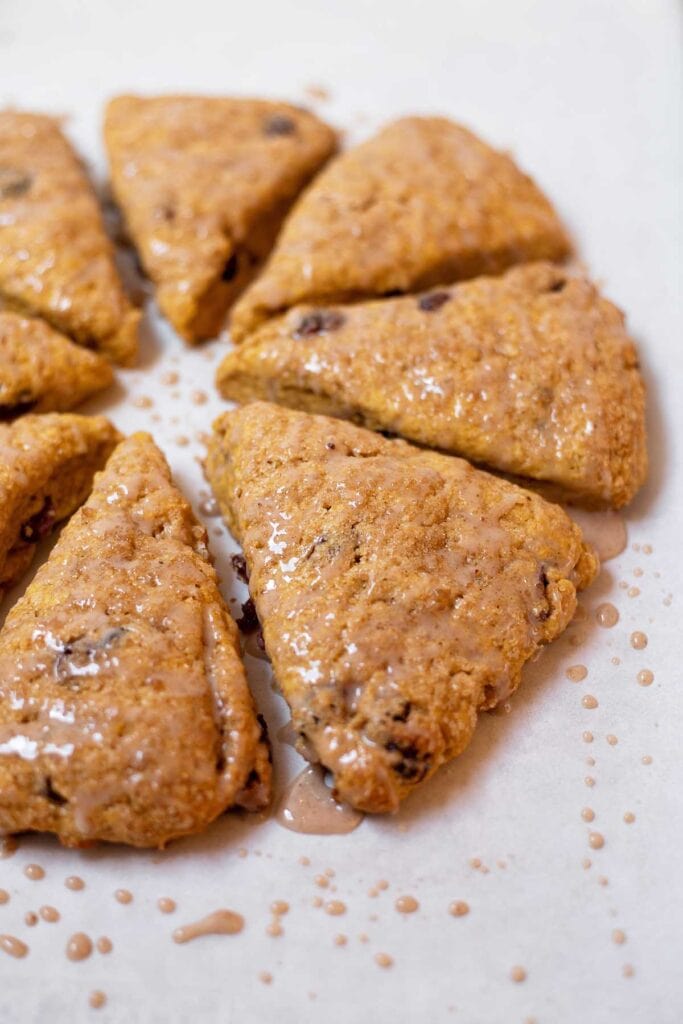 Pumpkin Cranberry Scones FAQ
What's the best way to cut the butter into the dry ingredients?
While you can cut the butter into the dry ingredients with a mixer, I personally recommend using a pastry cutter. If you don't have one on hand, you can use a fork instead, but it will take a bit longer. Simply press the pastry cutter into the butter chunks, cut the butter, and wipe the cutter every so often.
Does the butter temperature matter when making scones?
When making scones, it's essential that the butter is as cold as possible. When the butter is cold, it stays solid until it hits the heat of the oven. Then, it melts in the oven, creating flaky layers and helping the scones rise.
Does it matter how much I mix the scones?
Yes—when mixing the dough together, make sure not to overmix. Once you add in the liquid ingredients, you want to mix only until everything is just combined. Same goes for when you add in the cranberries! If you mix for ages and ages, you run the risk of ending up with tough scones.
What if I'm having trouble shaping the scones?
Once you transfer the scones to the sheet pan lined with parchment paper, you want to create an 8-inch disk by patting the dough down. If you find that the dough is too crumbly at this point, you can brush on a bit more heavy cream. Alternatively, if you find the dough is too wet, you can sprinkle on a bit of flour.
Why should you chill scones in the fridge before baking?
Chilling the scones helps them firm up and rise more in the oven. If it's hot in your kitchen, the scones can get a bit too soft, so chilling them in the fridge for a bit will help them maintain their shape.
How should you store leftover scones?
After they've completely cooled, you can store scones in an airtight container for up to 2-3 days at room temperature. You can also wrap them in plastic and keep them in the freezer for up to 3 months.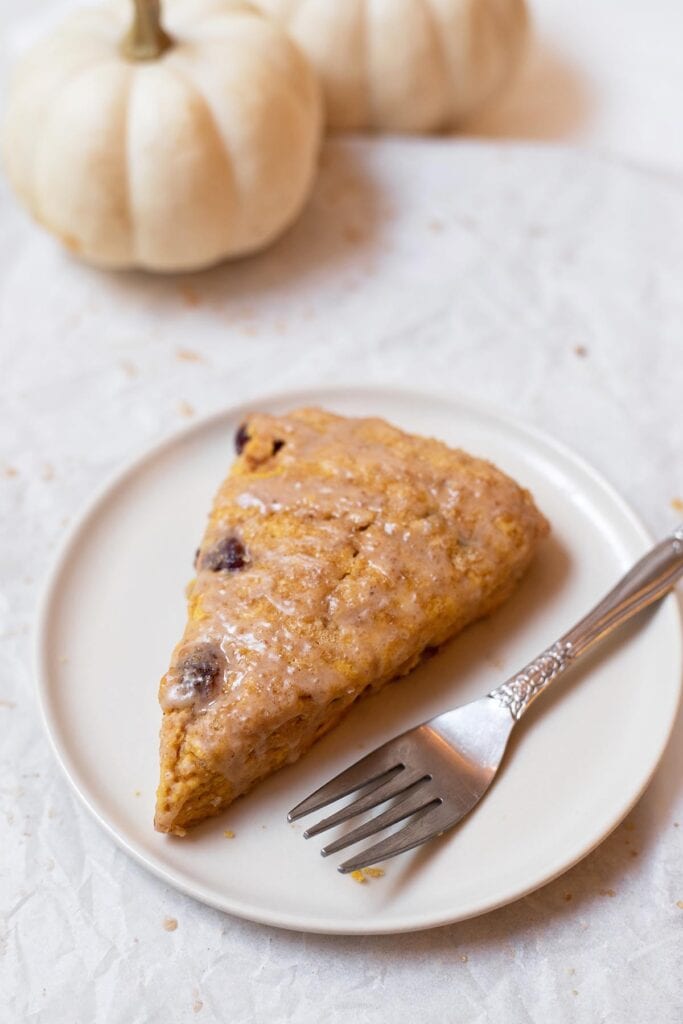 You Might Also Like These Recipes:
Print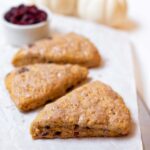 Pumpkin Cranberry Scones
Author:

Prep Time:

35 minutes

Cook Time:

25 minutes

Total Time:

1 hour

Yield:

8

scones

1

x

Category:

Dessert

Method:

Bake

Cuisine:

British
---
Description
Crumbly and light, these Pumpkin Cranberry Scones are a perfect breakfast or snack during the fall season!
---
Scale
Ingredients
Pumpkin Cranberry Scones:
2 cups

all-purpose flour (

240 g

)

1/3 cup

light brown sugar, packed (

60 g

)

2 teaspoons

baking powder (

5 g

)

1 teaspoon

ground cinnamon (

2 g

)

1 teaspoon

pumpkin pie spice (

1 g

)

1/2 teaspoon

salt (

4 g

)

1/2 cup

cold unsalted butter, cubed (

113 g

)

1/2 cup

pumpkin puree/canned pumpkin (

120 g

)

1

large egg (

50 g

)

1 1/2 teaspoons

vanilla extract (

6 g

)

3 tablespoons

heavy cream + extra for brushing (

40 g

)

1/2 cup

dried cranberries (

74 g

)
Optional: turbinado sugar for sprinkling on top
Spiced Glaze:
1 1/4 cup

powdered sugar (

150 g

) 

1 teaspoon

pumpkin pie spice (

1 g

)

2 tablespoons

milk (

30 g

)
---
Instructions
Preheat the oven to 400°F (204.4°C). Line a sheet tray with parchment paper and set aside.
Make the pumpkin cranberry scones: In a large bowl, whisk together the flour, light brown sugar, baking powder, ground cinnamon, pumpkin pie spice, and salt. Then, use a pastry cutter or a fork to cut in the butter until the butter is about lentil-sized. In a separate bowl, whisk together the pumpkin puree/canned pumpkin, egg, vanilla extract, and heavy cream. Add the liquids to the flour mixture and mix until just combined. Finally, fold in the dried cranberries until evenly distributed.
Transfer the dough to the parchment paper-lined sheet tray and pat into a circle. If the dough is sticky, sprinkle a bit of flour on the dough. Continue patting the dough until it is about an 8-inch disk. Then, use a bench scraper or knife to cut the circle into 8 wedges.
Refrigerate the scones for 30 minutes. This allows the gluten to relax and helps them firm up before baking.
Next, separate the scones from each other on the sheet tray, then brush the tops with heavy cream. Sprinkle the tops with turbinado sugar if desired to get a delicious crunch!
Bake the scones in the preheated oven for 25-28 minutes, or until they're golden brown and a toothpick inserted in the middle of one comes out clean.
Make the spiced glaze: While the scones are cooling, whisk together the powdered sugar, pumpkin pie spice, and milk. When the scones are still warm, drizzle the glaze over them and serve.
Wrap any leftovers in an airtight container, and store at room temperature for 2-3 days.
---
---
Notes
If you don't have pumpkin pie spice on hand, you can substitute the following: 1/2 teaspoon ground cinnamon, 1/4 teaspoon ground ginger, 1/8 teaspoon ground nutmeg, and 1/8 teaspoon ground allspice.
Keywords: scones, pumpkin scones, cranberries, pumpkin cranberry scones, how to make scones