This post may contain affiliate links. Please read my disclosure policy for more details.
From cookbooks to baking tools, any of these items would make the perfect gift for the baking lover in your life.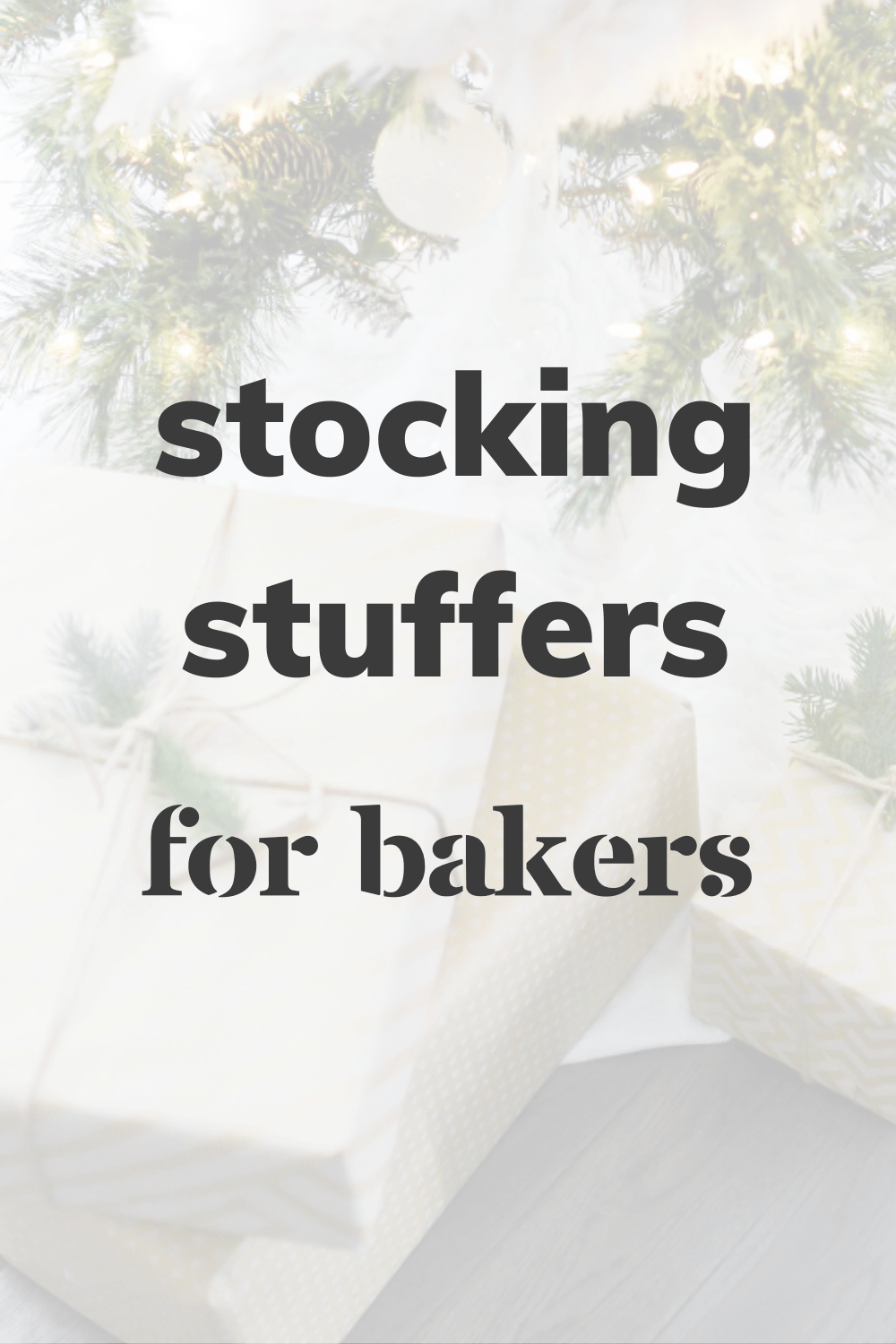 Happy holidays! In my opinion, it truly is the most wonderful time of the year. From the crisper temperatures to all the delicious food, the holiday season never fails to make me happy.
As everyone starts to shop for their loved ones this season, I wanted to share some fun gift ideas that the baker in your life would love. Let's be real, not all of these will *technically* fit into a stocking, but I guarantee they will make baking a breeze at home!
Digital Kitchen Scale
Price: $9.47 on Amazon


If there is anything I would recommend for an aspiring baker, it would be a good kitchen scale. At home and working in a professional kitchen, I prefer to only make recipes using a kitchen scale. Doing so helps improve the accuracy of the recipe and ensures a consistent product each time.
Every recipe here on The Baker's Almanac has metric measurements, so you can use this scale to make all our recipes! Also, by not using measuring cups when baking, you have fewer dishes. Win-win, right?
Stainless Steel Magnetic Knife Bar
Price: $17.49 on Amazon


Kyle and I picked up one of these stainless steel magnetic knife bars a few years ago, and I am so obsessed with it! It doubles as both a knife holder and a decor piece. In our kitchen, we use it to hold our knives and our scissors, but you could use it to hold any stainless steel utensils.
A New Cookbook
Price: $14.59 on Amazon


Is there anything better than a brand new cookbook? Whenever I need some inspiration, I love to flip through one of my favorite cookbooks and look at all the beautiful recipes.
But, let's be real—cookbooks can sometimes get expensive. Because so many recipes are readily available online now, I always debate whether I want to spend money on physical cookbooks. However, I love it when I receive them as gifts!
This year, I have the Sister Pie cookbook on my list, and I can't wait to try out all the recipes in it. Here are a few of my other favorite cookbooks:
Cookie Scoops
Price: $15.99 on Amazon

Cookie scoops are so versatile, and they would make a perfect stocking stuffer! You can use them to scoop cookies, cupcakes, and ice cream, and they ensure everything you make is identical in size.
Silicone Baking Mat
Price: $24.99 on Amazon

In my opinion, every baker should have a quality and durable silicone baking mat in their arsenal. You can get them in a variety of different sizes, and you can use them in place of cooking spray or parchment paper.
Silicone baking mats are also better for the environment, and they ensure that your baked goods will come off the sheet tray each time. Roll one up and put it in someone's stocking this year!
Digital Food Thermometer
Price: $8.99 on Amazon

Another tool that is absolutely essential in my book is a digital food thermometer. From making Swiss meringue to caramel, a good thermometer can give you an alert when you reach your desired temperature. This means you can spend the waiting time working on something else, which just makes life that much easier! I use this particular model both at home and at work in a professional kitchen, and it's super dependable.
Unique Oven Mitt
Price: $12.99 on Amazon


If anyone gave me this oven mitt, it would make my day. Isn't this hilarious?
When it comes to baking, oven mitts are essential, and it could definitely be fun to get some unique and humorous ones for the kitchen! Get creative and buy someone an oven mitt that will make them smile each time they use it.
Wilton Decorating Tip Set
Price: $35.96 on Amazon

When I first got into baking, I bought this Wilton Decorating Tip Set online, and it is still one of my favorite baking purchases I have ever made.

With 55 different tips, this set is so useful when it comes to decorating cakes or cookies. I think buying a set like this is a lot more practical than buying the tips individually. Anyone who loves making cakes would adore this gift!
Check Out the Video on YouTube:
You Might Also Like These Posts: