Beautifully decorated cookies oftentimes look like a work of art, so why not preserve them as such? In this post, you'll learn how to preserve your cookies with polyurethane so that you can keep them for years and years to come!
Have you ever decorated just the most beautiful cookies in the world that it pains you to see them eaten? I know I've been there.
If so, you should consider preserving your cookies with polyurethane. When applied to cookies, polyurethane acts as a sealant that prevents the cookies from decomposing. Et voilà — beautiful cookies that last forever!
You can display the preserved cookies as a decor piece, or you can even attach ribbon to turn them into Christmas ornaments. No matter what you choose to do with the preserved cookies, this method is just a really fun (and easy) way to keep your beautifully-decorated cookies out on display for as long as possible.
Over the years, I've learned a few tricks when it comes to properly preserving cookies with polyurethane, so I wanted to round up all my best tips in this post.
Let me show you how to preserve your cookies!
How to Preserve Cookies with Polyurethane
Polyurethane helps seal the entire surface of the cookie so that it doesn't decompose. If you want the cookies to look more natural, you can use a clear satin oil-based interior polyurethane. If you want more of a shiny look, opt for clear gloss oil-based interior polyurethane instead (semi-gloss works as well).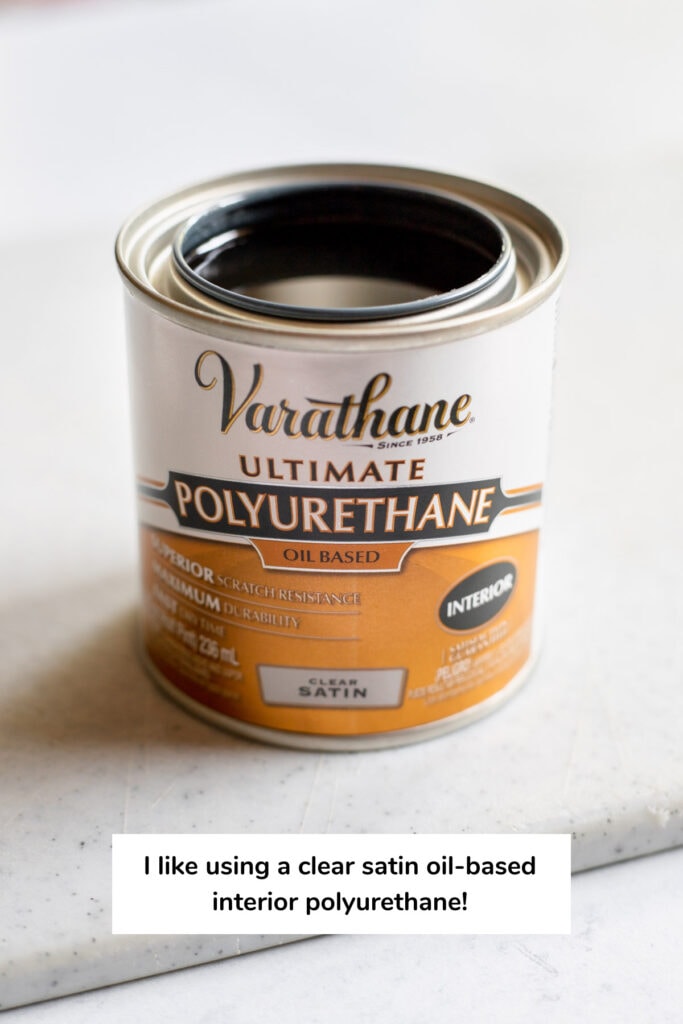 Follow these steps to properly preserve your cookies with polyurethane. Keep in mind that once you go through this process, the cookies will no longer be edible.
Here's what you'll need to do to preserve your cookies:
Once baked, dry the cookies out for at least a week.

You want the cookies to feel hard to the touch before applying the polyurethane. I typically like to leave the cookies uncovered at room temperature during this week.



After a week, use a paintbrush to brush any dirt or impurities off the cookies.

It's important to brush off all surfaces of the cookie to remove any dust, dirt, or other particles. If you skip this step, any particles will get stuck to the surface of the cookie once you apply the polyurethane.



Apply polyurethane evenly to all surfaces of each cookie.


Be sure to apply the polyurethane evenly to all surfaces of the cookies (the front, top, and sides). It's important to apply the polyurethane as smoothly as possible with the paintbrush so you don't leave any streaks or lines. Typically, I like to apply two coats of polyurethane to all sides of the cookie.

For best results, apply the polyurethane on one side of the cookie and let it dry overnight, then continue with the next side the next day.



Let the polyurethane dry for a couple of days.

Once you've completely applied the polyurethane, let the cookies dry completely for several days (or at least a minimum of 24 hours).



If desired, attach floral wire or ribbon to the cookie to turn it into an ornament.

This is totally optional, but I wanted to mention it because I love preserving Christmas cookies as ornaments! To turn preserved cookies into ornaments, you can either attach floral wire or ribbon to the back of the cookies using superglue. Once secure, hang the preserved cookie on your Christmas tree as desired.

Alternatively, you can poke a hole into the cookie dough before baking, then attach a hook or ribbon through the hole once the cookie has been baked and preserved.




Store the preserved cookies in an airtight container in between layers of parchment paper.

To extend the life of your preserved cookies, store them in an airtight container. You can stack the cookies in rows with a piece of parchment paper in between each layer.

Also, nobody wants to get a mouthful of polyurethane, so be sure to mark the cookies as inedible to avoid any confusion later.


And that's the process that's worked well for me when it comes to preserving cookies! However, I'd love to hear if you have any cookie preserving tips or tricks of your own, so be sure to let me know in the comments below.
Happy cookie decorating (and preserving!)