Life has a weird habit of making the next thing seem just so unbelievably scary. A few years ago, when I first started to even daydream about going to pastry school, I felt terrified to begin. I thought I wouldn't be able to go through with it, and I dreaded walking into my first class. What if I was an absolute failure? What if I hated it? These thoughts constantly flooded my mind, leaving me indecisive and scared to start.
But, as time goes on, you become accustomed to what you experience every day. Sure, the first few months of pastry school continued to give me anxiety, but I started to get used to it. The classic nightmares before exams gradually went away, and I passed my tests without a second thought.
Then, as soon as I felt like I properly had a handle on pastry school, it ended. We spent weeks working on our final showpiece, I did well on the final exam, and it was over. Just like that, I had to start thinking about what was next.
Before starting pastry school, I was convinced that I would work in a bakery one day. I would scroll through endless posts on Instagram of just the most gorgeous wedding cakes, dreaming about the day when I would be the one making them. But, by the end of school, this dream had disappeared. I turned my back on bakeries and cake design and realized that I really wanted to work in a restaurant.
However, I had to start from square one when it came to finding my first pastry job in a restaurant. I spent hours looking for resources online, struggling to find relevant information. So, for anybody in a similar position, I want to share what I did to land my first restaurant job.
Where to Find Available Jobs
Personally, I live in New York City, so I started looking for pastry cook jobs in Manhattan. However, there is a demand for pastry cook jobs (and other restaurant jobs) across the world, so you can still apply some of the same tactics that I did.
The absolute number one place I would recommend starting is Culinary Agents. Culinary Agents is essentially a networking site and job board exclusively for people in the food, beverage, and hospitality industry. While there are so many opportunities listed for NYC, I think Culinary Agents also serves numerous other cities in the United States.
On Culinary Agents, I made an account and then uploaded my resume and a generic cover letter. Then, I searched 'Pastry Cook' and started applying to the jobs that caught my eye. When it comes to your resume, I would recommend keeping it simple—don't use a flashy design or lots of colors. Simply list your culinary degree (if applicable) and any work experience. Since I was making a career change, I didn't have any relevant industry experience. However, I still listed my previous jobs and my college degree.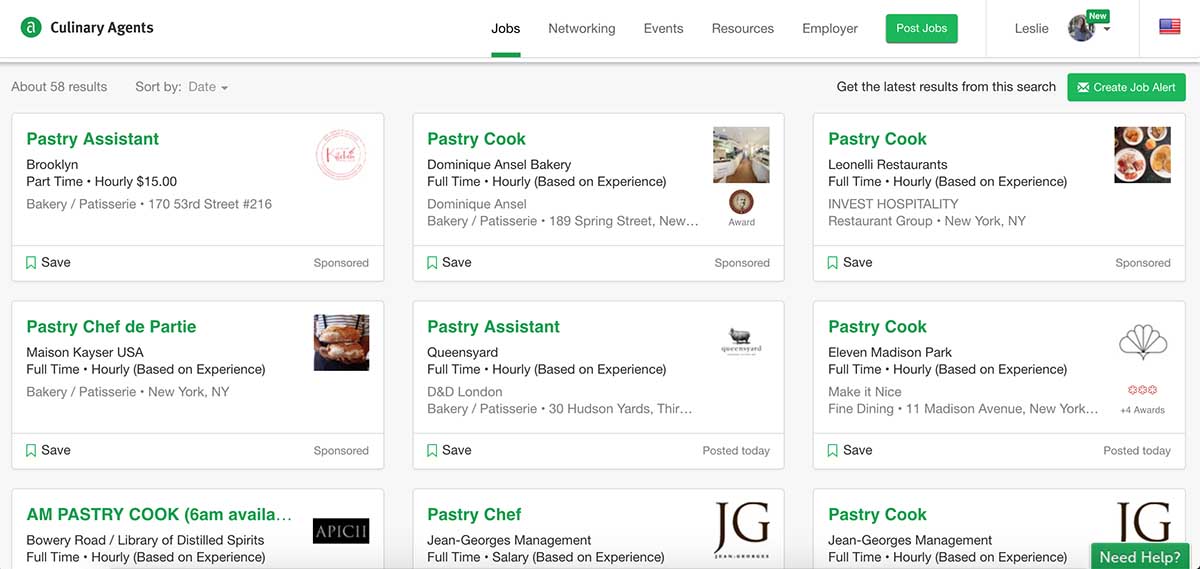 How Many Jobs Should You Apply For?
I will be the first to admit that I got a bit overzealous when it came to applying. It kind of became a game for me, and each day I would check to see if there were new listings I could apply for. In the end, I applied for around 37 jobs, and this ended up being way too much.
For the first couple of days, I didn't hear anything back, and I started to get nervous that nobody would hire me. However, I got my first response a few days later, and after that, it felt like the flood gates opened. I started getting more responses than I could handle, and it was honestly a bit overwhelming.
It will vary based on your location, but right now there is definitely a demand for pastry cooks in New York City. Because of that, I could have applied for fewer positions and really focused on the ones I was most interested in.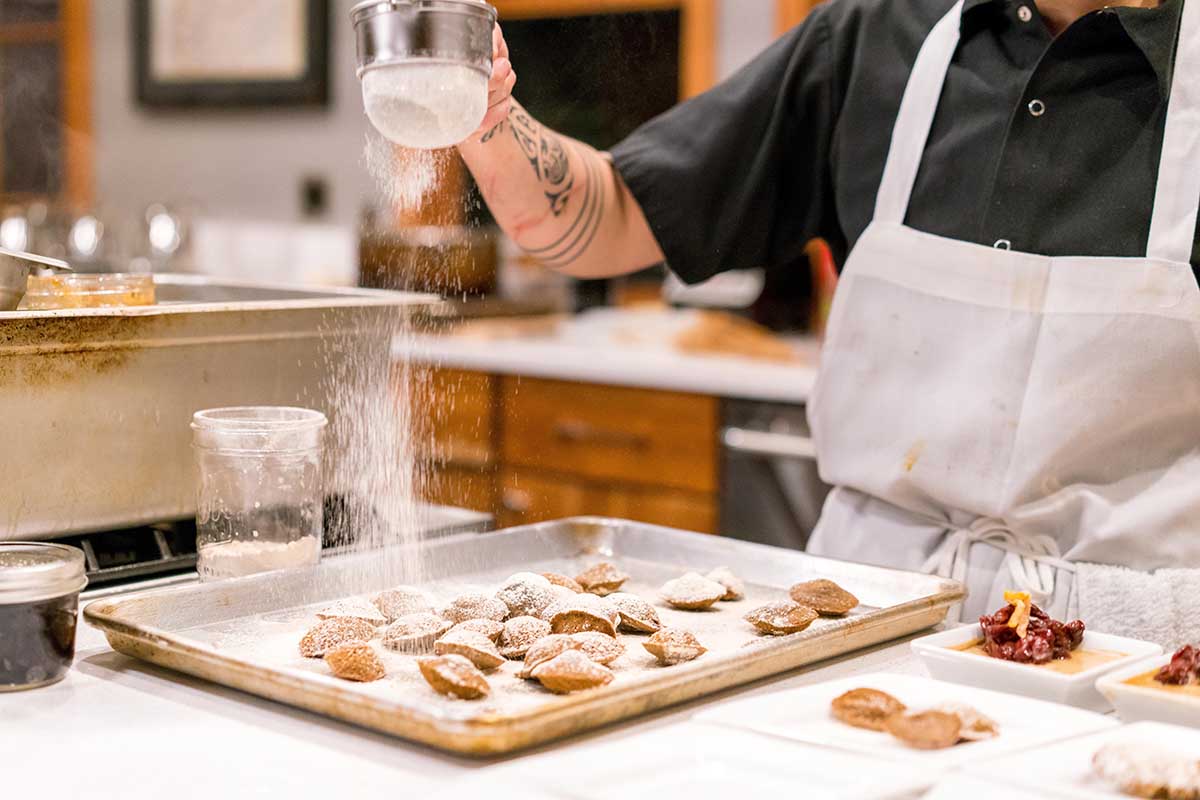 What Happens When You Hear Back?
When I started getting responses back from restaurants, they usually came from the pastry chefs themselves. In most cases, the chef wanted me to come in for a trail and asked for my availability. In the culinary industry, trails are usually unpaid shifts that you do in a restaurant or a bakery. They usually last about four to eight hours, and the chef will ask you to perform various tasks in the kitchen to gauge your skills and cleanliness.
Sometimes, a pastry chef asked me to come in for an interview instead of a trail. However, I would say the majority of restaurants asked for trails. I ended up scheduling several trails over the span of one week, hoping that I would be able to get the job search process wrapped up as quickly as possible.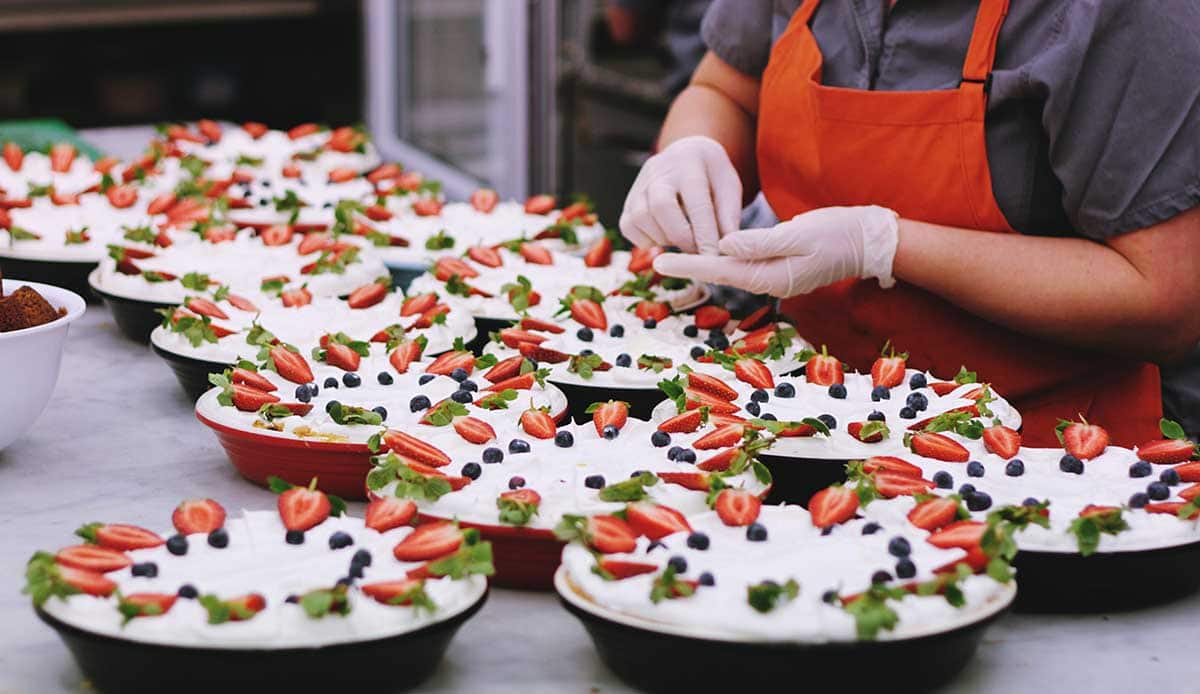 How to Prepare for Your First Trail
The idea of going on a trail was pretty daunting. I mean, you're going into an unfamiliar kitchen, and you have absolutely no idea where anything is. You have someone watching your every move, so no pressure, right? It's honestly just a brutally honest interview where you really can't hide anything.
Before my trails, I re-read through some of my notes from pastry school to refresh my memory. I also did some research on the restaurants themselves. I glanced at the menus, and I tried to get a feel for the cuisine and the types of dishes.
I'm going to do a separate post talking all about my best tips to prepare and ace your first trail, so stay tuned for that. I also uploaded a Youtube video talking all about how to get your first pastry job, so definitely check that out below!
Do you have any tips on how to get your first pastry job? Let me know in the comments below!