How does time go by so fast? This time last year, I was finishing up my last few months of pastry school. Now, I have been working at my new job as a pastry cook for almost six months. I feel like I have already learned so much, but I know I have a long way to go. It has been very humbling to start doing something so out of my comfort zone, and I love seeing myself get better each and every day.
A few months ago, I shared my A Day in the Life of a Pastry Cook post, but a lot has changed since then! I thought I would write an updated version so you could get a glimpse into my day-to-day life lately.
In case you're interested in learning more about the culinary industry or working as a pastry cook, make sure to also check out these posts!
My Current Role as a Pastry Cook
When I first started my job, I exclusively worked dinner service from 3:30 pm to around 11 pm. I did this for about four months, and then I started transitioning to morning shifts. Now, I mostly work morning shifts with a few dinner ones thrown in.
On the weekdays, I am constantly on the move, spinning ice cream, making large batches of cornbread, and rolling out pie dough. Weekends are a bit different, though, and entirely exhausting in their own way.
On Saturdays and Sundays, my restaurant does brunch service from 11 am to 3 pm. In general, the pastry department is in charge of making waffles, biscuits, and a few other items. I usually work brunch on both Saturday and Sunday, and I'm always worn out by the end of the weekend!
A Typical Brunch Day for Me
5:45 am:
*beep* *beep* *beeeeep* With my eyes half-open, I reach over and smack my phone, trying to figure out how to turn my stupid alarm off. Is it time to wake up already? Ugh. I'll usually snooze for a few more minutes before hastily jumping out of bed and rushing to get everything ready for work.
6:25 am:
Coffee in hand, I'm out the door. I hate working on the weekends in New York City because the subway is always a nightmare. As a general rule of thumb, I always allot an extra 20 minutes on the weekend to get anywhere. I glance at Google Maps to make sure my normal train is running since half the time it isn't on the weekend.
After my ten minute walk to the train, I hop on and settle in to read during my forty-minute commute. Lately, I've been loving reading the Maeve Kerrigan series! I just finished up the second book, and I kept wishing that my commute was longer so that I could keep reading. That's how you know a book is really good, right?
At least there are always nice views on my commute!
7:10 am:
Before clocking in for work, I head to a local deli to grab a muffin and snack to eat during brunch service. If I'm having a good week, I'll meal prep an egg bake or banana bread, but most weeks I'm too lazy to bother. One of my goals for the next few months is to get much more on top of meal prepping!
7:30 am:
Uniform on, I clock in for my shift. The other pastry cook is there, so I mumble good morning to her, wishing that I felt a bit more awake.
First task on the list: spin all the ice cream and sorbet. I drag the ice cream machine towards the wall and plug it in. Next, I check the par sheet to see how much ice cream I need to spin. The pastry chef calculates how much we need of each flavor for all the days of the week, so I just have to glance at the sheet to know much to do. On a Saturday, it's usually quite a bit since lots of people will come eat for dinner as well.
8:00 am:
While the ice cream is churning, I pull our gigantic waffle iron down from one of our shelves. It takes all my strength to hold it, and I quickly run up the stairs carrying it. In the service kitchen upstairs, I plug the waffle iron on, turn the oven on, and plug the toaster in. I rush through everything so that I have time to get downstairs before the ice cream is ready.
During the whole ice cream process, I will repeat this upstairs-downstairs process multiple times, carrying something new up each time. Since I'm in charge of brunch service, it's my job to make sure everything is upstairs and ready to go for when we open at 10 am.
To make sure I don't forget anything, I usually write myself a quick list on our whiteboard. It can be a lot to remember, and it was hard for me to keep track of when I first started on brunch!
8:45 am:
After finishing up the last ice cream flavor, I sanitize the ice cream machine and give it a thorough wipe down. Unplugging it from the wall, I settle in to finish my final tasks before brunch starts.
On my list for today?
Make mascarpone whip to accompany our sourdough waffle
Finish making waffle batter
Make flapjack batter
I quickly breeze through these tasks, keeping an eye on the clock to make sure I'm not running low on time. For me, brunch prep really does feel like a race against the clock, and it can get a bit stressful.
9:45 am:
After checking to make sure I have everything, I head upstairs one last time. Before 10 am, I make sure to do a test waffle to ensure that the batter doesn't stick to the cast iron.
While the waffle is cooking, I arrange my station to have everything I need easily accessible, and I say good morning to all the food runners. It's usually the same people working brunch each week, so you get pretty used to all the faces.
Once the waffle is ready, I spoon a bit of raspberry jam on it and leave it out for the food runners to eat. When I first started on brunch, I always snacked on the waffle, but I feel like I've eaten it too much now!
10:00 am:
We're open for business! As the first guests trickle in, we start to get our first orders. Unlike dinner service, I work as part of the line for brunch. This means that the expediter calls out the food orders, so I have to listen carefully to see what I need to make.
Five minutes later, he calls out the first order to me: "One waffle, two orders biscuits, toast." I call the order back and quickly get started.
I drop the waffle batter on the iron, set the timer for three minutes, and throw the biscuits in the oven to heat up again. While that's working, I drop two pieces of bread in the toaster and get all my plates ready. Visually, it's really helpful to have all the plates in front of me to make sure I don't forget anything. Sometimes, if it's really busy, I have to go ask the expediter to repeat what he called, but I'm slowly getting better at catching it all.
Once everything is ready, I push the plates out towards the end of my station and call them out. "Waffle, biscuits, toast!"
As the food runners pick everything up and rush it out to the guests, the process repeats over again. Just five more hours to go!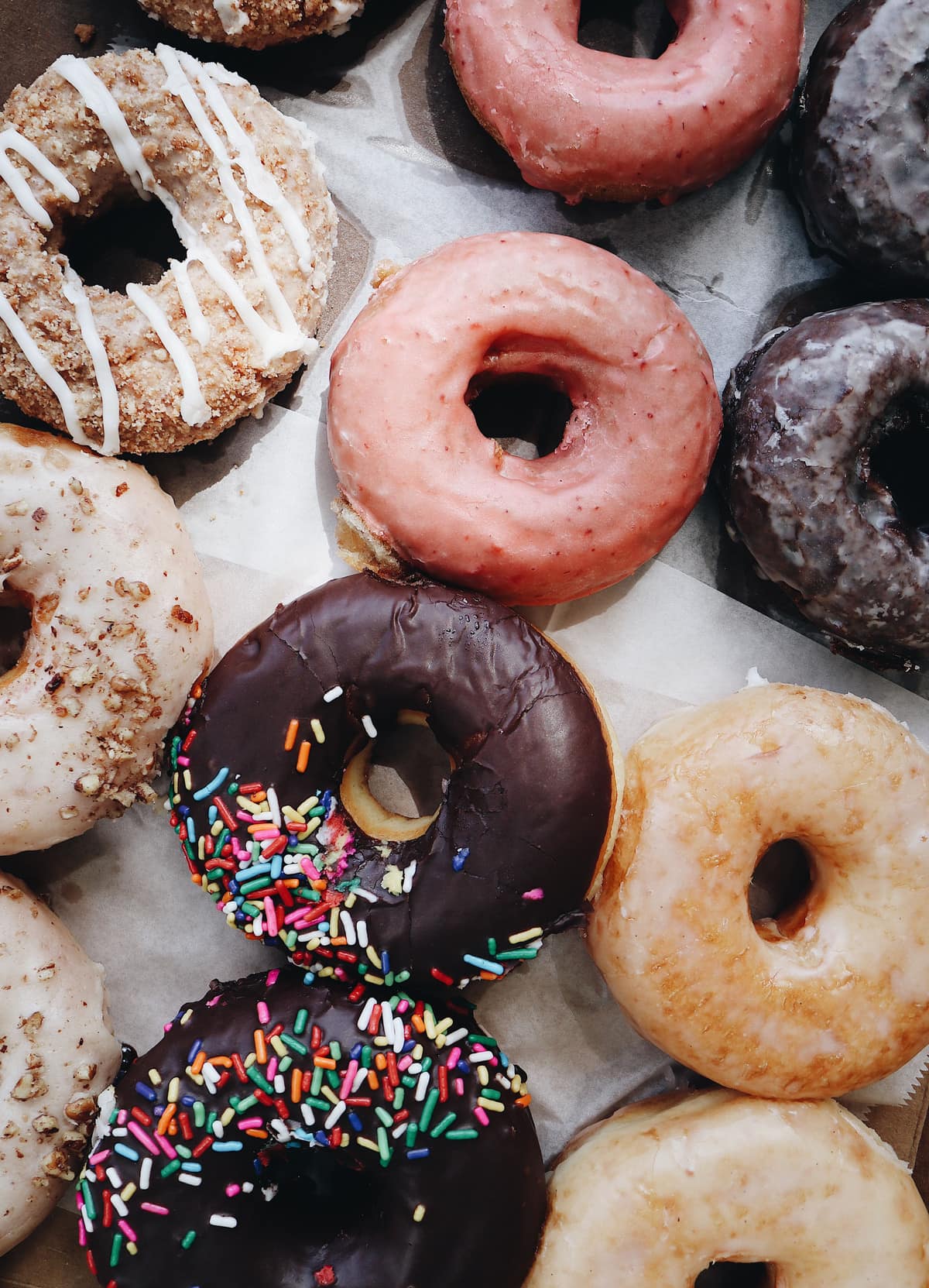 Photo by Anna Sullivan on Unsplash
12:00 pm:
By noon, brunch service usually starts to pick up. On a busy day, the time will fly by, and I will make more waffles than I thought humanly possible.
If it's a slower day, I will have some side projects to work on. Some days, I will dice strawberries for jam, and other times I will cut up butter to use in our pie dough. Personally, I dread the slower days because the time really drags on.
2:00 pm:
After a few more hours of tickets, we are approaching the end of brunch. At this point, I start thinking about breaking down my station. Though we officially will not be all in for brunch tickets until 3 pm, I like to get prepared so I can head downstairs as quickly as possible.
As I continue to listen for tickets, I start wiping down my station, gathering the various sauces together, and thinking about what I will need tomorrow.
3:10 pm:
We're all in! Eagerly, I unplug the waffle iron from the wall and pull it out so it can cool off. Our waffle iron projects so much heat, and it was miserable during the heat of summer. That moment when I can turn it off is honestly one of the best moments of my day.
I finish wiping down my station, and I gather everything up to make my first trip downstairs. To break down my brunch station, it usually takes a few trips downstairs, but I finally wrap everything up around 3:45 pm.
Once I'm done, I check in with the pastry chef to see if I can help with anything else. I let her know how many slices of pie we have left and make sure she is prepared for dinner service later. Communication is key!
4:00 pm:
As I clock out, I pull my apron off and head to the locker room to change. If it's a busy day, I am definitely feeling a bit worn out, and I eagerly look forward to a quick and easy dinner. If I somehow have more energy, I might bike home instead of taking the subway to get a workout in.
5:00 pm:
The night is mine! Sometimes, I like to go out to eat after brunch, but I also love cooking a nice meal at home. Tonight, my boyfriend and I decide to make bibimbap, and we sit down to eat while watching Netflix.
6:00 pm:
For the rest of the night, I'll work on blog posts, do laundry, or just relax in my apartment. After brunch, I really don't have a lot of energy to go out and do a lot. I have to wake up at 5:45 am again on Sunday, so I like to get to bed early anyways.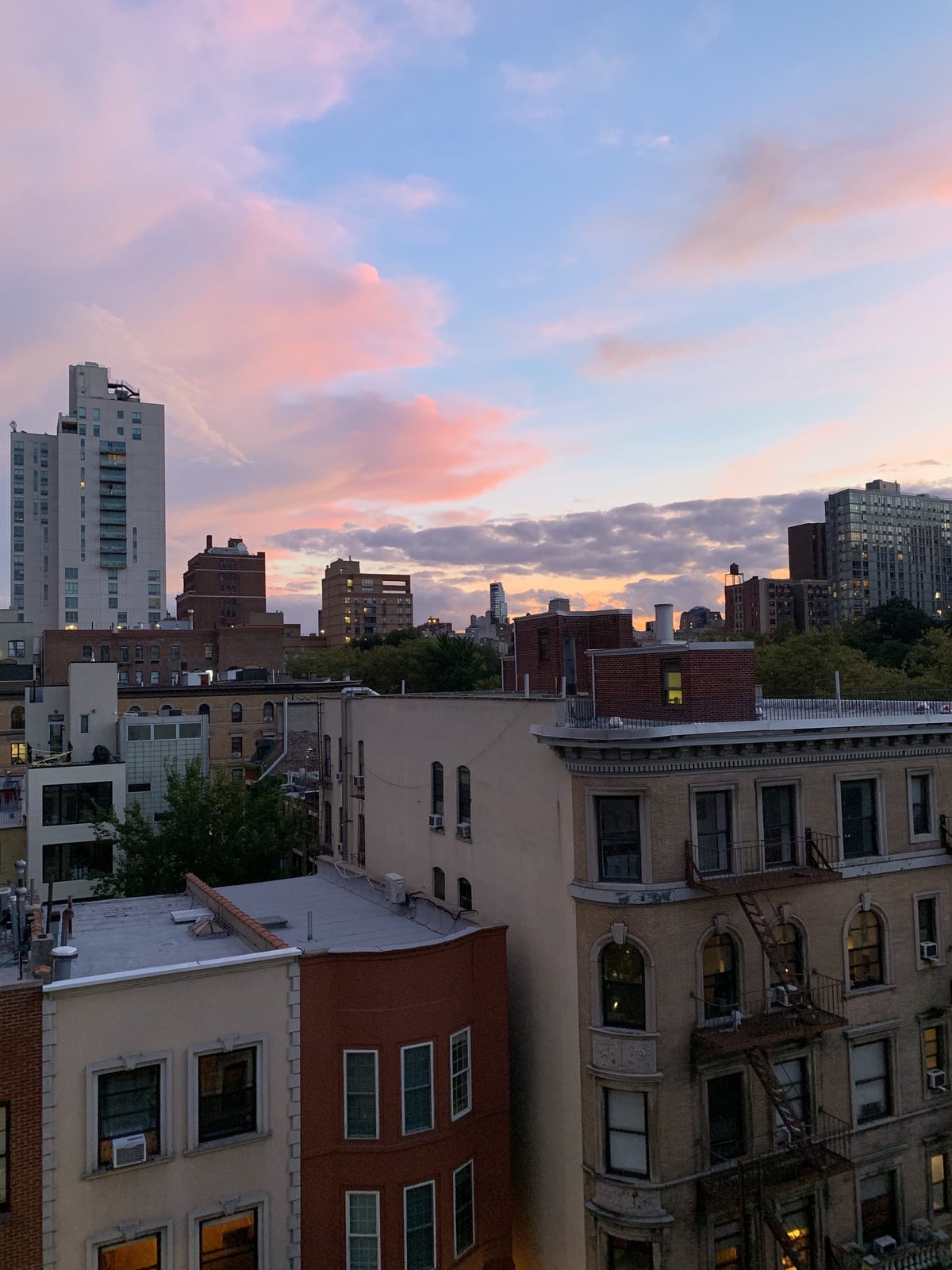 9:00 pm:
By this time of night, I'll usually start winding down and get in bed. I'm one of those people that needs at least eight hours of sleep or I feel like a zombie—can anybody else relate? But no matter how much sleep I get, I feel like I always feel like death when I wake up on brunch days.
Rinse and repeat, the process begins again the next day! I hope you have enjoyed this little peek into what a typical brunch day looks like for me. Let me know if you are interested in hearing more about my job as a pastry cook!
Over to you: what does a typical day look like for you? Let me know in the comments below!