Before starting my job as a pastry cook, I worked the traditional 9-5 office job. I was so accustomed to unwinding on the weekends, grabbing dinner with friends on weeknights, and complaining about the horrible NYC rush hour commute. When I decided to take a complete 180° turn and pursue a job in the culinary industry, I knew my entire life and schedule would change. However, I don't think I was quite ready for what a new day in my life would look like!
My Role as a Pastry Cook
Currently, I work as a pastry cook at a high-end American restaurant in SoHo. The restaurant has a pastry chef, a pastry sous chef, and three pastry cooks (including me). While the other two pastry cooks work production and AM service, I do dinner service five nights a week. Though the schedule changes on a week-to-week basis, I oftentimes have Tuesday and Wednesday off work.
At the restaurant, I am responsible for making sure that everything is ready so that dinner runs smoothly. I make biscuits for our fried chicken entree, fill tarts, and basically prepare many of the components for our desserts. I thought it might be interesting to break my day down for you here so you could see a typical day in my life as a pastry cook!
A Typical Day in the Life of a Pastry Cook
9:00-10:00 am:
After getting home from my shift last night and watching a few too many episodes of Game of Thrones, I begrudgingly wake up to the beeping of my alarm. I'm one of those people who sets like ten alarms (which drives my boyfriend insane), so chances are I might snooze for another thirty minutes. Personally, I'm more a morning person, but my work schedule has made me sleep in a lot later than I used to.
10:30 am:
Though all I want to do is lazily stay in bed, I somehow find the willpower to get out the door and go to the gym. I run fifteen blocks to my gym and do a quick thirty-minute workout while listening to a podcast (lately I've been obsessed with the Food Blogger Pro podcast).
Sometimes I swap the gym for a run in Central Park!
11:30 am:
After the gym, I settle in to do some blog work or write in my planner. As the epitome of a Type A person, I like to plan out my week and have a to-do list that I can refer back to anytime. I would be lost without my Passion Planner!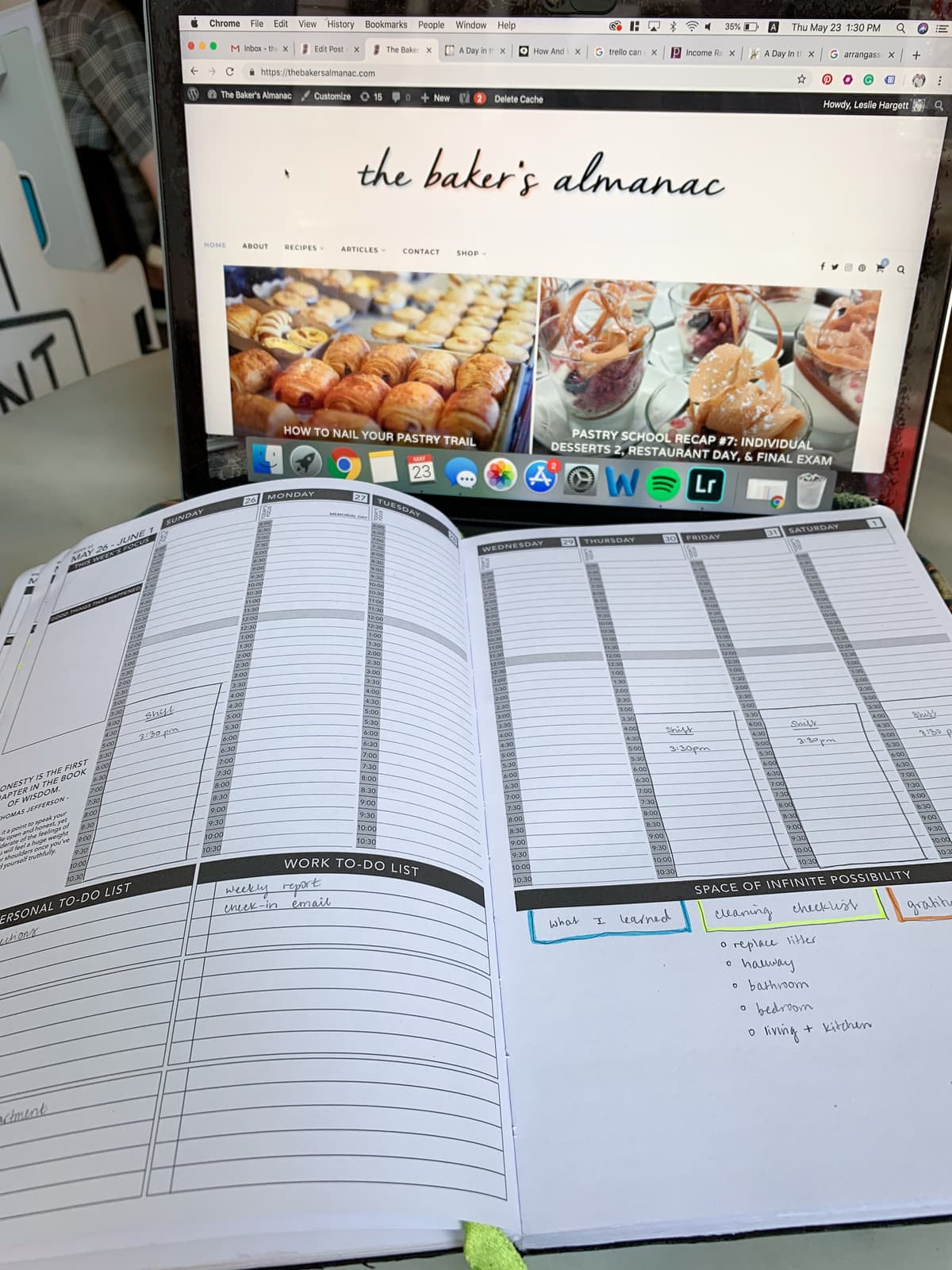 12:30 pm:
If I'm not testing a recipe for the blog, I'll head into the kitchen at this time to do some meal prep. In addition to cooking some lunch, I like to make enough food to bring in for dinner that night. The restaurant I work at does provide family meal each day, but I usually like to bring my own food in to mix things up.
2:15 pm:
Time to head to work! I pack up my bag and take the train down to SoHo. Though I don't start until 3:30 pm, I like to get there early so that I have plenty of time to change into my uniform.
3:30 pm:
Tucking my hair under my hat, I step into the kitchen and clock in. The prep kitchen is already busy—the savory cooks are frantically running around, putting the final touches on everything before dinner starts at 5:30 pm. As I walk into the pastry area, I say hello to the pastry chef and the other pastry cook there.
First task each and every day? Make all the biscuits! I check the par sheet to see how many biscuits we need today, and I start assembling my mise en place. If it's a weekend night, I can make up to 140 biscuits at a time. Making biscuits is a messy business—thirty minutes later, I am covered practically head-to-toe in biscuit dough and flour. So much flour.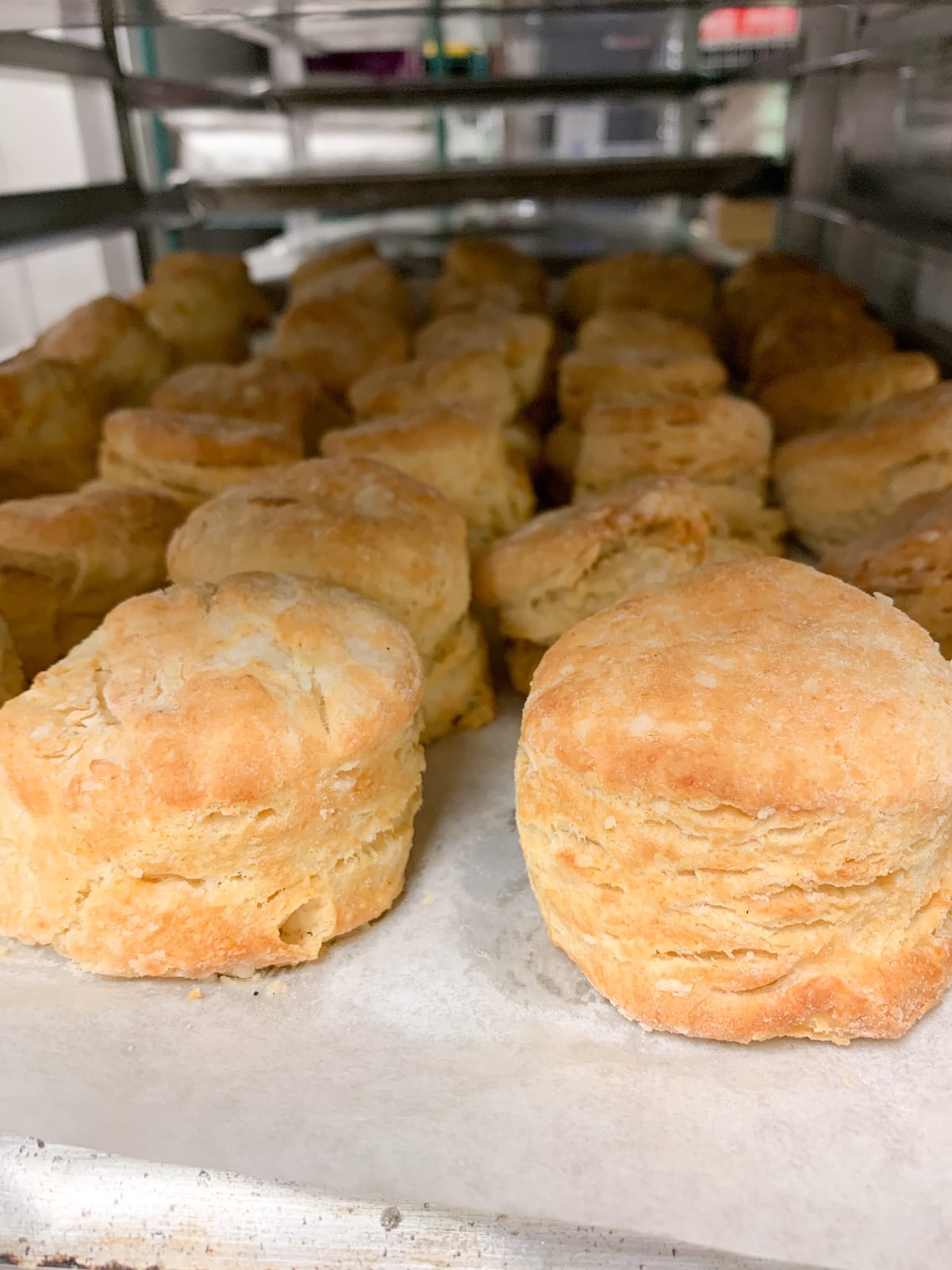 4:15 pm:
As the biscuits are cooling on the speed rack, I glance at my task list on our pastry whiteboard. On the list today? Fill chocolate tarts, grill and roast pineapple, cut tres leches cake, cut cheesecake, top lemon pies with meringue, and fill puddings.
I quickly grab some tart shells off the speed rack and fill them with our unique peanut butter filling. Then, I put the shells into the freezer to firm up before I pipe the chocolate filling on top.
To grill the pineapple, I have to use the main grill upstairs, and I know the savory grill cook is going to need it soon. I quickly cut some pineapple spears and coat them with miso glaze, then run upstairs to find a spot on the grill. On an average day, I think I go up and down the stairs at least twenty times at work! Maybe I don't really need to work out in the morning...
4:30 pm:
Glancing at what's left on my to-do list, I try and figure out what's best to do next. The pastry sous chef is currently using the stove to make pie filling, so I have to wait to use that. Why don't I cut the tres leches cake in the meantime?
Heading over to the pastry reach-in fridge, I grab out the hotel pan filled with tres leches cake. I use a small circle cutter to cut out 11 tres leches cakes, and I store them in to-go containers. I place all the tres leches cake leftovers into a small Cambro container and give them to the dishwashers (this never fails to make their day!).
5:00 pm:
After quickly doing a round of dishes, I decide to make some Italian meringue next. The trickiest part here? Don't let the sugar overcook! I put egg whites, salt, and sugar to whisk on the KitchenAid mixer while simultaneously cooking sugar and water on the stove to 240°F.
As soon as the sugar hits 240°F, I pour it down the side of the mixing bowl and let the meringue whip to firm peaks. I pull down the turntable off the top shelf and grab two lemon pies out of the reach-in fridge. Once the meringue has stiff peaks, I weigh out 200g of meringue onto each pie and spread it evenly over the surface. Then, I use an offset spatula to make a swirl design on top, and I brown the meringue with a blowtorch. Honestly, with a blowtorch in hand, I feel unstoppable. Does that make me a pyromaniac?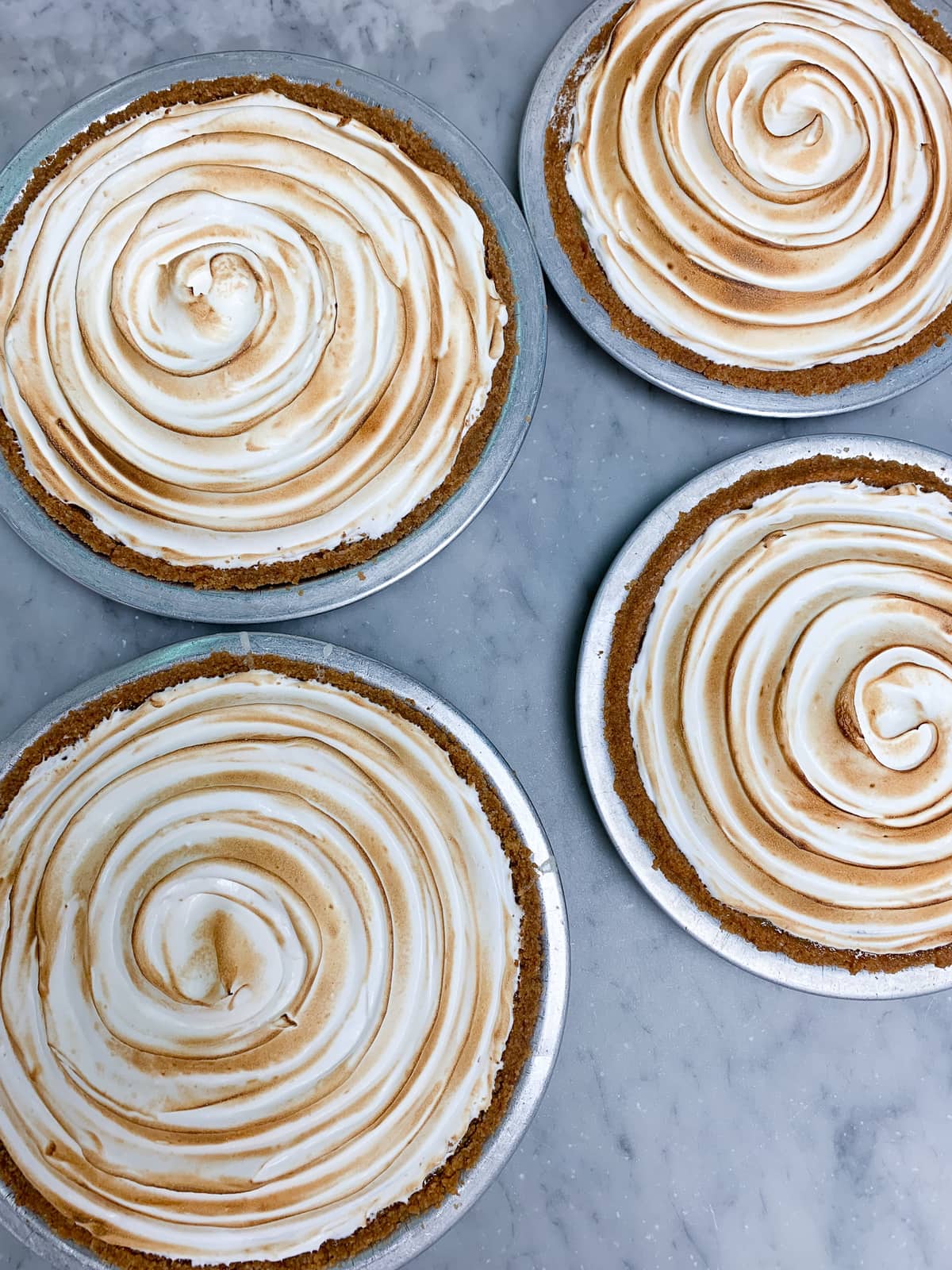 5:30 pm:
Okay, time to cut the cheesecake. First step: grab a cutting board. Crap—all the cutting boards in the prep kitchen are dirty! I run back upstairs to the service kitchen, grab a cutting board, and run back down.
Before cutting, I coat the sides of the cheesecake in graham cracker crumb. We do this right before cutting so that the sides don't get too soggy. Then, I cut the cheesecake in half and cut six pieces from each half. Before making each slice, I make sure to dip my knife in water and wipe it off so the cut is as clean as possible.
I arrange all twelve slices neatly on a half-sheet pan and store it in the reach-in fridge. At this point, my station is just a sea of graham cracker crumbs, so I grab the sanitization bucket to wipe everything down.
5:50 pm:
Almost time for dinner service. I grab a few small glasses and start assembling puddings for service. Step by step, the puddings come to life—banana on the bottom, caramel next, then chocolate pudding on top. Repeat.
I wrap up the assembled puddings so they stay fresh and place them into the low boy fridge below my station. I notice the pudding is running low, so I add it to our list so the pastry chef knows to make more soon.
6:15 pm:
Clearing everything off my station, I grab the sanitation bucket and give it a proper deep clean. I make sure to clean the doors of the low boy fridge below my station as well. Honestly, keeping everything as clean as possible is one of the most important details for working in a professional kitchen!
Heading over to the sink, I clean all my tools and make sure I have them all together. Now it's time to figure out what I need to bring upstairs for dinner service.
Assembled puddings? Check.
Topped lemon pie? Check.
Cut tres leches cake? Check.
Roasted pineapple? Check.
Extra mango to cut for the tres leches dessert? Check.
Caramels to cut upstairs? Check.
I organize everything into a fish tub and lug everything upstairs. At this point, dinner service is in full swing, with the savory cooks rapidly firing tickets. I unpack everything from the fish tub and realize that I forgot to grab extra bananas for the pudding. Back downstairs I go.
6:45 pm:
After a few trips downstairs, I finally have everything I need for dinner service. I clean all the lids off the ice cream containers, cut raspberries for the cheesecake, and organize everything in my fridge.
The first task for dinner service? Cut and wrap caramels. Every guest gets an individually-wrapped caramel with his/her check, and it's my job to wrap the caramels for service that night. After sneaking a bite of one or two caramels, I manage to wrap 50 caramels to start.
7:15 pm:
After a bit of a slow start to the night, I get my first dessert ticket. The order? Lemon meringue pie and chocolate tart.
I pull two plates off the shelf and throw the tart in the oven. To prepare the plate for the tart, I assemble cocoa nib streusel, candied peanuts, and homemade butterfinger in a semicircle. Next, I grab a slice of the lemon pie and place it on the other plate, then sprinkle some vanilla crumb on the right.
The tart takes four minutes to cook, and when it hits two minutes left, it's time to start scooping ice cream. I pull the ice creams out of the freezer, and I quickly quenelle some for the tart. After fiddling with the quenelle to make it look halfway decent, I do a traditional scoop for the lemon meringue pie.
Once the timer goes off, I pull the tart out of the oven while trying not to burn myself. After placing it on the plate, I sprinkle some sea salt on top and call it a day.
"Pick up!" Once one of the food runners is free, he comes over and carries the desserts out to the guests. In the meantime, I've had two more tickets come in. Rinse and repeat, the process starts all over again.
9:00 pm:
With tons of dessert tickets tonight, the time has flown by. Some nights, we have a party that eats in our private dining room, and they usually have a dessert option. During dinner service, I scoop several bowls of ice cream for them to enjoy during dessert.
I realize the main entrees for the party just went out, so I grab some bowls to start scooping ice cream. Once I'm done, I run the ice cream down to the walk-in freezer downstairs. On my way back up, I grab the inventory sheet.
10:00 pm:
One hour left until close. At this point, the tickets have started coming in a bit more slowly. With the extra time, I start to fill out the inventory sheet, recording how much we have left of each item upstairs. Having the inventory is so helpful for everyone on the pastry team to see what we need to make next!
11:00 pm:
"All in!" One of the managers tells the savory cooks that they are all in, meaning they have no more orders coming in. After cheering a bit, they start to break down their station and head downstairs.
On my end, I have to wait until the last table decides if they want dessert. Usually, it's just one food runner and me left in the service kitchen (as well as the dishwashers). The runner checks and lets me know there are two tables left waiting for dessert.
I get my sanitization bucket ready and start wiping down one side of my station. I bring all the dishes I'm done with to the dishwashers, and I start wrapping up the various desserts. It's a bit of gamble since I still might get a ticket, but it usually saves me time in the long run.
11:15 pm:
The food runner comes back and lets me know that I'm all in as well! Switching off the oven, I start to do my complete breakdown of my station. I put everything back on our shelf, give the surfaces a deep clean, and bring several trays of dessert components downstairs.
Before calling it a night, I double and triple check to see that everything is wrapped up and put in the right place. After saying goodnight to the dishwashers, I head downstairs again and put everything away down there.
11:30 pm:
Finally done! I make sure everything looks in order at the pastry area downstairs, and I head over to clock out. Quickly changing out of my uniform, I put my things back in my locker and head out. Another day done.
After waiting for my train for 10 minutes, I finally start heading home, and the process starts again the next day. Some nights end earlier than others, but on the weekends I usually don't get home until around 1:30-2:00 am!
Over to you: what does a typical day look like for you? Do you work a traditional 9-5 job?