This post may contain affiliate links. Please read my disclosure policy for more details.

Filled with fresh strawberry jam, these strawberry pop tarts are so easy to make and unbelievably delicious!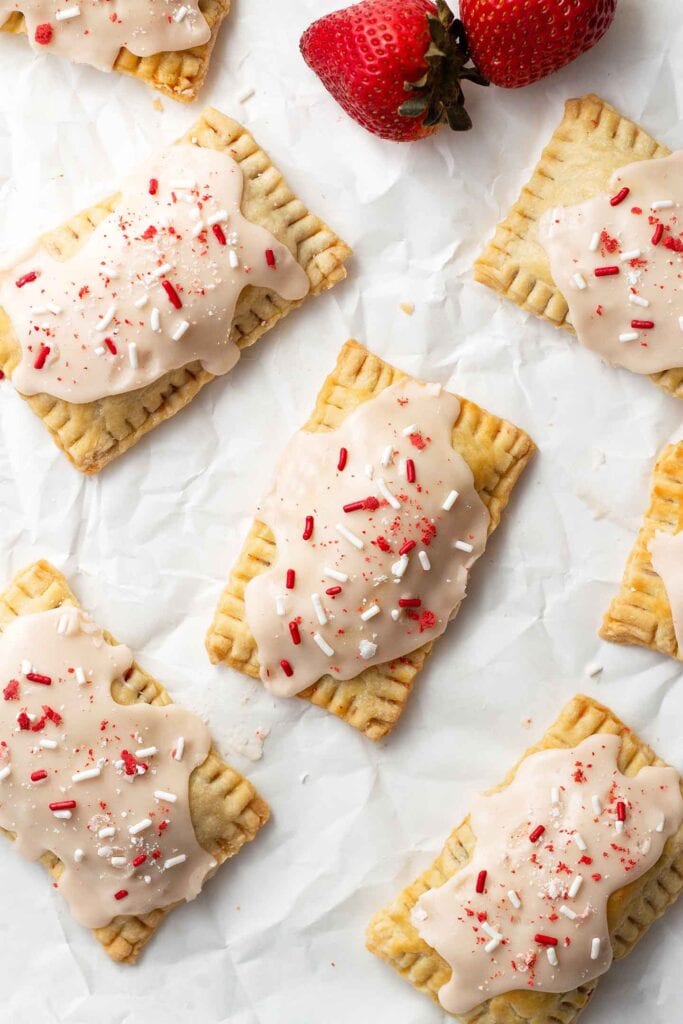 I'm not one to exaggerate, but guys, making pop tarts at home just might change your life.
Okay, maybe I like to lean a bit on the dramatic side, but I swear I'm telling the truth! I am embarrassed to admit that I have bought pop tarts from the grocery store a few too many times in the past few months, but they pale in comparison to these homemade ones.
As summertime approaches, I always love buying as many strawberries as possible. And what better way to use them than in homemade pop tarts? Everything in this recipe is made from scratch, including the buttery, flaky pie dough, the fresh strawberry jam, and the frosting. But don't be scared—these pop tarts could not be more simple to make.
Tips for Making Homemade Strawberry Pop Tarts
Here are a few tips to get a perfect strawberry pop tarts every time:
Make the pie dough ahead of time and chill it in the fridge. Whenever I can, I prefer to prepare my pie dough ahead of time! It means one less thing to do later, and it also helps the gluten in the dough relax, which makes the pie dough easier to roll out.
Re-roll the pie dough scraps only once. When you're rolling out the pie dough, make sure to save the scraps. However, I recommend only rolling the scraps out one more time. If you continue to re-roll several times, the dough will start to shrink back on you, and it won't taste as good once baked.
Let the pop tarts cool completely before frosting. If you frost the pop tarts while they are still warm, the frosting will liquify and run down the sides of the pastry. I know it's tempting to eat them right away, but I promise it's worth it to let the pop tarts cool at room temperature before decorating.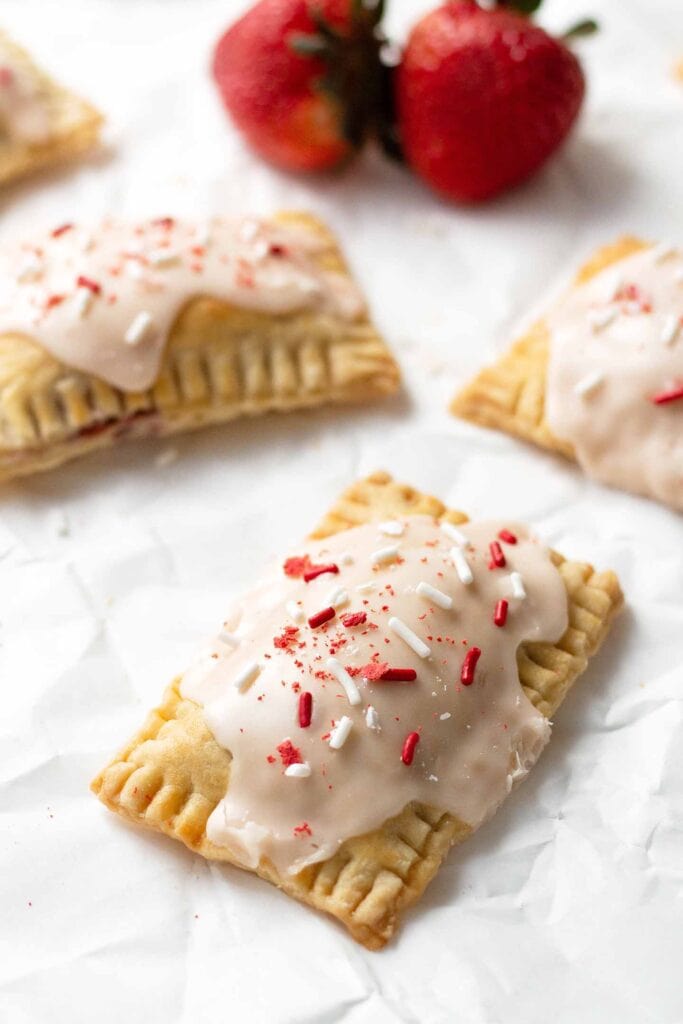 Helpful Tools for Homemade Strawberry Pop Tarts
To make these pop tarts, there are a few tools I recommend picking up:
Handheld pastry cutter — I love to use a pastry cutter like this when making the pie dough. It makes cutting the butter a breeze! Plus, you can use a pastry cutter when making other baked goods like scones.
French rolling pin — When I worked in a professional kitchen, this was the only style of rolling pin we would use. It doesn't have handles, which means you can manipulate every inch of the dough. They are also so much easier to clean than other styles of rolling pins.
Bench scraper — For this recipe, I like to use a bench scraper to cut the pie dough into rectangles. It's honestly such a multipurpose tool—you can also use it later for scraping up the pie scraps or even cutting the butter.
Stainless steel pizza cutter — This might seem a bit weird, but bear with me. When it comes to pie dough or puff pastry, I like to use a pizza cutter like this to cut long strips of the dough. It's great because it won't damage your countertop like a knife, and it's just a useful tool to have on hand in your kitchen.
Homemade Strawberry Pop Tarts FAQ
Can you use pre-made pie dough for this recipe? 
Absolutely. I have used pre-made pie dough in the past, and it makes this recipe even easier. Just start the recipe by making the strawberry jam, and follow the rest as written.
Can you prepare the strawberry jam ahead of time? 
For sure! You can make the strawberry jam by itself and store it in an airtight container in the fridge. Then, when you are ready to assemble the pop tarts, just remove it from the fridge and use it as directed in the recipe. In general, I have found that the strawberry jam will stay fresh in the fridge for about two months.
How long do these pop tarts stay fresh? 
Stored in an airtight container, these pop tarts will stay fresh for about 2-3 days. However, they are definitely the best when served the same day.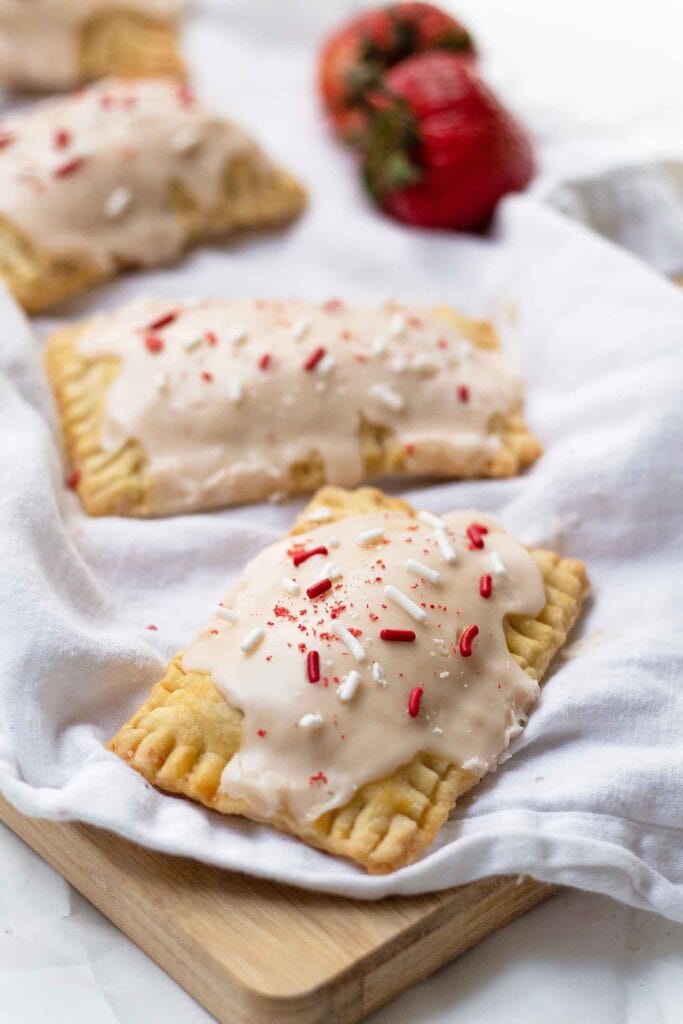 You Might Also Like These Recipes:
Print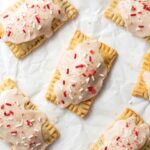 Homemade Strawberry Pop Tarts
Author:

Prep Time:

25 minutes

Cook Time:

30 minutes

Total Time:

55 minutes

Yield:

11

pop tarts

1

x

Category:

Breakfast

Method:

Bake

Cuisine:

American
---
Description
Filled with fresh strawberry jam, these strawberry pop tarts are so easy to make and unbelievably delicious!
---
Pie Dough:
2 ½ cups

all-purpose flour (

328 g

)

½ teaspoon

salt (

5 g

)

1 cup

cold unsalted butter, cubed (

226 g

)

½ cup

ice water (

118 g

)
Strawberry Jam:
2 ⅓ cups

strawberries, finely chopped (

460 g

)

¾ cup

granulated sugar (

150 g

)

1 teaspoon

lemon juice (

5 g

)
Pinch of salt (1 g)
Assembly:
1

egg (50 g)

1 tablespoon

milk (

19 g

)

½ teaspoon

salt (

3 g

)

1 tablespoon

 strawberry jam per pop tart (

25 g

)
Vanilla Frosting:
1 cup

powdered sugar (

125 g

)

3

-

4

tablespoons heavy cream (

45

-

60

g)

½ teaspoon

vanilla extract (

3 g

)
Optional: pink food coloring + sprinkles
---
Instructions
Preheat oven to 375°F. Line a sheet tray with parchment paper or spray with nonstick cooking spray and set aside.
Make the pie dough: In a large bowl, whisk together the all-purpose flour and salt. Then, use a pastry cutter to cut in the cold unsalted butter until it is lentil-sized. (If you don't have a pastry cutter, you can also do this using a food processor.) Then, pour in the ice water and mix until just combined. If the dough is still crumbly, add in more water as necessary. Form the dough into two equal sized disks and wrap each one individually with plastic wrap. Chill the dough for at least an hour, or up to two days.
Make the strawberry jam: In a medium pot, combine strawberries, granulated sugar, lemon juice, and kosher salt. Heat mixture over high heat, stirring constantly with a heat-proof spatula. Once the mixture starts to bubble up, reduce the heat down to medium-low. Cook the mixture for 10-15 minutes, stirring constantly, until the jam is thick and viscous. To test if the jam is ready, I usually like to run my spatula along the bottom of the pot in a straight line. If it takes several seconds for the line to fill back up, the jam is usually ready. Once ready, remove pot from the heat and transfer the jam to a heatproof container. Let cool at room temperature, then refrigerate the jam to let it cool completely before using it for the pop tarts.
Once the jam has completely cooled, roll out the pie dough to ⅛-in thickness.
Cut 4 inch x 2.5 inch rectangles from the dough. Save the scraps, and re-roll the pie dough to get more rectangles (I don't recommend re-rolling the dough more than once).
Make an egg wash: In a small bowl, whisk together the egg, milk, and salt. Set aside.
Assemble the pop tarts: On half the rectangles, spoon 1 tablespoon of strawberry jam into the middle of the rectangle. Spread to make sure it evenly covers the inside of the rectangle. Using a pastry brush, brush the edges of all the rectangles (the egg wash will ensure that the pop tart sticks together). Flip the rectangles without the jam onto the rectangles with the jam and press along the edges to close the pop tart. Use a fork to crimp the edges together on all sides. Using a paring knife, cut three small slits in the top of the pop tart. This will ensure that the pop tart does not explode while baking.
Brush egg wash on the top of all the pop tarts, then bake in the preheated oven for 25-30 minutes, or until golden brown. Remove and let cool completely before adding the frosting.
Make the vanilla frosting: In a small bowl, mix together the powdered sugar, heavy cream, and vanilla extract. If desired, add in a small amount of pink food coloring.
Once the pop tarts have cooled completely, spread the frosting over the pop tarts, then top with sprinkles if desired. Enjoy!
---
---
Notes
Store the leftover pop tarts at room temperature for up to three days. Make sure to keep them in an airtight container, and you can warm them up in the toaster or microwave.
Keywords: strawberry pop tart, strawberry, homemade pop tarts