I can't believe we made it, but here we are at the last part in my pastry school recap series! Going through pastry school, it kind of felt like it would never end. Now, I look back and think it went by in the blink of an eye. If you missed any of the previous recaps, make sure to check out the links below to get caught up.
Individual Desserts 2
After successfully finishing making our first wedding cakes, we moved onto doing some advanced individual desserts. To start of this unit, we explored the topic of sous vide cooking. With this method, you place food in a plastic bag, vacuum seal it, and then oftentimes cook it in temperature-controlled water. During class, we played around with vacuum sealing fruit and different flavor combinations. The vacuum sealing process really enhances the flavor!
Then, we moved onto making some very elaborate desserts. When I say elaborate, I really mean elaborate—most of the recipes had 25 components and a sheet and a half worth of directions! I really enjoyed learning how to make the desserts, and we spent a lot of time learning how to plate them.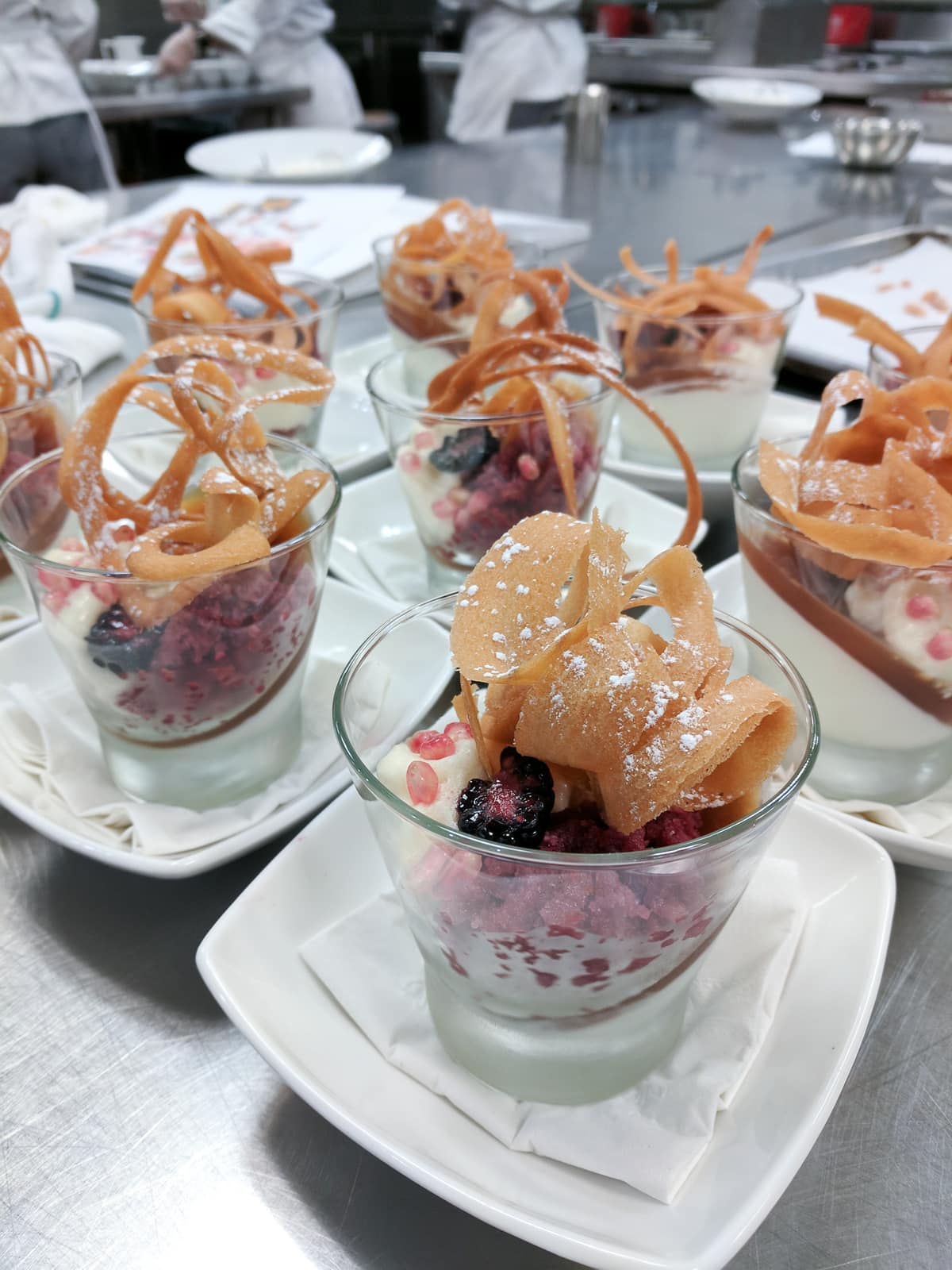 Earl grey panna cotta
Using the principles of design, the chef instructor taught us the best ways to plate desserts, as well as some unique techniques you can do to enhance the design. It really opened my eyes to how much thought goes into the presentation of food!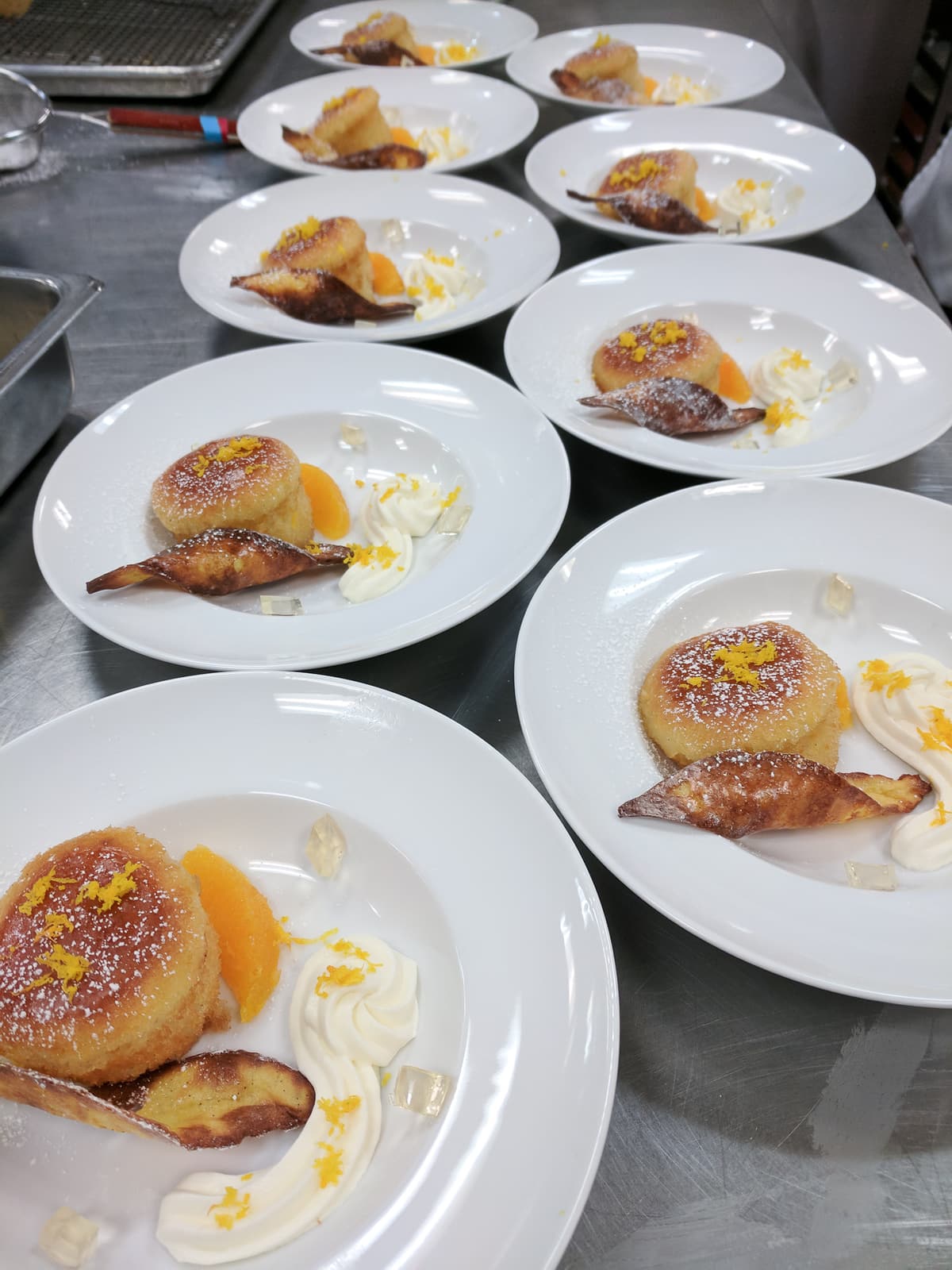 Baba ah rum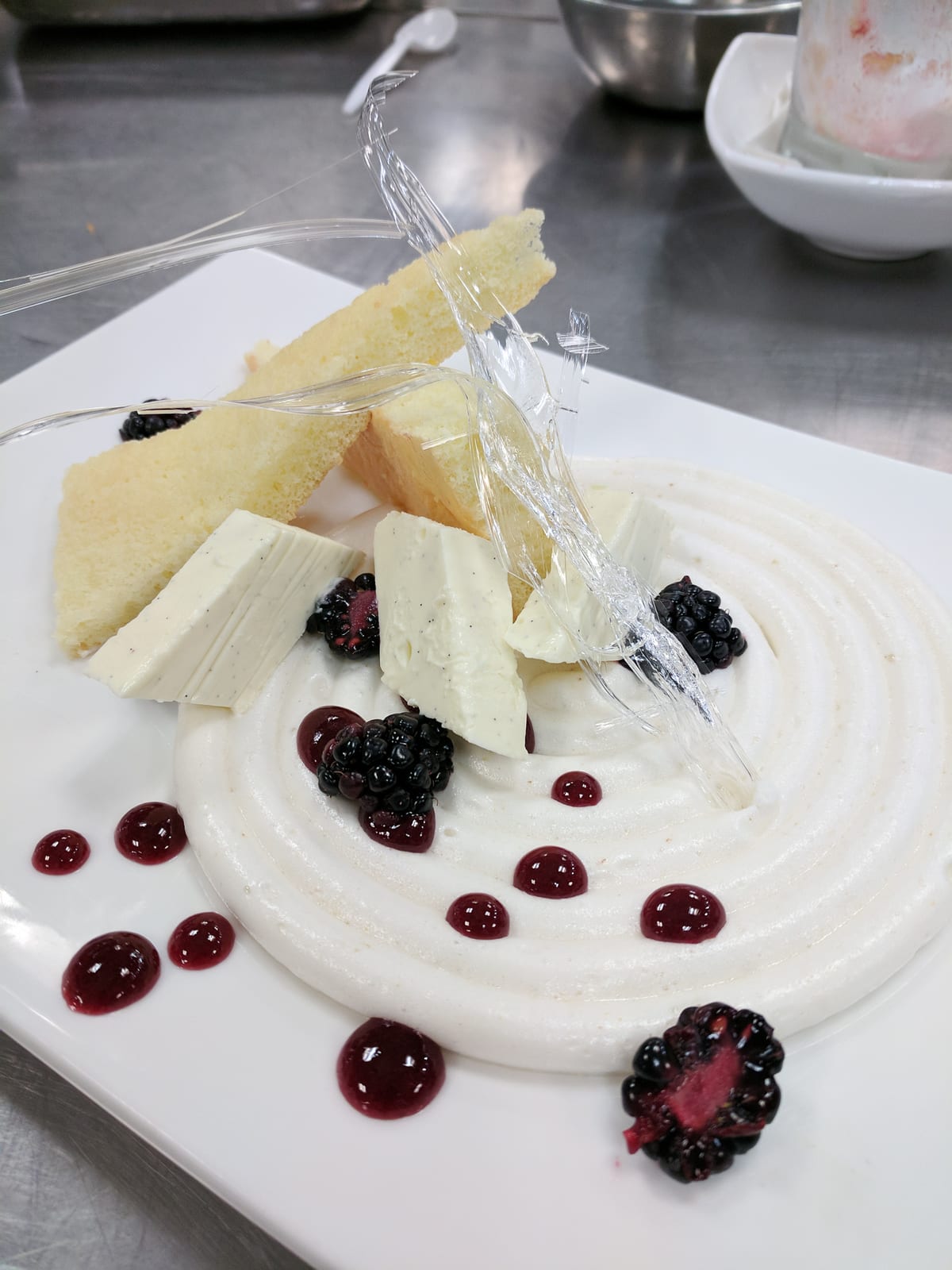 After that, we spent a bit of time learning about pastry for specialized diets, such as gluten-free and vegan pastries. I got to try my hand at making a gluten-free biscuit and an apple muffin made with alternative sweeteners. In today's day and age, it's really important to have a well-rounded repertoire of recipes to cater to every need. Also, you have to be very upfront and honest with anyone you give food to in case of any allergies or food restrictions!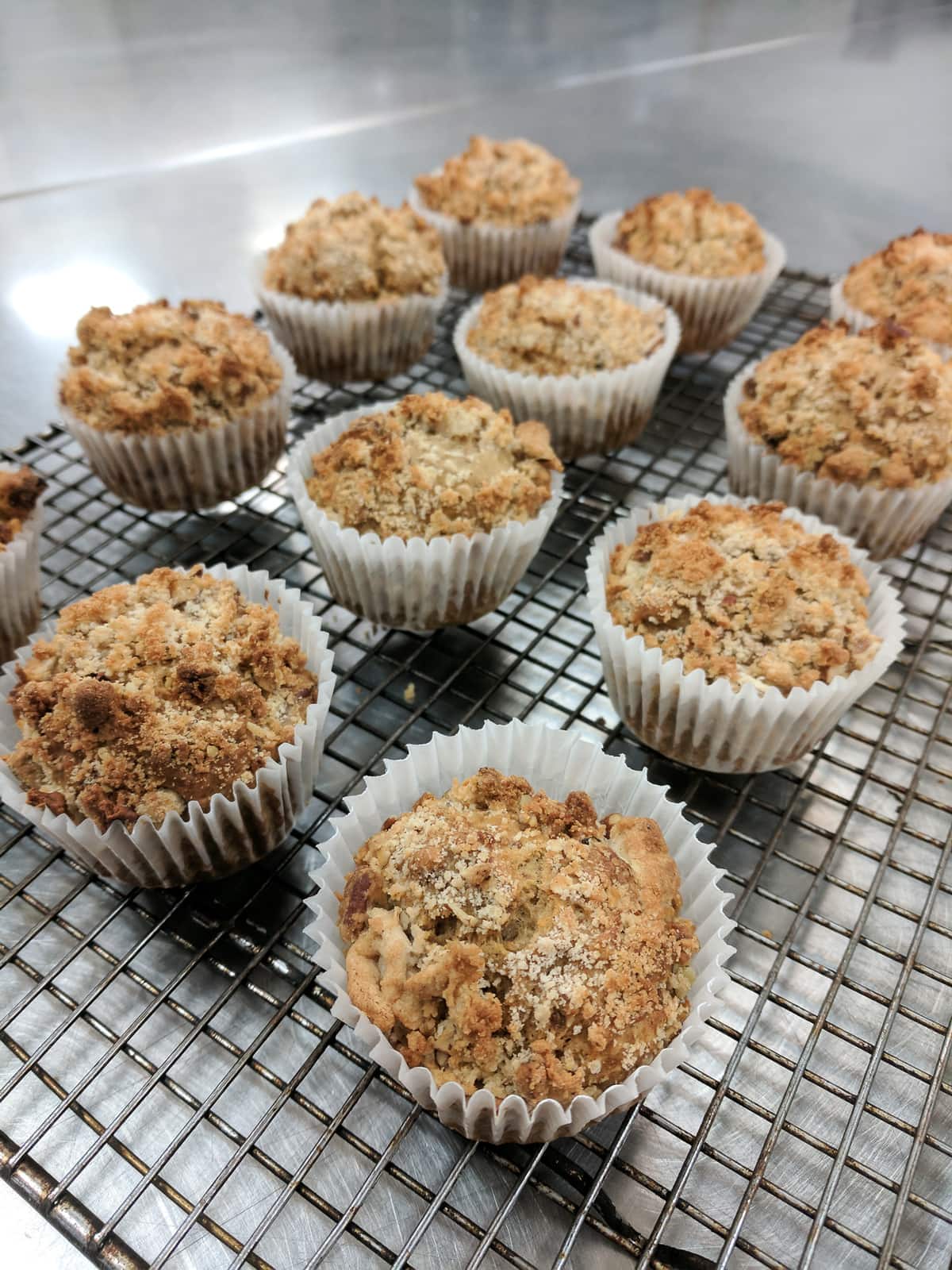 Apple muffin made with alternative sweeteners
Finally, we turned away from pastry for a bit and learned all about coffee, tea, and wine. We got to taste several varieties of each, as well as see which ones paired well with what kinds of desserts.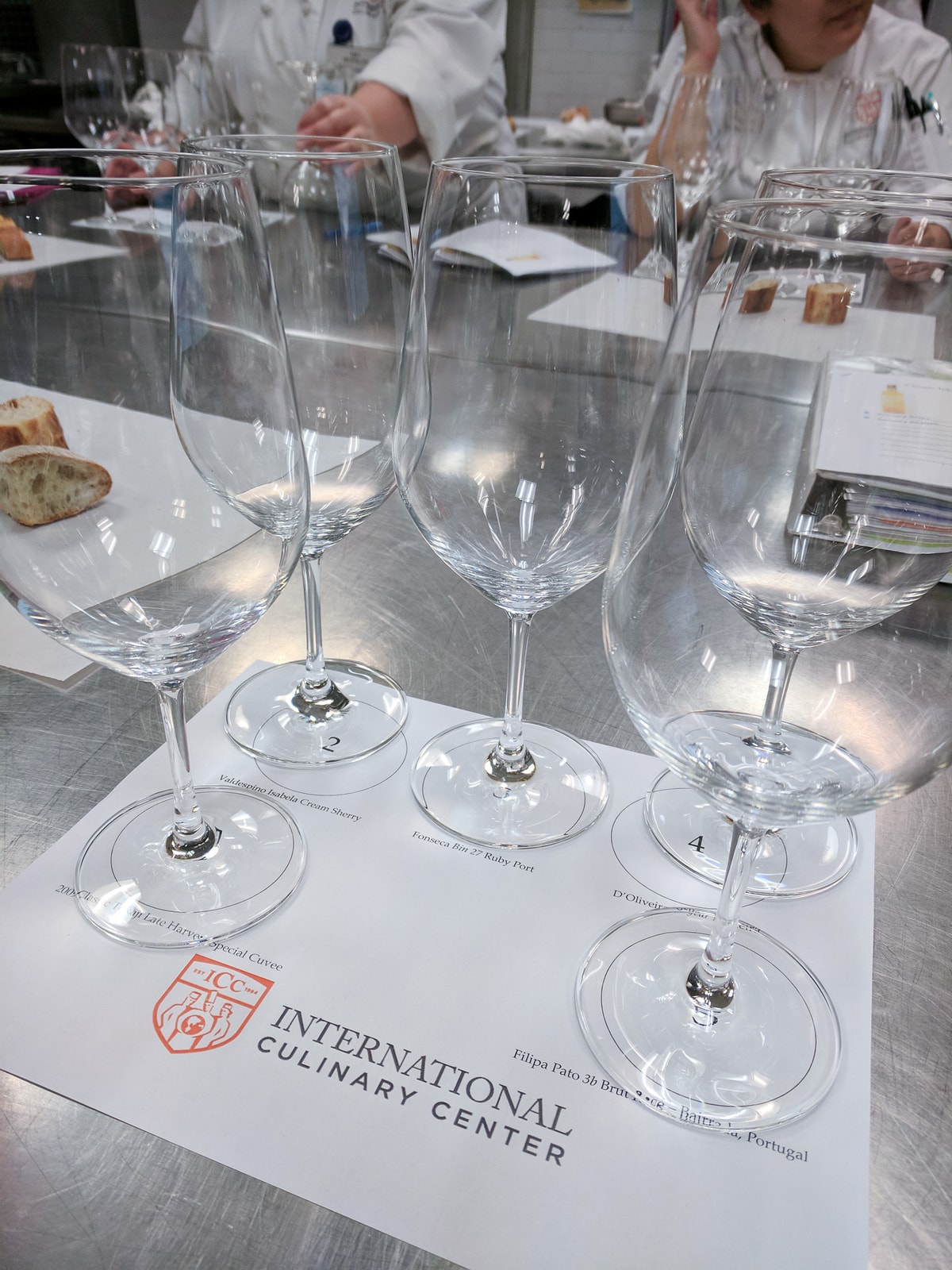 Getting ready for wine tasting
Restaurant Day
One of my favorite parts of pastry school at ICC was our Restaurant Day. Towards the end of the Individual Desserts 2 unit, we had a special class in which every student prepared his/her own dessert. We made the recipe ourselves and plated it, and then we invited our friends and family to come eat. The school even provided waiters and a complete dining experience!
Leading up to Restaurant Day, I felt especially excited because my parents decided to fly into New York City especially for the event. They came to ICC, as well as my boyfriend and a few friends, and it was a very heartwarming moment. I really enjoyed getting to share this part of my life with those that I love.
For my dessert, I decided to make a matcha crepe cake filled with mascarpone cream. I paired it with a cinnamon and cardamom ice cream, cranberry coulis, and chocolate sauce. To make all the cakes, I actually had to make 45 crepes! The whole process took hours, but I think it was worth it in the end.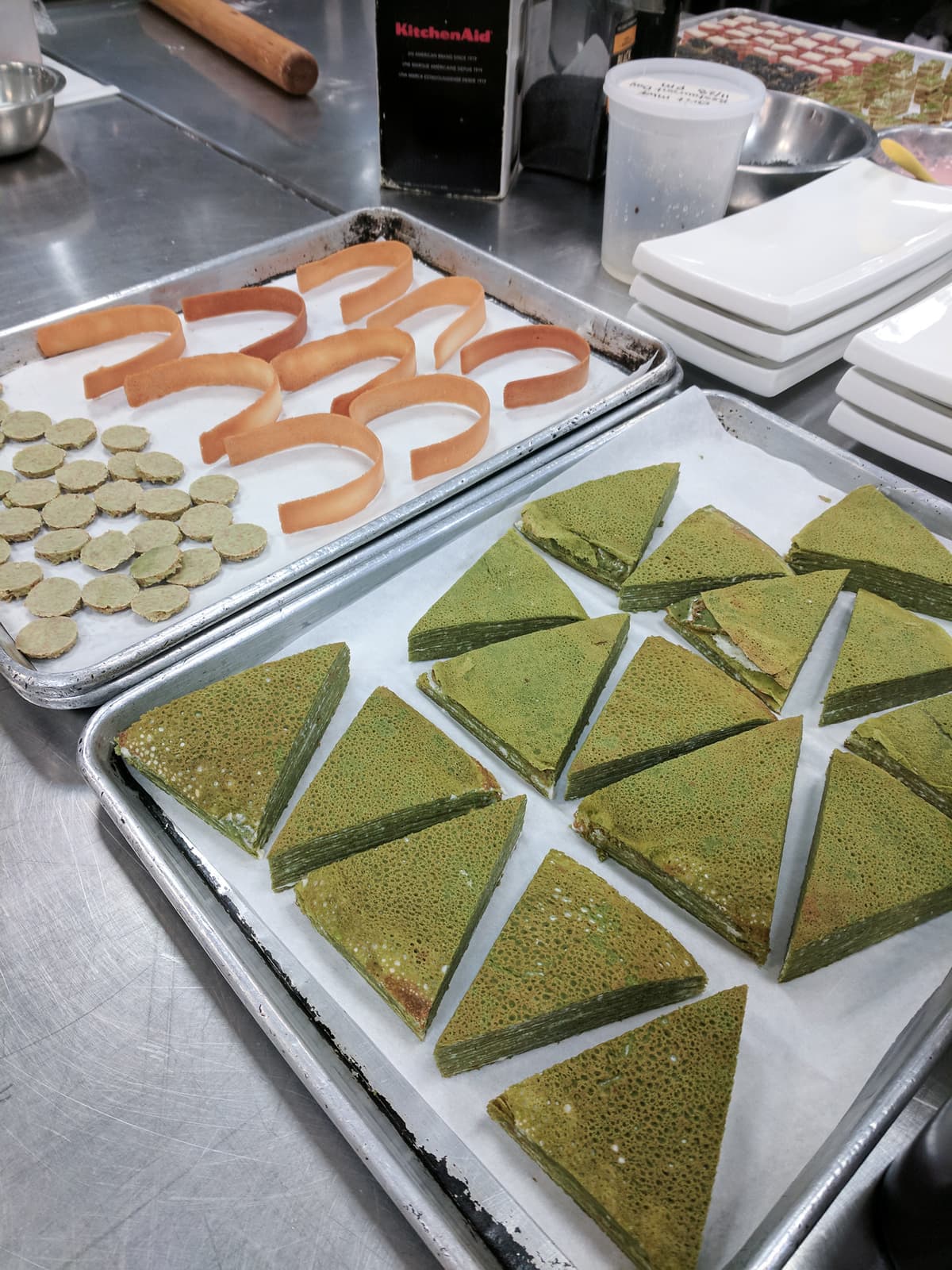 Matcha crepe cake plate before assembly
Mimicking the experience in a real restaurant, all the guests placed their orders for the desserts they wanted. Then, we plated the desserts as we got the orders, and we sent the desserts off with food runners. This was my first glimpse into what working in a restaurant would look like. It's hard to believe that this is what I do day in and out now!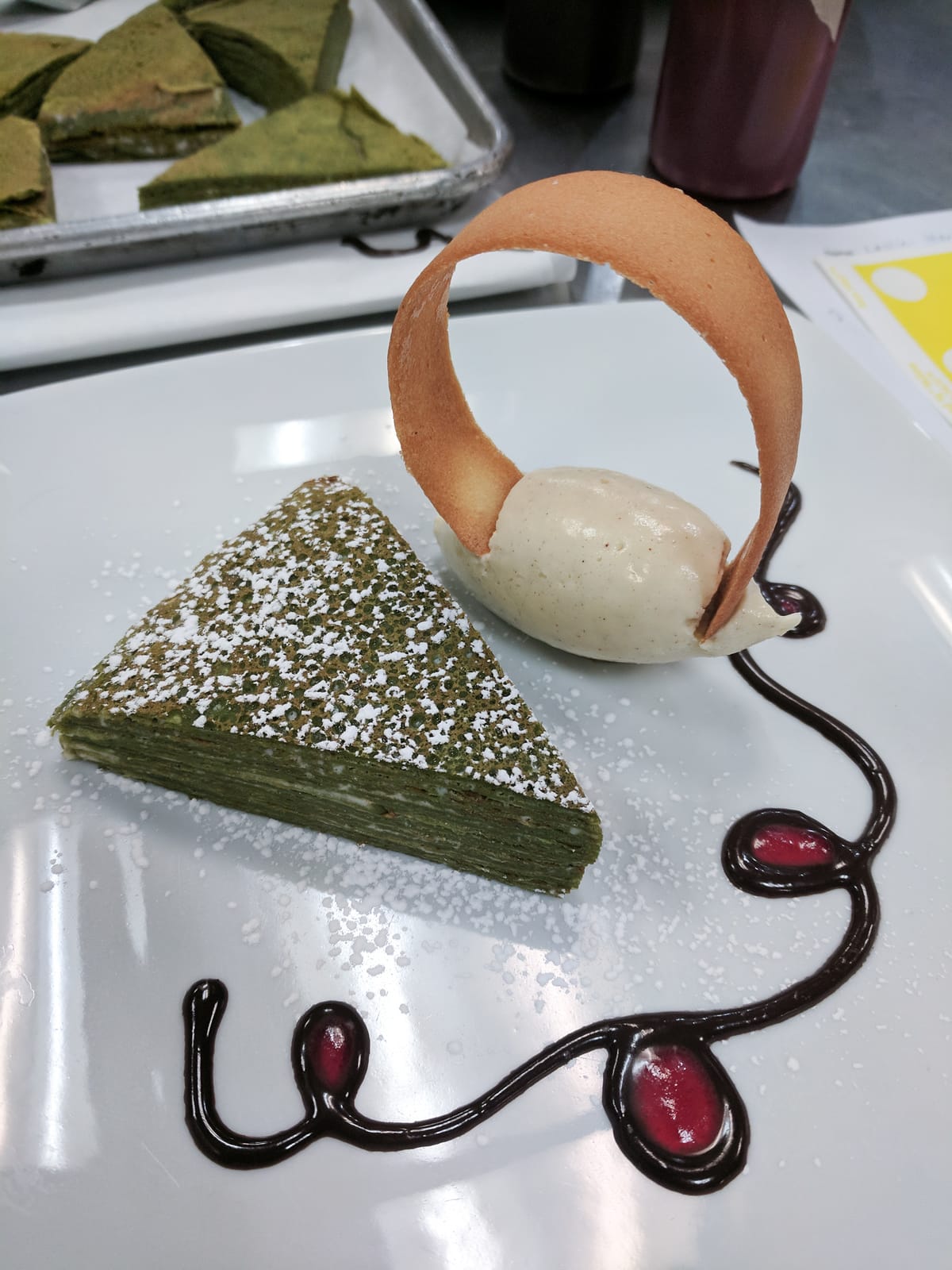 Matcha crepe cake plate
Final Exam
After wrapping up Restaurant Day, we barely had time to catch our breath before the final exam began. Nine months earlier, I honestly never thought we would get to the final exam. We had heard a lot about it from previous classes, and it seemed very daunting.
Taking place over six class periods, the final exam was a beast in and of itself. First off, we had to take a written exam that covered all the concepts we had learned over the past nine months. I made quite possibly the world's largest study guide in preparation, and I was glad to get the written exam done at the beginning of the final. Fingers crossed that's the last formal test I'll ever have to take!
After that, we moved onto the practical portion of the final exam. Each student was instructed to make a showpiece that incorporated all the techniques we had learned throughout school, including sugar work and chocolate work. The showpiece would be functional as well—it would hold various confections and pastries that we got assigned to make. For the showpiece, our class collectively decided on books as the theme. Given that, I decided to pay tribute to Harry Potter, my favorite series since I was a little kid.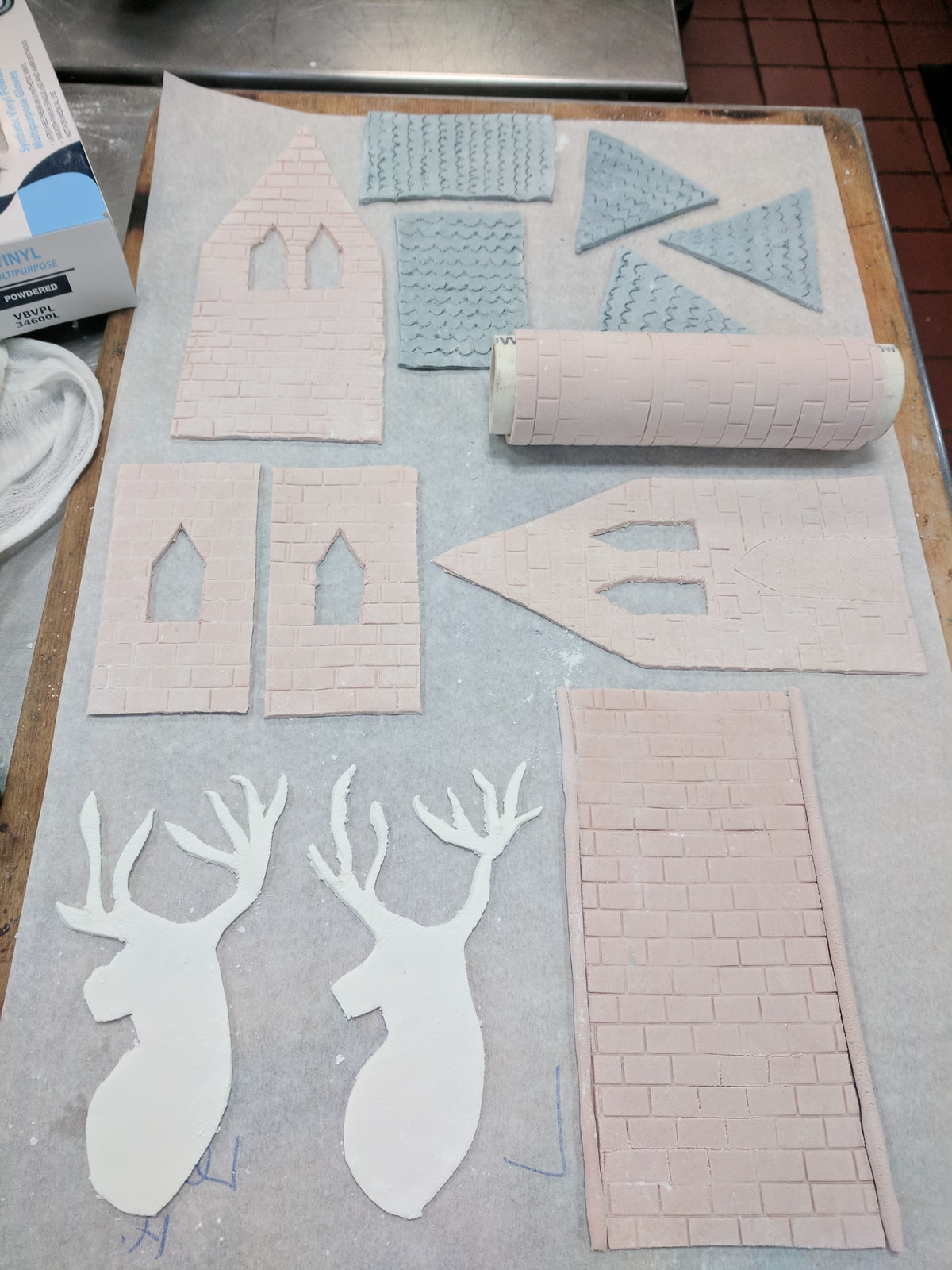 Pastillage Hogwarts castle before assembly
For the showpiece itself, I decided to use the third Harry Potter book as inspiration. I decided to make a small replica of the Hogwarts castle out of pastillage, while I made mountains, a full moon, and a lake out of poured sugar. I also made a white stag out of pastillage to represent Harry's Patronus. I liked how it turned out, but I wish I had made the castle a bit darker!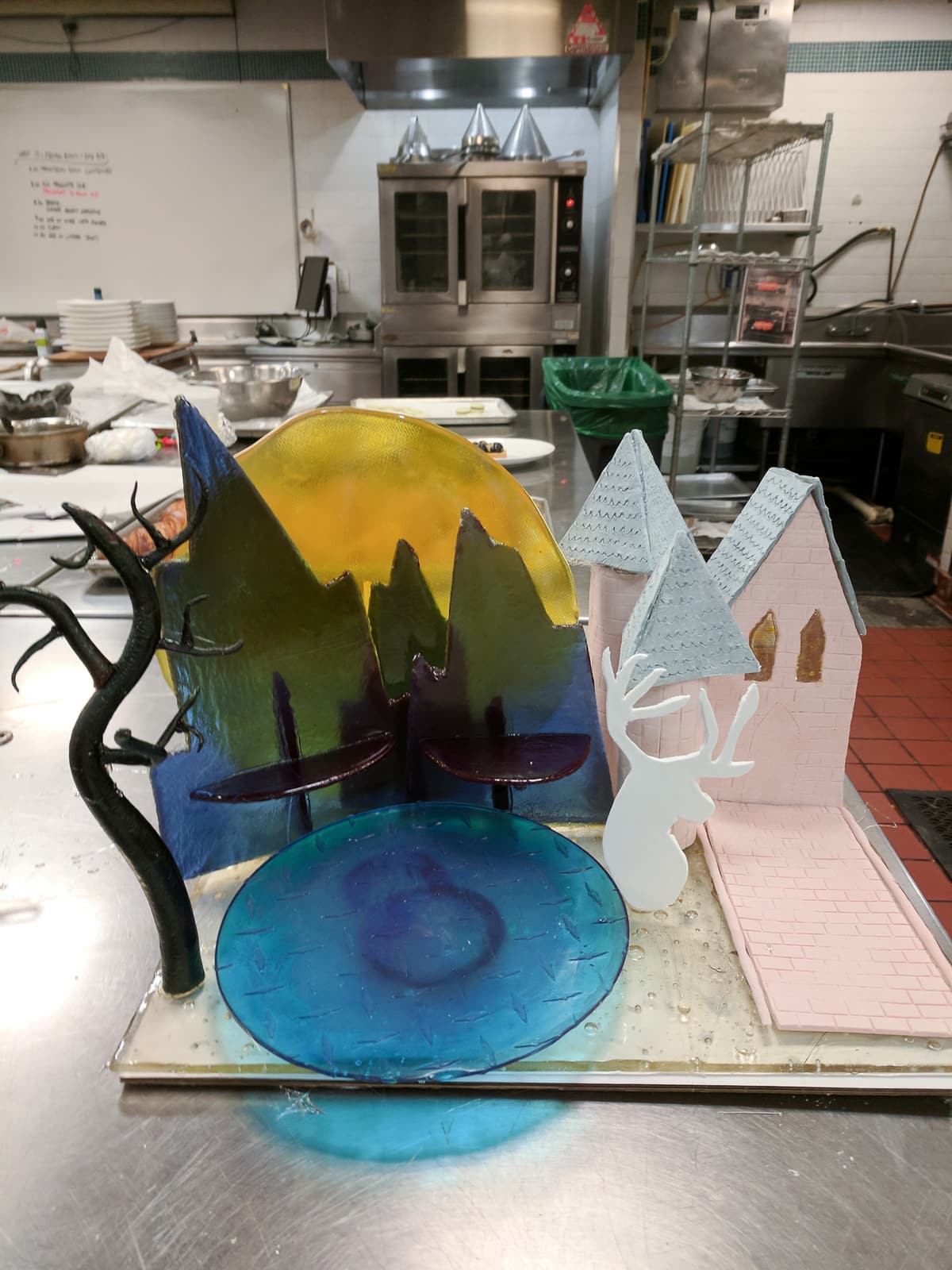 So many hours of work went into making this...
In addition to the showpiece, I prepared mini palmiers, peanut confections enrobed with chocolate, danishes, and a cranberry chocolate tart. Working down to the last minute, I put the finishing touches on the showpiece, glancing at the clock every few minutes to make sure I would finish on time. The scariest part, though, was that we had to each carry our showpieces down the hallway and not drop them! I was shaking the entire time, and the showpiece was not light.
For the final exam, the school actually brought in several industry professionals to grade our showpieces and pastries. Once we presented our showpieces, we stepped out for an hour or so while they graded. Then, we met with the judge one-on-one and received feedback and advice about the culinary industry in general. Overall, I received mostly positive comments, and I really appreciated the advice she had to give me.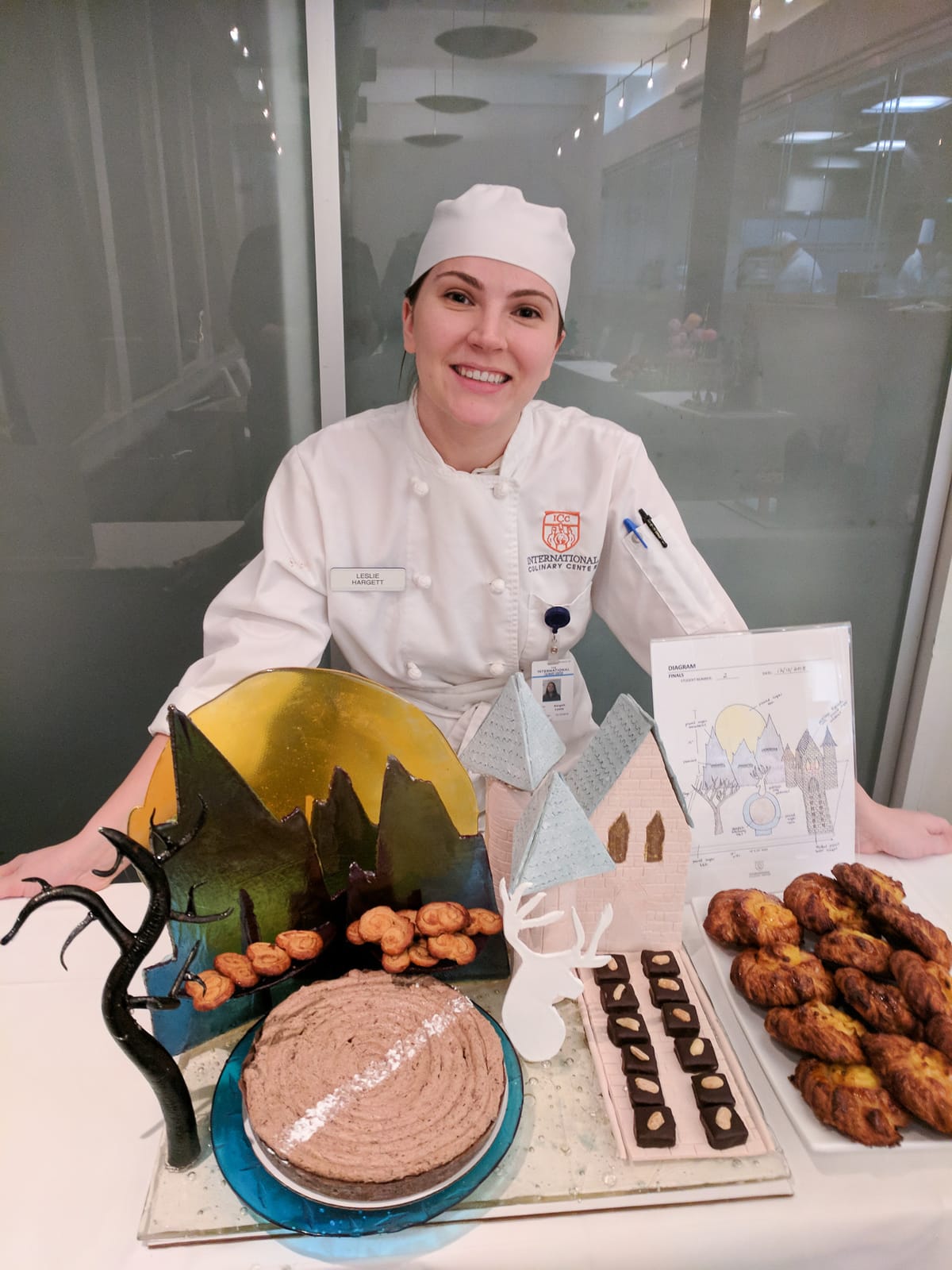 Leaving that last class, it felt like such a weight was off my shoulders, but it was a bittersweet ending as well. I had spent the last nine months going to class day after day, and I really was going to miss my classmates and instructors.
I really hope you enjoyed all these posts in the pastry school recap series! If you have any questions about my experience, please feel free to leave me a comment below. I would be happy to talk to anyone considering going down this path, and I really am happy it was the direction I chose to go in.
Pastry School Recap Series
Pastry School Recap #1: Deciding to Go to Pastry School
Pastry School Recap #2: Cookies, Tarts, Pies, and Pȃte à Choux
Pastry School Recap #3: Pâte Feuilletée, Cake 1, Bread, & Viennoiserie
Pastry School Recap #4: Cake 2, Petit Fours, & Midterm Examination
Pastry School Recap #5: Chocolate 1, Individual Desserts 1, & Sugar 1
Pastry School Recap #6: Chocolate 2, Sugar 2, & Cake 3
Pastry School Recap #7: Individual Desserts 2, Restaurant Day, & Final Exam