Welcome back to my pastry school recap series! If you missed reading about my decision to go to pastry school in part one, make sure to check it out here. In today's post, we're going to talk about everything I learned in level one at The International Culinary Center: cookies, tarts, pies, and pâte à choux.
Cookies
Like anything, pastry school started out easy. We began with cookies, making everything from shortbread cookies to biscotti. It felt nice starting in my comfort zone — I knew cookies. I have been making cookies my whole life!
Spritz cookies (made on the second day of class!)
At the end of this first unit, we were all instructed to make a batch of almond crescent cookies. During our evaluation, our chef instructor graded us on the bake itself, the uniformity of the cookies, and so forth. Practically everyone breezed through this first exam, and I felt pretty confident going forward.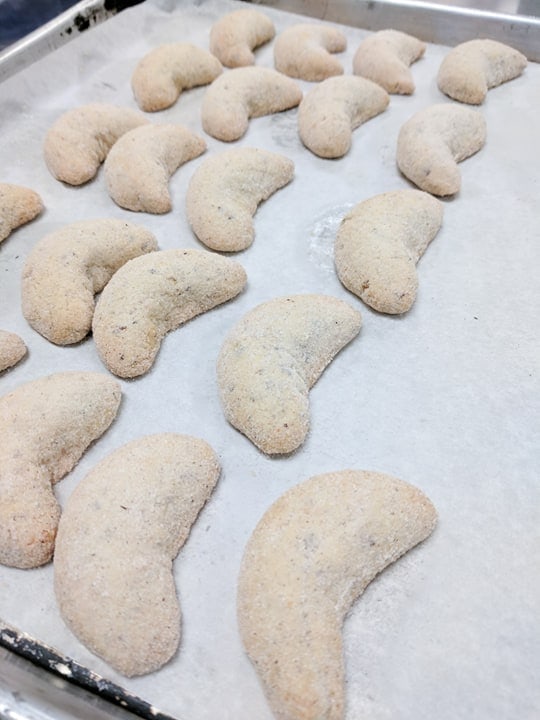 Almond crescent cookies
Tarts and Pies
Afterwards, we moved into tarts and pies, and while I'd been making pies for years, I had never experimented with tarts before. On our first day making tarts, I actually forgot to grease the tart ring for my apple tart, and we were waiting to bake them off the next class period. I remember going home that night on the subway, paralyzed with fear that I wouldn't be able to get the tart ring off after baking it. In the end, it ended up coming out fine, but I had to learn to start embracing the unknown.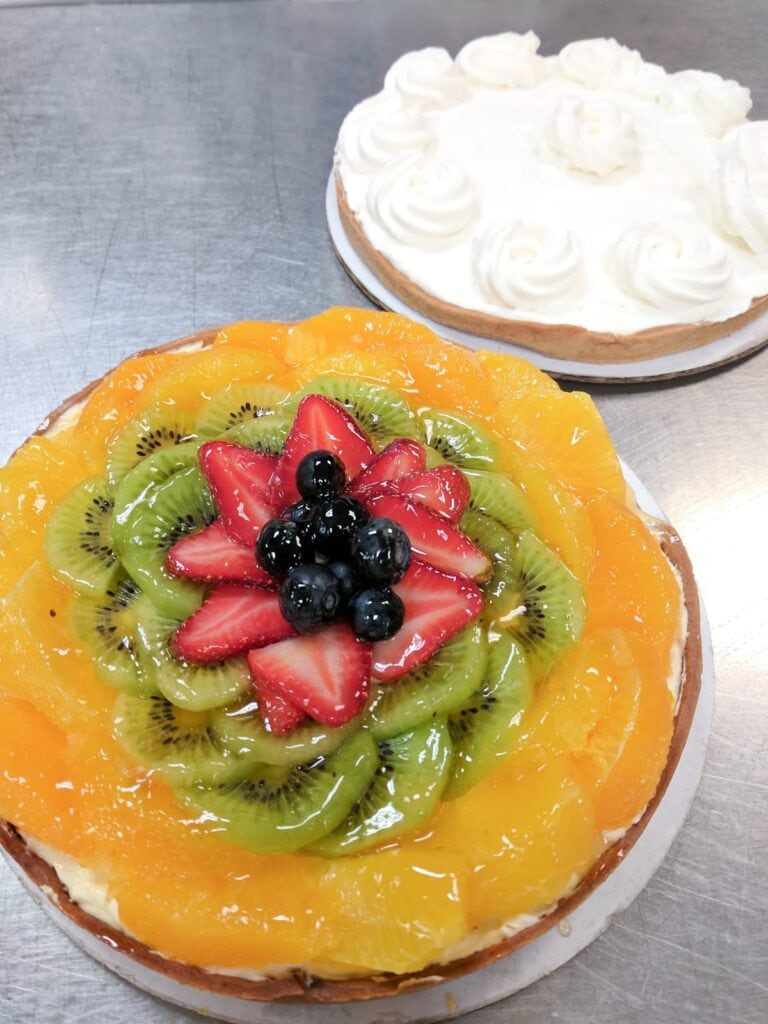 Fresh fruit tart and banana cream tart
My Meringue Fiasco
My first big challenge came at the end of the tarts and pies unit in the form of our first proper practical exam. The chef instructor assigned each student one full-size tart and two mini tarts to make in about three hours. Personally, I had to make a mixed nut tart and two small quiches. As soon as we got into the kitchen and started baking, I legitimately felt like I had become a contestant on The Great British Bake Off or something. Everyone was running around, frantically preparing their mise en place, doing each step as quickly as possible.
As I started making my mixed nut tart, I hit a few bumps in the road. I had to make a French meringue for the tart, and I think I accidentally got some fat in the egg whites, which caused the meringue to not whip up properly. Frantically, I ran over and grabbed a new mixing bowl to try again from scratch. Yet again, I screwed it up. Only on my third time did I produce a proper French meringue. At that point, I had wasted over twenty minutes on just this one component. Beyond stressed out, I had to keep reminding myself that it was just baking. I knew how to do this!
At the end of the practical exam, we all presented our final products to the chef instructor. One by one, she called us up one by one to give feedback. She told me that my mixed nut tart was delicious and perfectly baked. Over and over again, I thanked myself that I devoted the time to perfect my meringue. On the other hand, I accidentally baked my quiches at a higher temperature than I should have, causing them to brown too much on the top. I really appreciated getting firsthand feedback from an experienced chef in the industry, and this one-on-one interaction was by far one of my favorite parts of pastry school.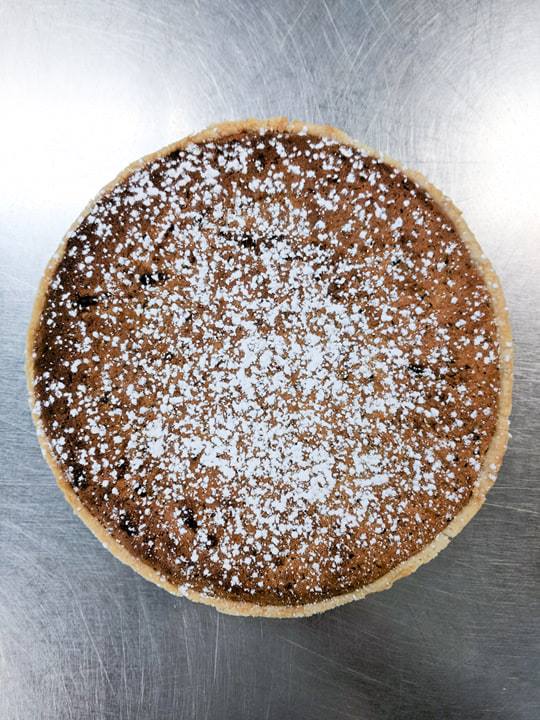 Mixed nut tart
Pâte à Choux
Finally, we moved onto the last part of this initial level: the world of pâte à choux (choux pastry). Now, while I kind of understood pies, I had never attempted making pâte à choux before. During our first class this unit, we made éclairs, and I struggled so much to even pipe them correctly. Our chef instructor taught us to count to ourselves as we pipe, and I found that this technique really did help yield uniformity.
After that, we moved into making cream puffs and gougères (really delicious cheesy puffs), and finally, we made a croquembouche. Though I had never heard of a croquembouche before attending ICC, I will never be able to forget it now. A classic French dessert, croquembouches often appear at weddings and other celebrations, and they feature a tower of choux pastry rings.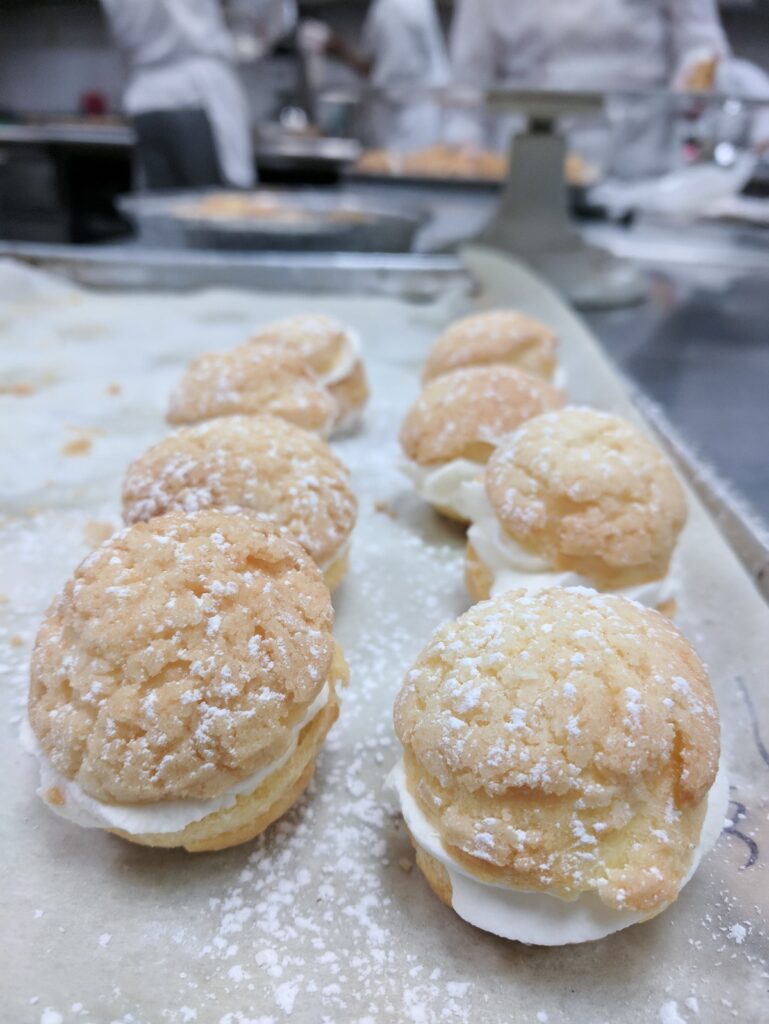 Choux au craquelin (mini cream puffs with a sweet crispy topping)
After five hours of hard work, I managed to make a baby one by the end of class. After piping and baking the choux, you assemble the croquembouche with caramel. Personally, I had never made caramel before, so learning to not burn the caramel while also keeping it hot enough to work with was a challenge in itself. In the end, I was proud of my little baby croquembouche. However, if I never have to make one again, I wouldn't be too upset either.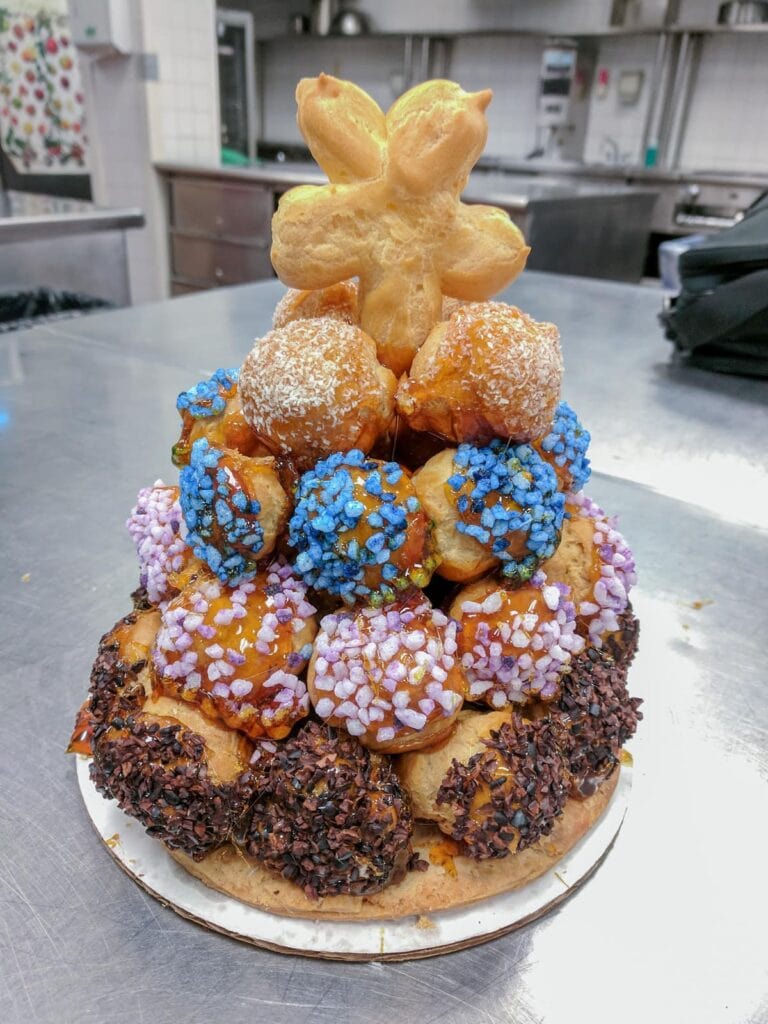 My little croquembouche!
In the next recap, we will get into the exciting stuff: puff pastry, cakes, and bread! The next unit was one of my favorites but also proved to be very challenging for me.
Pastry School Recap Series
Pastry School Recap #1: Deciding to Go to Pastry School
Pastry School Recap #2: Cookies, Tarts, Pies, and Pȃte à Choux
Pastry School Recap #3: Pâte Feuilletée, Cake 1, Bread, & Viennoiserie
Pastry School Recap #4: Cake 2, Petit Fours, & Midterm Examination
Pastry School Recap #5: Chocolate 1, Individual Desserts 1, & Sugar 1
Pastry School Recap #6: Chocolate 2, Sugar 2, & Cake 3
Pastry School Recap #7: Individual Desserts 2, Restaurant Day, & Final Exam