This post may contain affiliate links. Please read my disclosure policy for more details.

With a pecan streusel topping, this Sweet Potato Casserole Cheesecake offers a unique twist on a classic Thanksgiving recipe!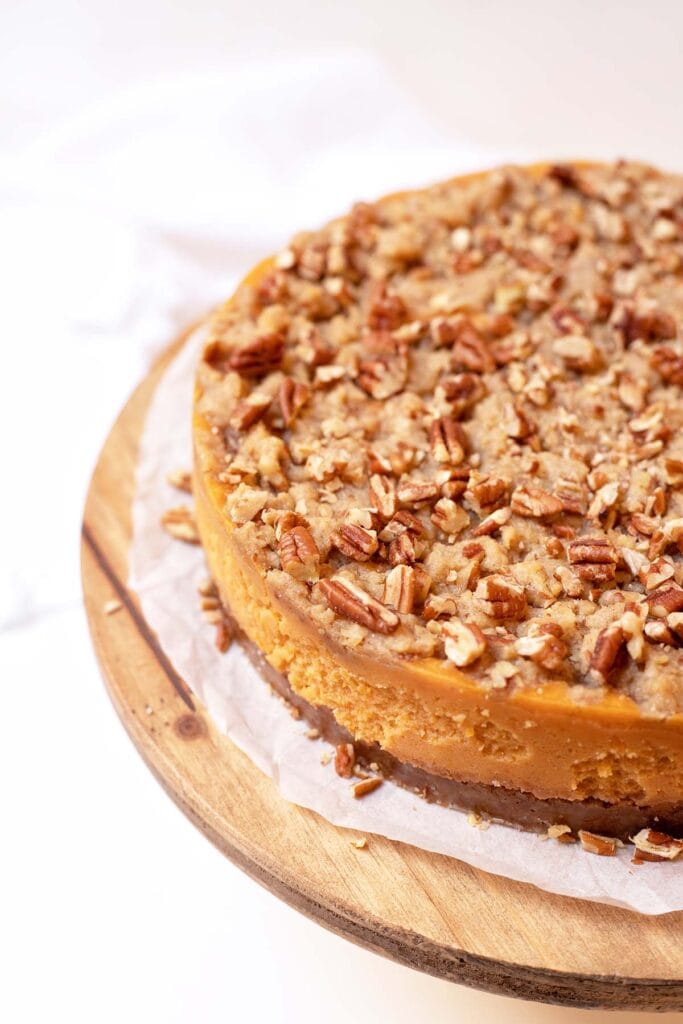 Every Thanksgiving, my favorite dish has always been my family's sweet potato casserole. When I go back for seconds, I always make a beeline for this casserole, bypassing all the other dishes.
My dad always prepares ours with a pecan crumble on top, and I love to snack on it before the casserole goes in the oven. Though I do love a good marshmallow topping, I can't resist that sweet potato-pecan combination.
As we get closer to Thanksgiving, I wanted to try and recreate my favorite dish in a new form, and this Sweet Potato Casserole Cheesecake definitely delivers. Light and fluffy, it has all those classic Thanksgiving flavors served in dessert form.
Why are we sitting around here just talking? Let's make some cheesecake!
Tips for Making This Cheesecake
Here are a few tips to get perfect cheesecake every time:
Use a food processor to prepare the crust. In this recipe, I like to use graham crackers to make the crust, and it can be tricky to grind them down by hand. Whip out your food processor to make the process a breeze!
Don't open the oven while the cheesecake is baking. Keeping the door closed traps the steam inside the oven, which helps prevent the cheesecake from cracking. After about 45 minutes, you can open the door in ten-minute increments to see if the cheesecake has finished baking.
Give the cheesecake lots of time to cool. Though it can be tempting, don't put the cheesecake into the fridge right away. Instead, let the cheesecake cool completely at room temperature, then transfer it to the fridge. If you put a hot cheesecake in the fridge, it will start to form condensation on the top, which might cause the top to crack.
For more tips on how to master cheesecake, check out our Ultimate Guide to Perfect Cheesecake!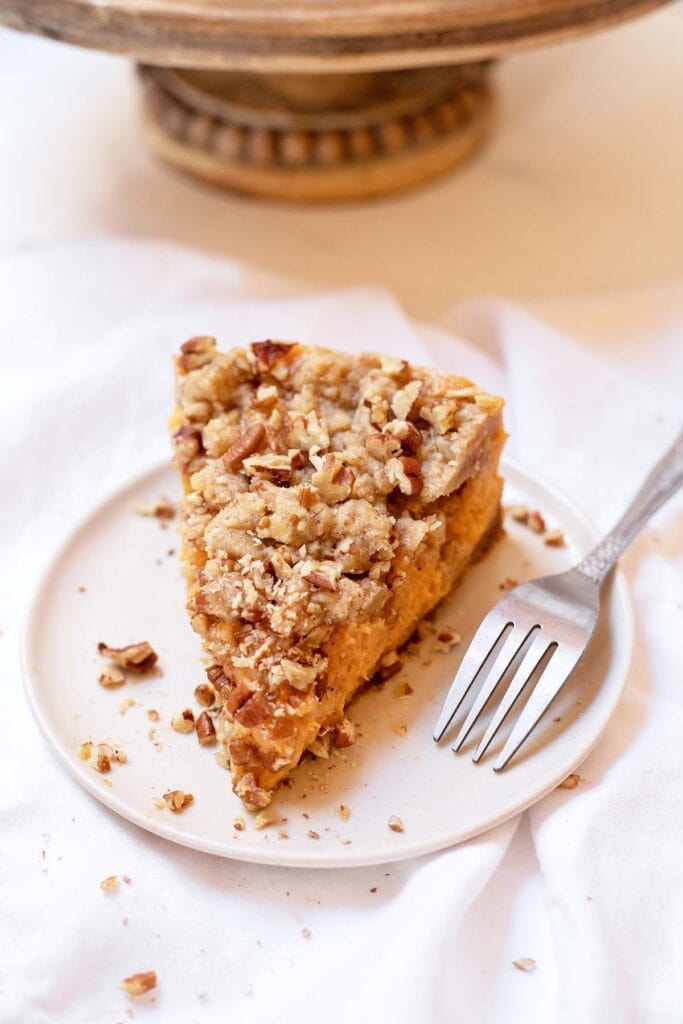 Common Questions About This Cheesecake
How do you know when the cheesecake is ready? 
Cheesecakes can be a bit tricky sometimes, but there are a few ways to tell when to take it out of the oven. To check if the cheesecake is done, you can grab the edge of the baking dish and gently shake the cheesecake. If the cheesecake is mostly set and only jiggles slightly, it is ready to come out of the oven. Unlike other cakes, you do not want to insert a knife or toothpick into the center to see if it has finished baking because it most likely will come out wet.
Why does the cream cheese need to be softened when making cheesecake?
Almost every cheesecake recipe will call for softened cream cheese, and it's for a reason. I like to keep my cream cheese at room temperature for about an hour before preparing the cheesecake batter. This helps the cream cheese mix better while also preventing lumps in the batter. If you are in a rush, you can microwave the cream cheese for 5-10 seconds to soften it up.
What is the best way to let cheesecake cool?
Once the cheesecake comes out of the oven, I would recommend letting it cool completely at room temperature. Though it can take a few hours, this will prevent the top of the cheesecake from cracking. Once it has completely cooled, you can transfer the cheesecake to the fridge to chill even more before cutting.
How do you remove cheesecake from the tin?
If you're using a springform pan, simply run an offset spatula or knife around the edge of the cheesecake, then pop the latch on the side and slowly lift up.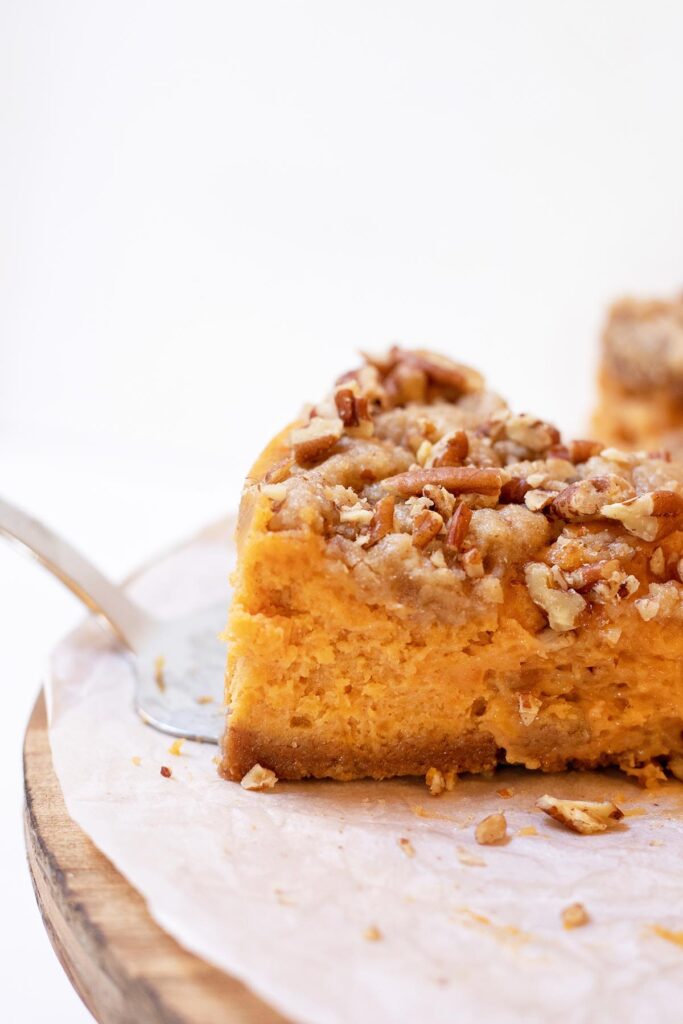 You Might Also Like These Recipes:
Print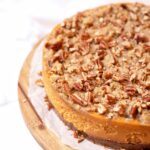 Sweet Potato Casserole Cheesecake
Author:

Prep Time:

20 minutes

Cook Time:

60 minutes

Total Time:

1 hour 20 minutes

Yield:

16

slices

1

x

Category:

Dessert

Method:

Bake

Cuisine:

American
---
Description
With a pecan streusel topping, this Sweet Potato Casserole Cheesecake offers a unique twist on a classic Thanksgiving recipe!
---
Scale
Ingredients
Graham Cracker Crust:
12

Graham Crackers, finely ground (

185 g

)

1/4 cup

granulated sugar (

50 g

)

1/2 cup

unsalted butter, melted (

113 g

)
Sweet Potato Cheesecake Filling:
8 ounces

cream cheese, softened (

227 g

)

1 cup

granulated sugar (

200 g

)

1/4 cup

light brown sugar (

50 g

)

2

mashed sweet potatoes (

540 g

) – see note below*

1 teaspoon

pumpkin pie spice (

2 g

)

2

whole eggs (

100 g

)

1/3 cup

evaporated milk (

76 g

)
Pecan Streusel Topping:
1/2 cup

unsalted butter, melted (

113 g

)

2/3 cup

light brown sugar (

130 g

)

1 cup

all-purpose flour (

120 g

) 

1/4 teaspoon

salt (

1 g

)

1/2 cup

pecans, roughly chopped (

65 g

)
---
Instructions
Preheat the oven to 300°F. Line the bottom of a 9-inch springform pan with aluminum foil, then spray generously with nonstick cooking spray. Set aside.

Make the graham cracker crust

: Finely grind the Graham Crackers in a food processor or by hand. Then, in a large bowl, mix together the Graham Cracker crumbs, granulated sugar, and melted butter until combined. Transfer the mixture to the prepared springform pan and press into an even layer (I like to use the bottom of a measuring cup to do this). Bake the crust in the preheated oven for 8-10 minutes, until set but not too brown. Let cool.

Make the sweet potato cheesecake filling

: In a stand mixer fitted with a paddle attachment (or a bowl with a handheld mixer), beat the softened cream cheese, granulated sugar, and light brown sugar until smooth and fluffy. Add in the mashed sweet potatoes and pumpkin pie spice and mix until well incorporated. Next, add in the eggs one at a time, scraping well after each addition. Finally, add in the evaporated milk and mix until combined. Pour the mixture into the springform pan on top of the crust and lightly shake until even.

Make the pecan streusel topping

: In a large bowl, combine the melted butter, light brown sugar, all-purpose flour, salt, and chopped pecans. Mix until evenly combined, then sprinkle the topping on top of the cheesecake batter by hand. Try to break up the crumble pretty finely with your fingers to avoid any large clumps. 
Bake the cheesecake in the preheated oven for 55-65 minutes, or until the edges are set and the middle jiggles just slightly. 
Remove the cheesecake from the oven and let it cool at room temperature. Then, transfer the cheesecake to the fridge to cool completely (at least for several hours). 
Tightly wrapped or stored in an airtight container, this cheesecake can be refrigerated for up to 2-3 days. 
---
---
Notes
*To prepare the sweet potatoes: Preheat the oven to 400°F. Place two sweet potatoes on a sheet tray lined with aluminum foil, and pierce the skin several times with a fork. Roast the sweet potatoes in the preheated oven for 45-60 minutes, or until soft to the touch. Remove from the oven and carefully peel the skin off the potatoes. Transfer the potatoes to a large bowl and mash with a fork, and then proceed with the recipe as written. 
If you don't have pumpkin pie spice on hand, you can substitute the following: 1/2 teaspoon ground cinnamon, 1/4 teaspoon ground ginger, 1/8 teaspoon ground nutmeg, and 1/8 teaspoon ground allspice. 
Keywords: cheesecake, sweet potato cheesecake, thanksgiving, sweet potato casserole