Cheesecake can be a bit tricky to make, but with this ultimate cheesecake guide, you will be baking perfect cheesecake every time!
What is Cheesecake?
The first cheesecake dates back to Ancient Greece, and this original recipe typically involved flour, wheat, cheese, and honey. However, cheesecakes didn't take on the form that we recognize today until around the 18th century. During that time, Europeans stopped using yeast in cheesecake and incorporated beaten eggs instead.
In the late 19th century, a New York dairy farmer invented cream cheese, and Americans began adding cream cheese into most cheesecakes. Today, you can find many variations on cheesecake—New York Cheesecake (which traditionally has no toppings), Italian cheesecakes (made with ricotta cheese), and even no-bake cheesecakes.
Typical Ingredients in Cheesecake
Though cheesecakes can be either baked or unbaked, they typically have the same kinds of ingredients. Most modern cheesecakes will include the following ingredients:
A crust often made from cookies (often from graham crackers or another kind of cookie)
Cream cheese
Eggs
Sugar
Cheesecakes are often flavored with other ingredients such as vanilla, lemon juice, pumpkin, and chocolate. If you're in the mood, we have a delicious recipe for a Sweet Potato Casserole Cheesecake here on The Baker's Almanac!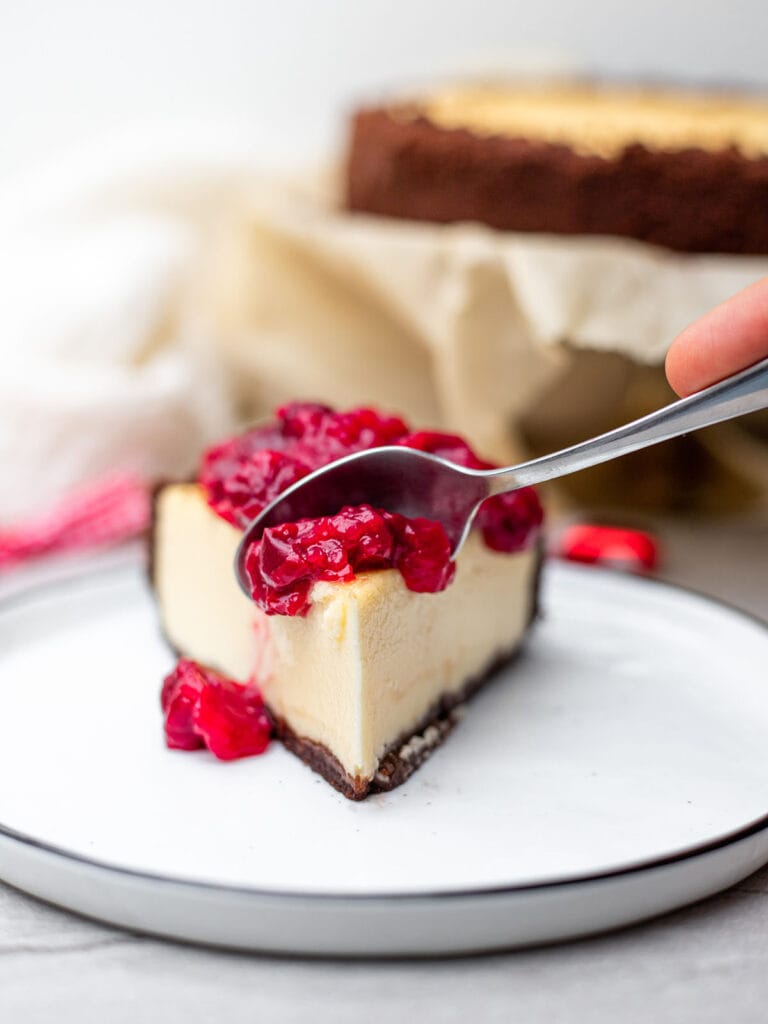 Tips for Perfect Cheesecake
1. Use a food processor to make perfect crust
Most recipes will call for something like a graham cracker crust or a cookie crust. Use food processor to finely grind the cookies so that you have a perfect crust every time!
2. Always use room temperature cream cheese
Before preparing your cheesecake batter, keep your cream cheese at room temperature for about an hour. This will help the cream cheese mix better with the sugar while also preventing lumps in the batter. If you're in a rush, you can always microwave the cream cheese in five-second increments to soften it up.
3. Scrape the mixture well
When mixing all the ingredients together, make sure you scrape well after each addition. This is especially important to do after adding the eggs. Is there anything worse than streaky cheesecake batter?
4. Opt for a springform pan
When it comes to cheesecake, springform pans are the way to go. Unlike other pans, springform pans have removable sides, so you can easily pop the cheesecake out once it has cooled. Before putting the crust in the pan, make sure to spray it very well with nonstick cooking spray. If desired, you can also line the pan with aluminum foil for easier release of the cheesecake.
5. Don't open the oven during baking
For at least the first 30 minutes of baking a cheesecake, keep the oven door closed. Keeping the door closed traps the steam inside the oven, which helps prevent the cheesecake from cracking. After 30 minutes, you can open the door in ten-minute increments to check if the cheesecake has finished baking.
6. Jiggle the cheesecake to see if it's done
To see if your cheesecake has finished baking, grab the edge of the pan and gently shake the cheesecake. If the cheesecake is mostly set and only jiggles slightly, it's ready to come out of the oven. Unlike other cakes, you do not want to insert a knife or toothpick into a cheesecake to see if it has finished baking.
7. Give the cheesecake time to cool
Though it can be tempting, don't put the cheesecake into the fridge right away. Instead, let the cheesecake cool completely at room temperature, then transfer it to the fridge. If you put a hot cheesecake in the fridge, it will form condensation on the top, and the top might crack.
8. Cut your cheesecake like a pro
To get a nice, clean cut on your cheesecake slices, keep a cup of very hot water nearby. Dip your knife in the water, pat it dry a little bit, then cut the cheesecake. Repeat the process in between each cut, and you will have beautiful cheesecake slices!
9. Store the cheesecake properly
Stored in an airtight container, cheesecake can be refrigerated for up to 2-3 days. To keep the cheesecake for longer, you can wrap it tightly with aluminum foil or plastic wrap and freeze it for 2-3 months.