With only four ingredients, this Homemade Strawberry Jam couldn't be easier to make! Packed full of flavor from fresh strawberries, it beats the grocery store version any day.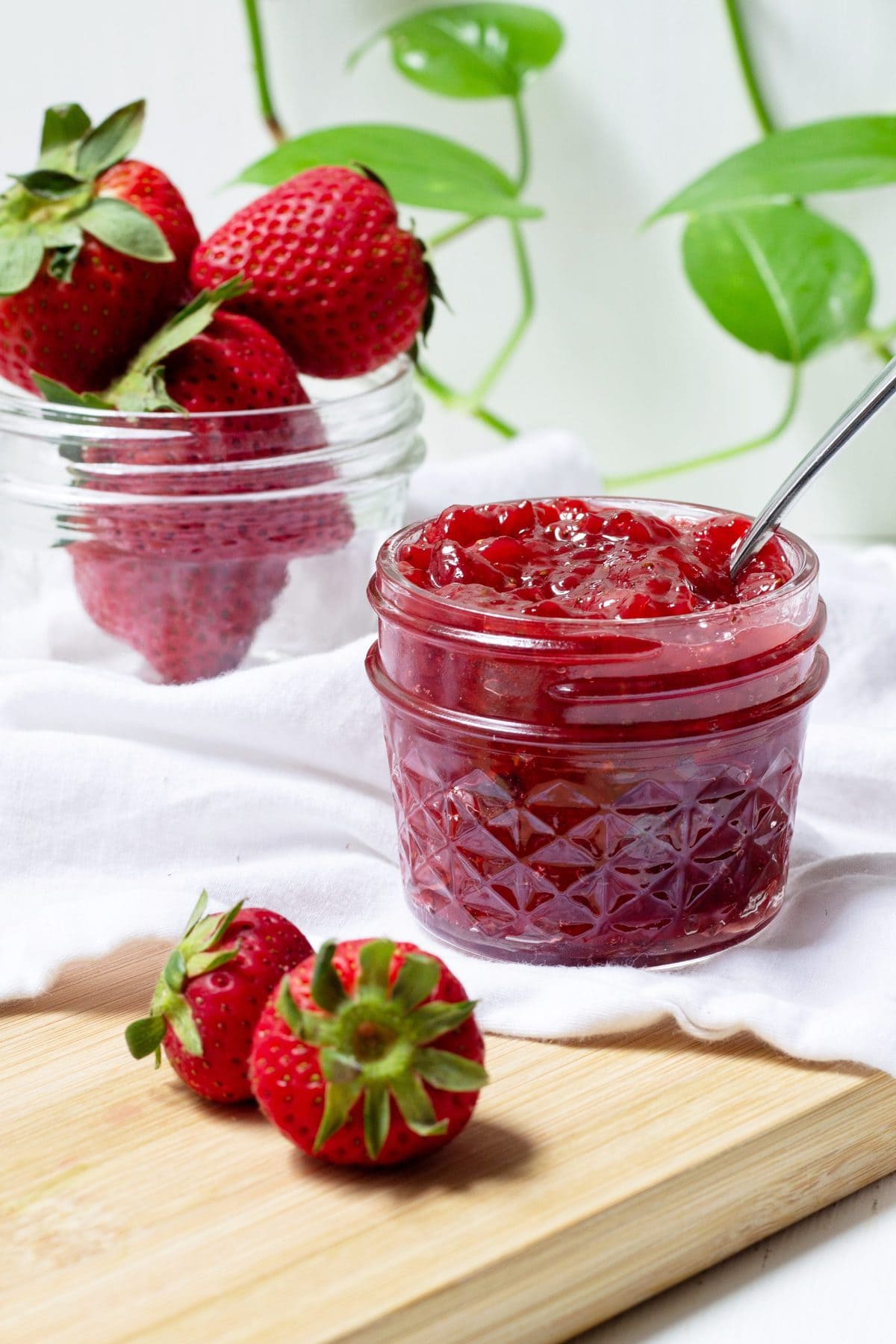 I don't know about you, but whenever it starts to get a little warmer outside, I just want to make lots and lots of jam.
With everything going on right now, I have been struggling to find high-quality jam in the grocery store, so I figured I would just make some at home. For the longest time, I was terrified of making jam, but I have found that it's honestly easier to make than you would expect. After learning just a few tricks, you'll be making delicious jam at home in no time.
Packed full of flavor, this Homemade Strawberry Jam takes less than twenty minutes to make, and it's so much better than any kind you can find in the store. Personally, strawberry jam was always my favorite growing up, so it brings me such joy to make it from scratch.
Without further ado, let's make some jam!
Tips for Making Homemade Strawberry Jam
Here are a few tips when making this homemade strawberry jam:
Cut up the strawberries as small as possible. To be honest, this part takes the longest in this recipe, but I promise it's worth it. If you use larger chunks of strawberry instead, the jam will be a lot chunkier in the end.
While the jam is cooking, stir frequently with a heatproof spatula. As the jam cooks in the pot, it can easily start to burn on the bottom. By stirring the jam frequently, you help distribute it evenly throughout the pot and prevent any burning.
Make this jam in small amounts. When it comes to making jam, I don't recommend doubling or tripling the recipe. If you try and make too much jam at once, it's easy for the fruit to overcook. Instead, I recommend making the jam in several batches if you want a large amount.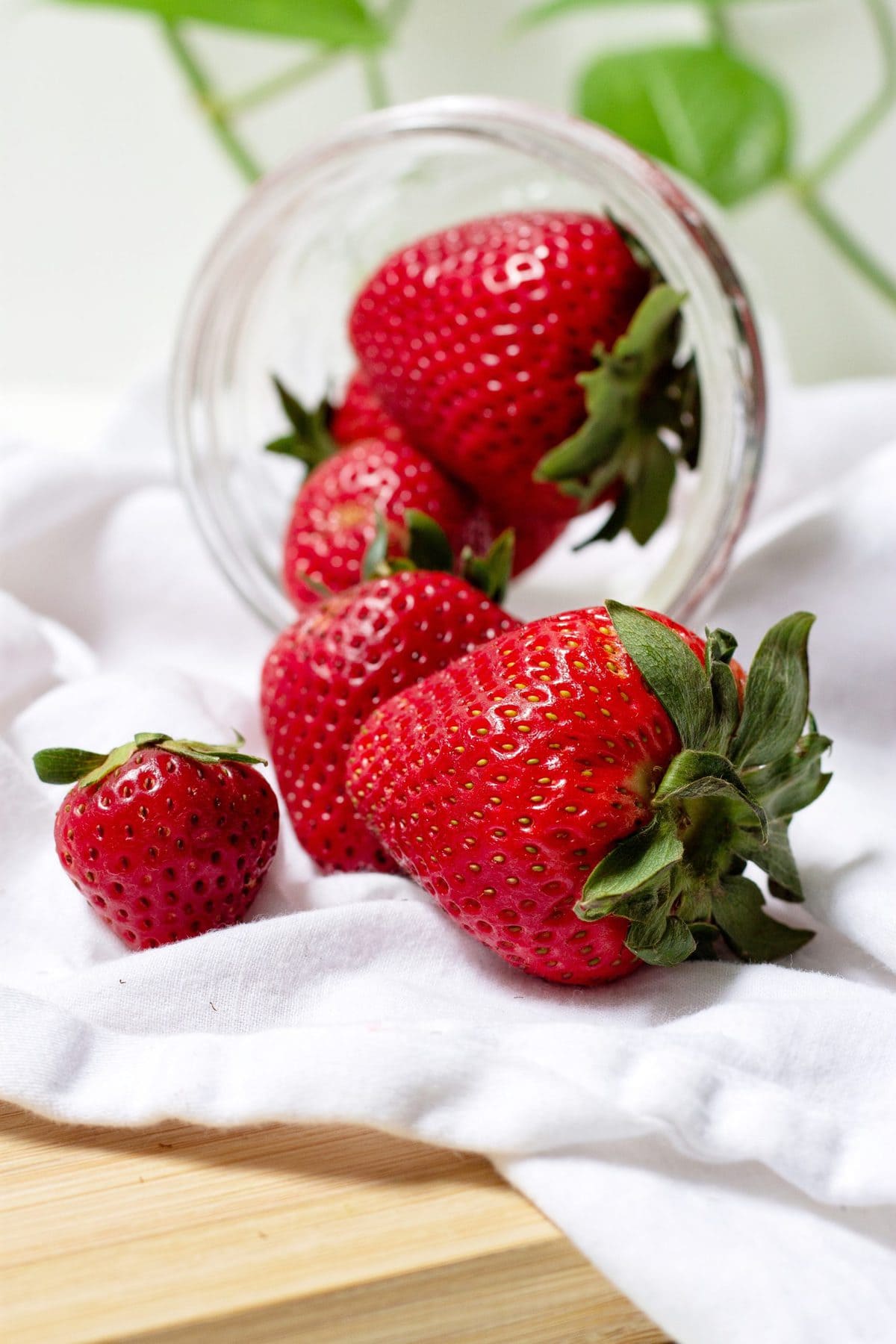 Homemade Strawberry Jam FAQ
How do you know when the jam is ready? 
When I first started making jam, I overcooked it over and over again. Keep in mind that the jam will continue to thicken up once you take it off the heat! I can usually tell that the jam is ready once it starts to stick to the bottom of the pot. You can also try putting a spoon or lid in the freezer, then dropping some of the jam on it. Run your finger or another utensil through the jam, and if the jam wrinkles, it's usually ready. If you're interested, this video shows this process in more detail.
Can you use frozen strawberries to make this jam? 
Of course! I personally love to make jam when I have lots of extra berries lying around in the freezer. If you are using frozen strawberries, you can simply follow the recipe as written (it just might take a bit longer for the strawberries to break down).
How long will this jam last? 
Stored in an airtight container in the fridge, this jam will usually last up to two months. This time will vary, so keep an eye on it—you should toss the jam if you start seeing any mold growing on the top.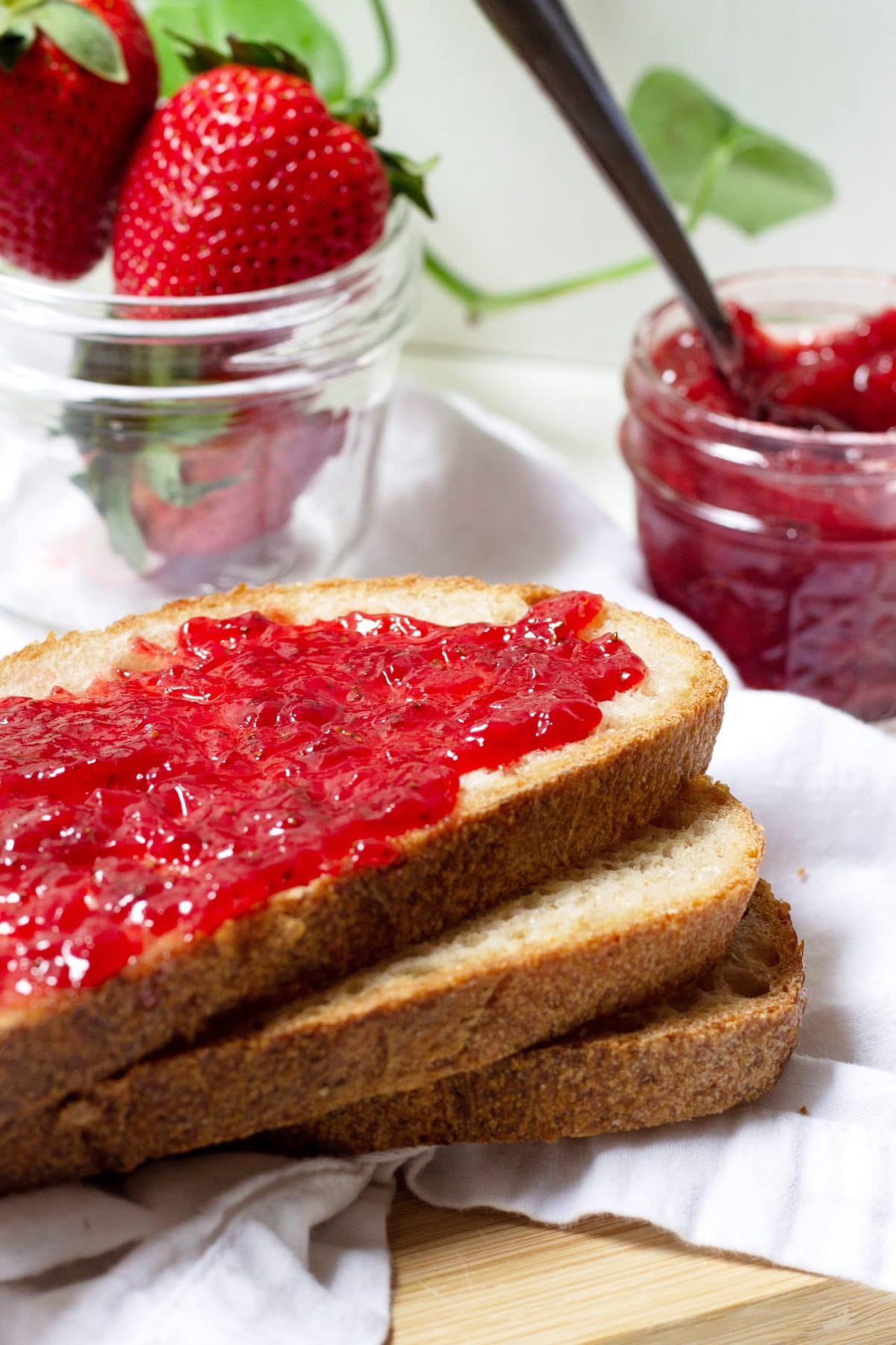 Watch Our Video on How to Make Homemade Strawberry Jam
You Might Also Like These Recipes:
Print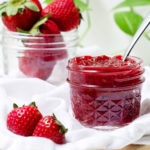 Homemade Strawberry Jam
Author:

Prep Time:

5 minutes

Cook Time:

10 minutes

Total Time:

15 minutes

Yield:

12 ounces

1

x

Category:

Jam

Method:

Sauté

Cuisine:

American
---
Description
With only four ingredients, this Homemade Strawberry Jam couldn't be easier to make! Packed full of flavor from fresh strawberries, it beats the grocery store version any day.
---
2 ⅓ cups

strawberries, finely chopped (

460 g

)

¾ cup

granulated sugar (

150 g

)

1 teaspoon

lemon juice (

5 g

)
Pinch of kosher salt (1 g)
---
Instructions
In a medium pot, combine strawberries, granulated sugar, lemon juice, and kosher salt. Heat mixture over high heat, stirring constantly with a heat-proof spatula.
Once the mixture starts to bubble up, reduce the heat down to medium-low.
Cook the mixture for 10-15 minutes, stirring constantly, until the jam is thick and viscous. To test if the jam is ready, I usually like to run my spatula along the bottom of the pot in a straight line. If it takes several seconds for the line to fill back up, the jam is usually ready. I like to air on the side of caution and take jam off almost too early—if it's not done yet, you can always put it back on the stove.
Once ready, remove pot from the heat and transfer the jam to a heatproof container. Let the jam cool completely at room temperature, then transfer to the fridge.
Stored properly in an airtight container, this jam will usually last for two months in the fridge.
---
Notes
Be careful not to overcook the jam or it will set too hard! Remember that the jam will continue to cook once you take it off the heat, so you just want to remove it once it starts to thicken.
I always like to make my jam in smaller amounts so that it doesn't spoil. You can even cut this recipe in half if you want to make less jam overall.
Keywords: strawberry jam, jam, strawberries