Last week, my boyfriend Kyle and I went to Montauk for a much-needed getaway. From New York City, it's a bit of trek to Montauk—first we had to rent a car, fight the city traffic, and then drive for a good three hours before arriving. It was my first trip to Montauk, and I really enjoyed it! I had been to the Hamptons before, but Montauk has a bit of a different vibe.
I wanted to share a quick Montauk travel guide in case you ever take a trip out there! Also, I would love to hear any suggestions you have for Montauk or the Hamptons, so please leave them in the comments below.
Where We Stayed in Montauk
After browsing on Airbnb for a bit, we decided to stay at The Montauk Soundview. Located right on the water, this hotel provides amazing sunset views! Though technically a hotel, it felt more like a collection of condos. Our room even came with a small kitchen and lots of kitchen supplies.
Though we liked the room, we had some issues with service at the hotel. When we got there the first day, the office had already closed by 2 pm. We got an email containing instructions on how to access our room, as well as a request to sign some check-in forms the next morning. However, the office was closed again the following morning, as well as the last morning of our trip. This might have been because we visited Montauk during the off-season, but I do wish the service had been a bit better. We had lots of issues with the Wi-Fi, but we had nobody there to ask about it.
All in all, I probably would recommend the hotel to somebody visiting Montauk. However, don't expect top-notch service if you're visiting before the height of the summer!
Where We Ate in Montauk
Now to the best part of our mini-vacation: the food! I am a huge fan of seafood, and Montauk is the place to go for good seafood. We also ventured into East Hampton and Amagansett for some of our meals since it's a super quick drive out there. Here are some of the restaurants we checked out on our trip:
Inlet Seafood Restaurant: On the first night of the trip, we decided to check out Inlet Seafood Restaurant. It's actually rated the best seafood restaurant in Montauk on TripAdvisor, and it did not disappoint! We ordered the lobster, scallops, and some sushi. Everything was delicious, and I was so happy to have lobster for the first time in a long time.
John's Pancake House: We popped into John's Pancake House for breakfast two days in a row, and it's honestly just a good old-fashioned breakfast spot. Kyle liked their steak and eggs, while I really loved the crepes with strawberries. The coffee wasn't bad either!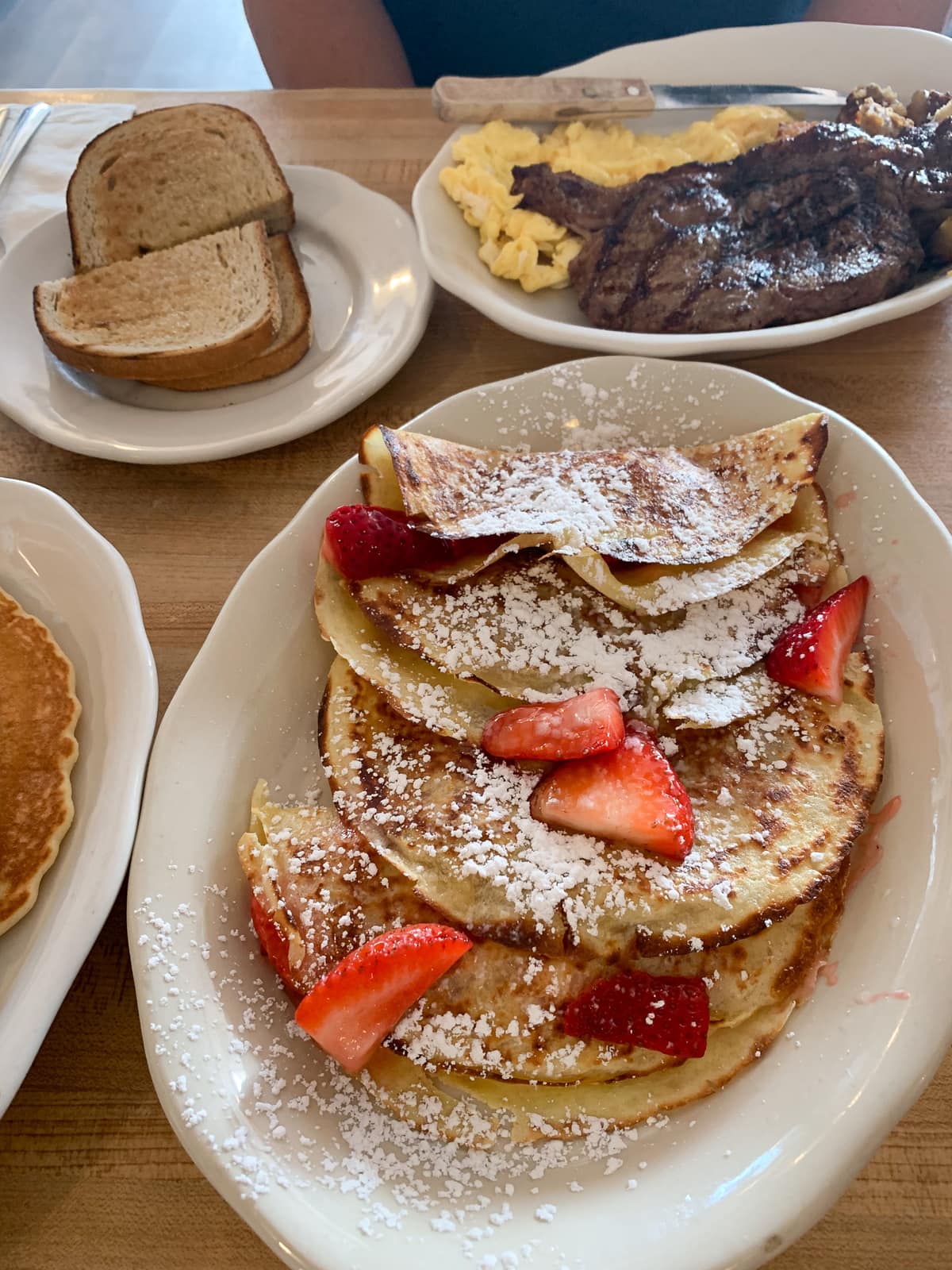 The Lobster Roll: Since I personally believe you can never have too much lobster, I insisted that we go to The Lobster Roll for lunch. I ordered the lobster roll, while Kyle got the clam chowder. Both were delicious, and the service was great.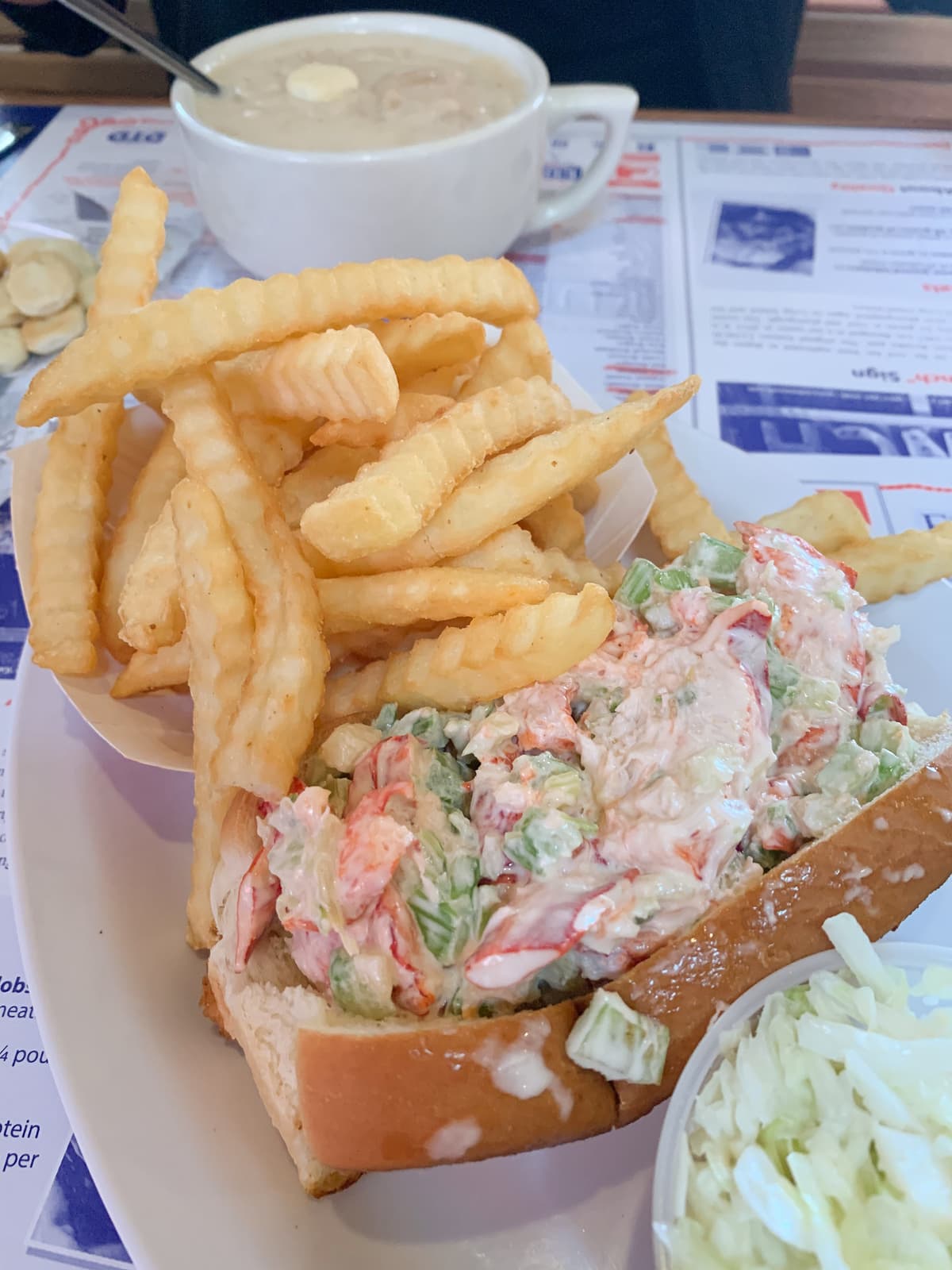 Wölffer Kitchen: This was by far my favorite meal of the entire trip! Located in Amagansett, Wölffer Kitchen has an eclectic vibe, and the dishes all feel upscale yet healthy. We ordered lentils in a curry sauce, salmon, and shrimp. For dessert, we tried the flourless chocolate cake. I really wish I could go back without driving for two hours!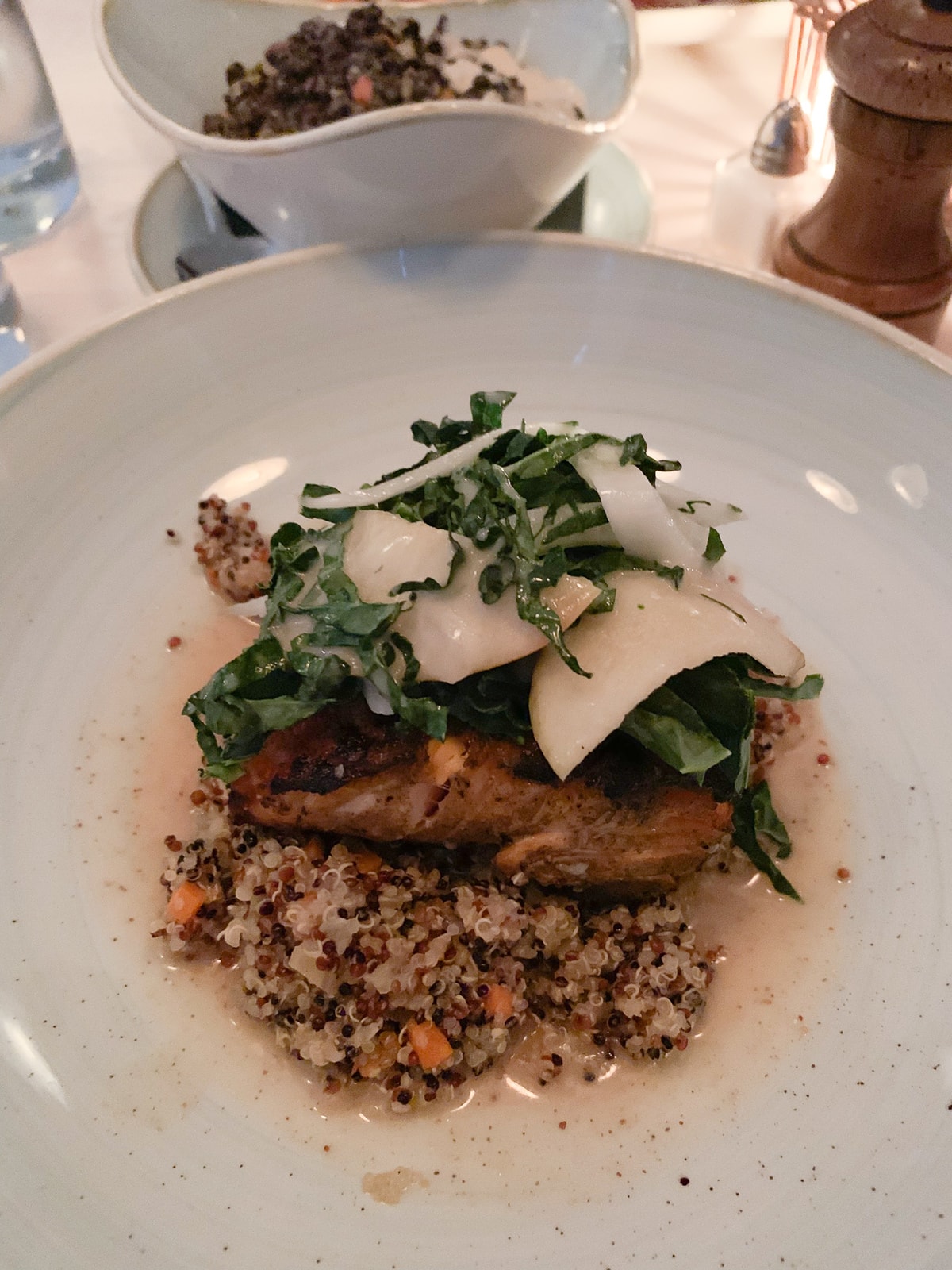 John's Drive-In: Though John's Drive-In serves hamburgers and other comfort food, we only stopped in here for some ice cream. It's a great place to grab a quick cone and then walk down to the beach.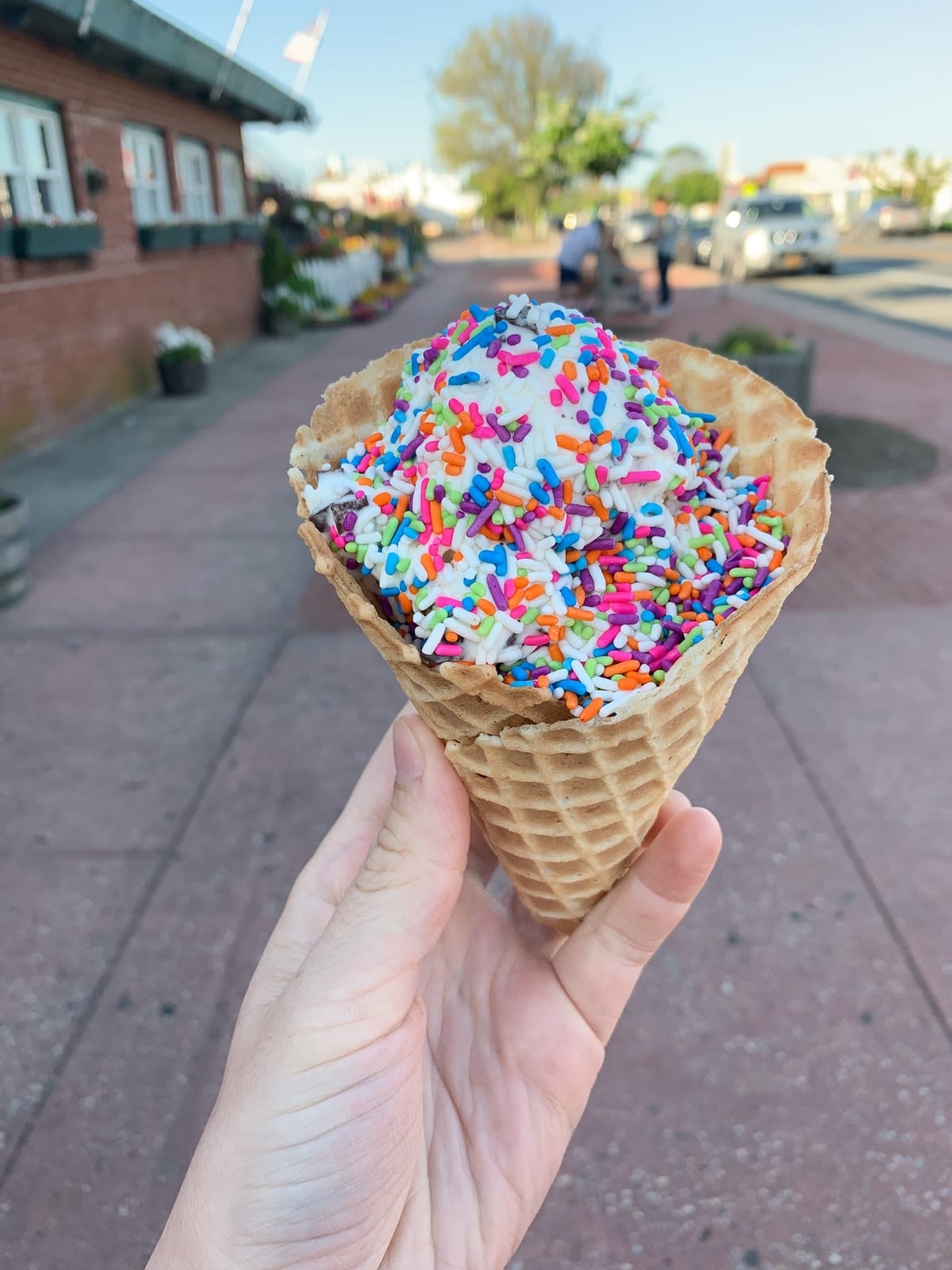 Given that we were only there for three days, we didn't manage to stop at all the restaurants we wanted. If we had more time, I would have liked to visit Gosman's and Salivar's. I guess we will just have to make a trip back!
What We Did in Montauk
We didn't get to check everything off our Montauk bucket list, but we still managed to do a lot while we were there. It also rained quite a bit our second day, which made things a bit tricky. Here's a glimpse at what we got up to:
Jet Skiing: I absolutely love jet skiing, and I hadn't done it in a couple years. We decided to rent a jet ski from Uihlien's Marina for an hour, and it was a blast. They take you out on a boat to a large open area of water and send you off with the jet ski. The waves made the experience so fun, yet a bit terrifying! The experience also toughened us up a bit because the water was so. freaking. cold.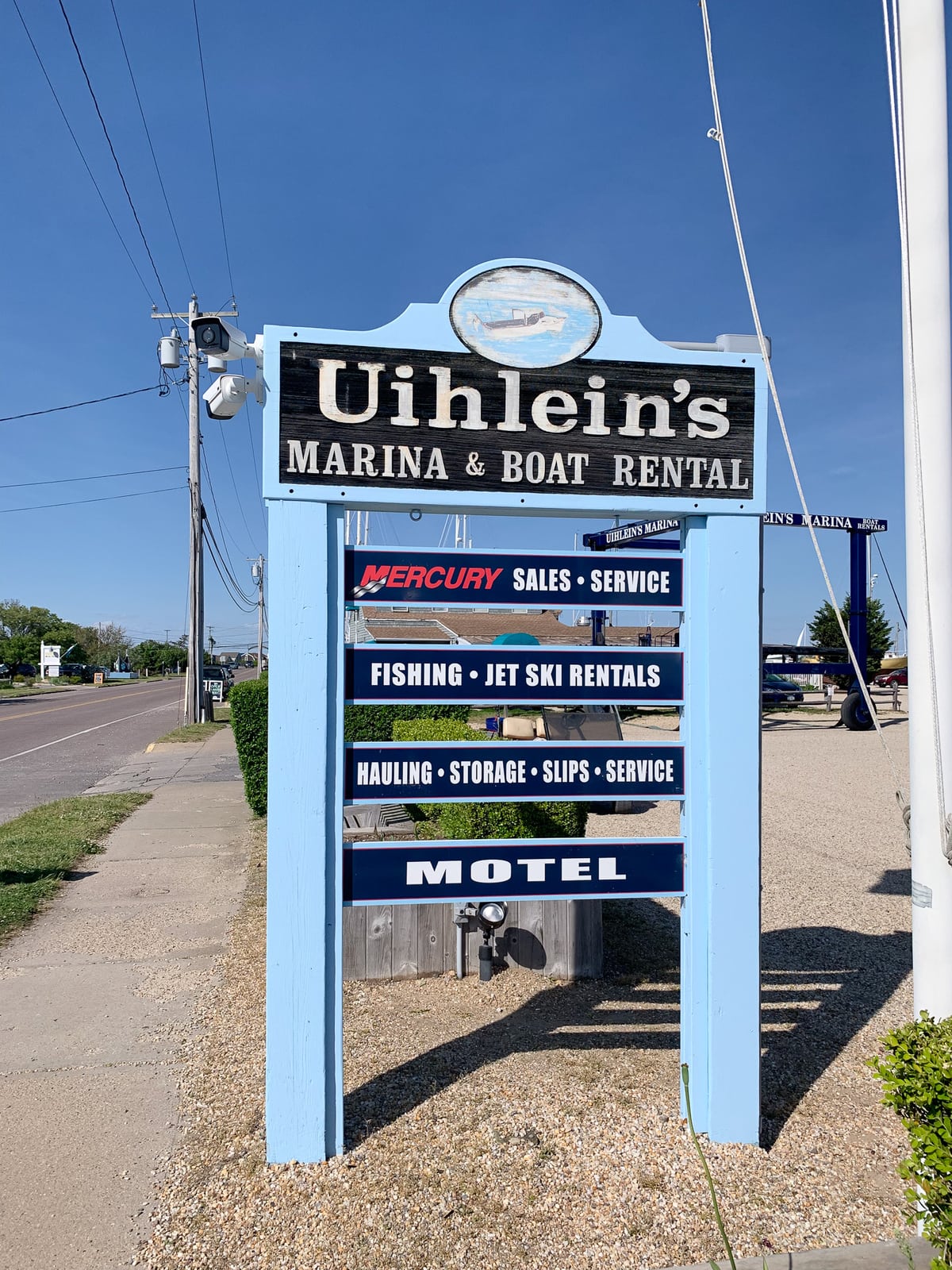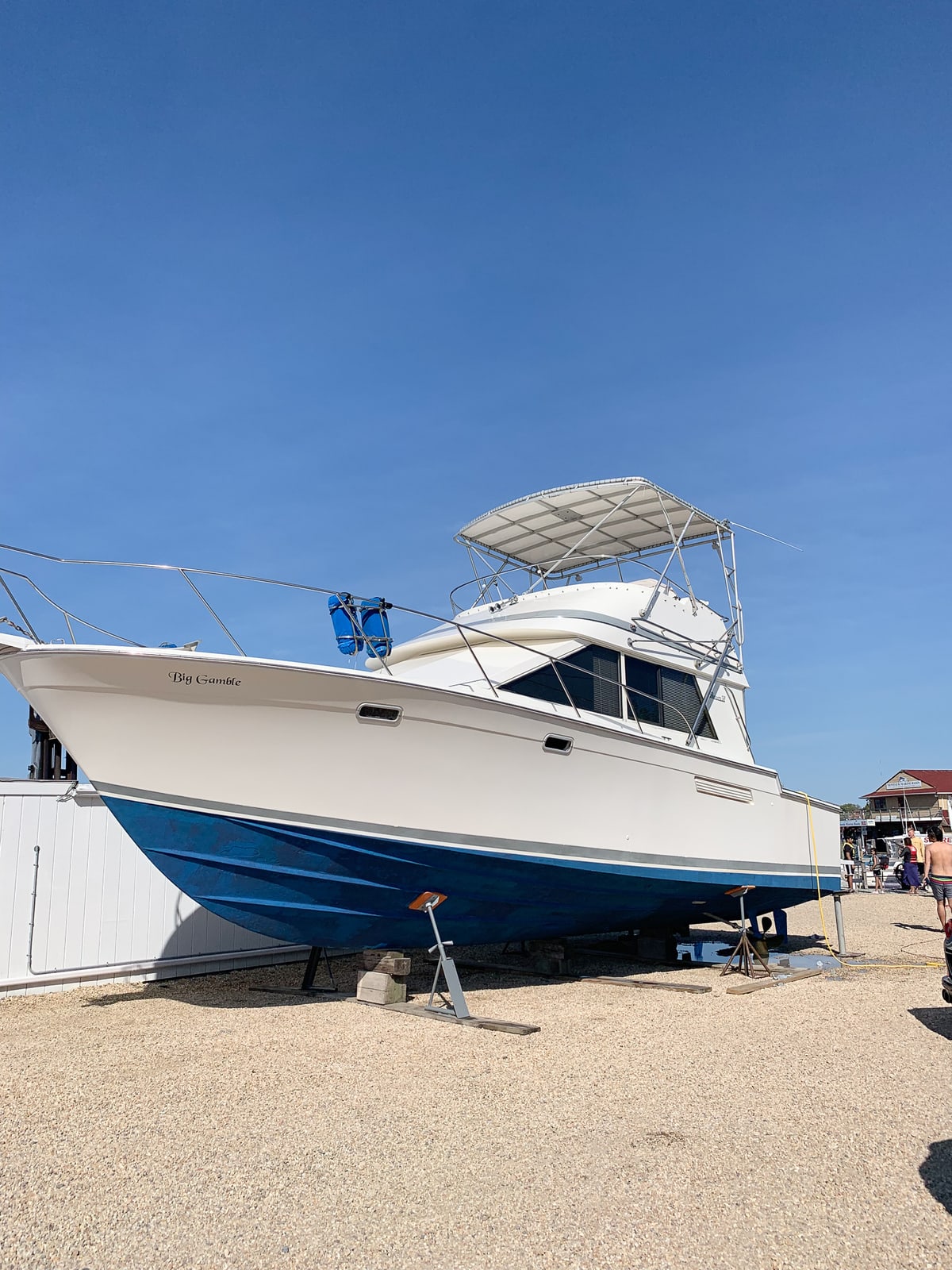 Montauk Lighthouse: Out of anything, this would be my number one recommendation for Montauk. To access the Montauk Lighthouse, you have to pay $8 for parking and then $12 for admission to the lighthouse. I didn't love how expensive it was, but I think it's worth it for the experience. You can visit the museum at the bottom of the lighthouse and then journey to the top. Afterward, I recommend walking down to the rocks around the lighthouse because you can stroll all the way around the tip of Montauk. It felt a bit surreal to sit on the rocks and wash the waves crash ashore.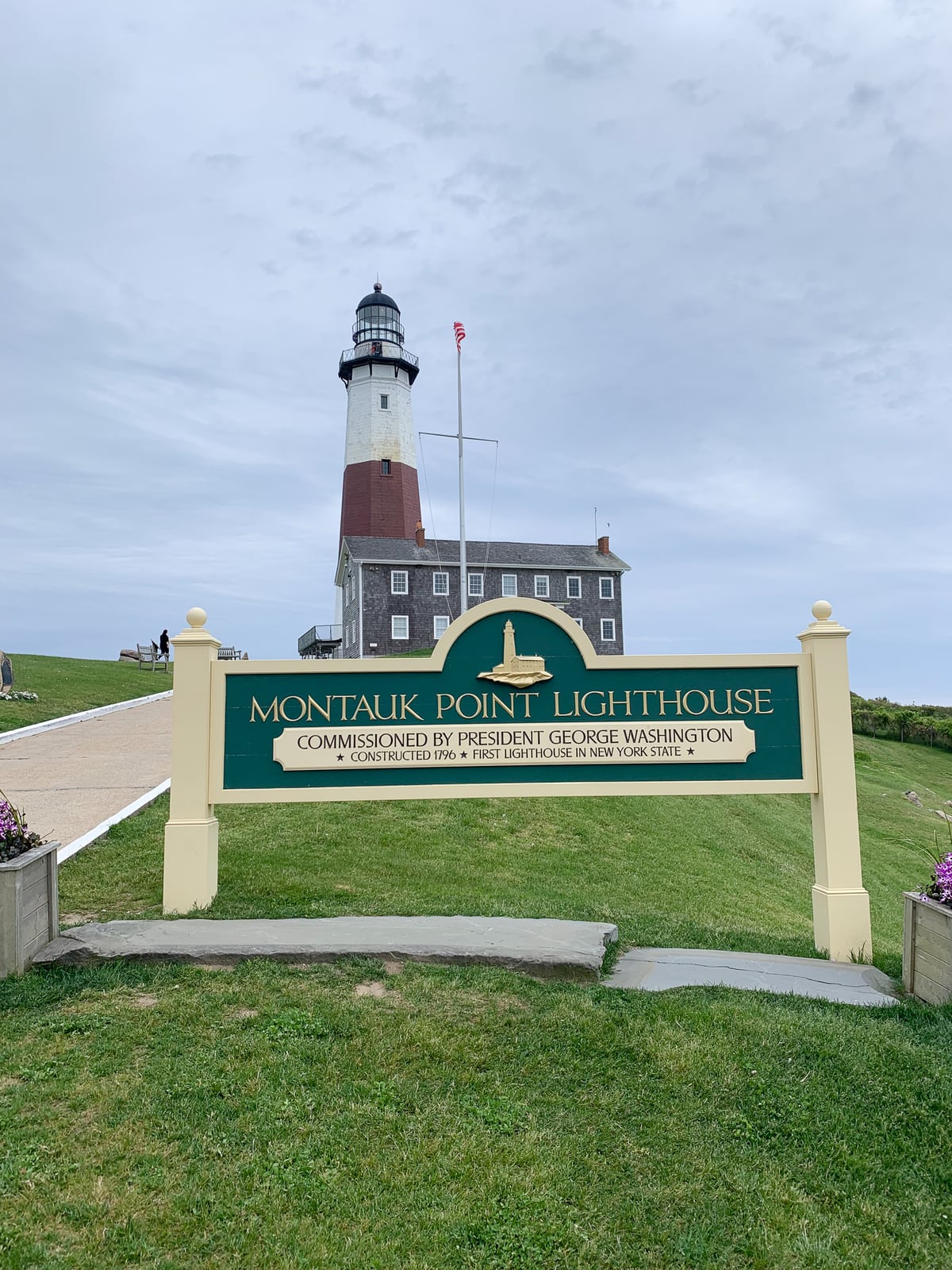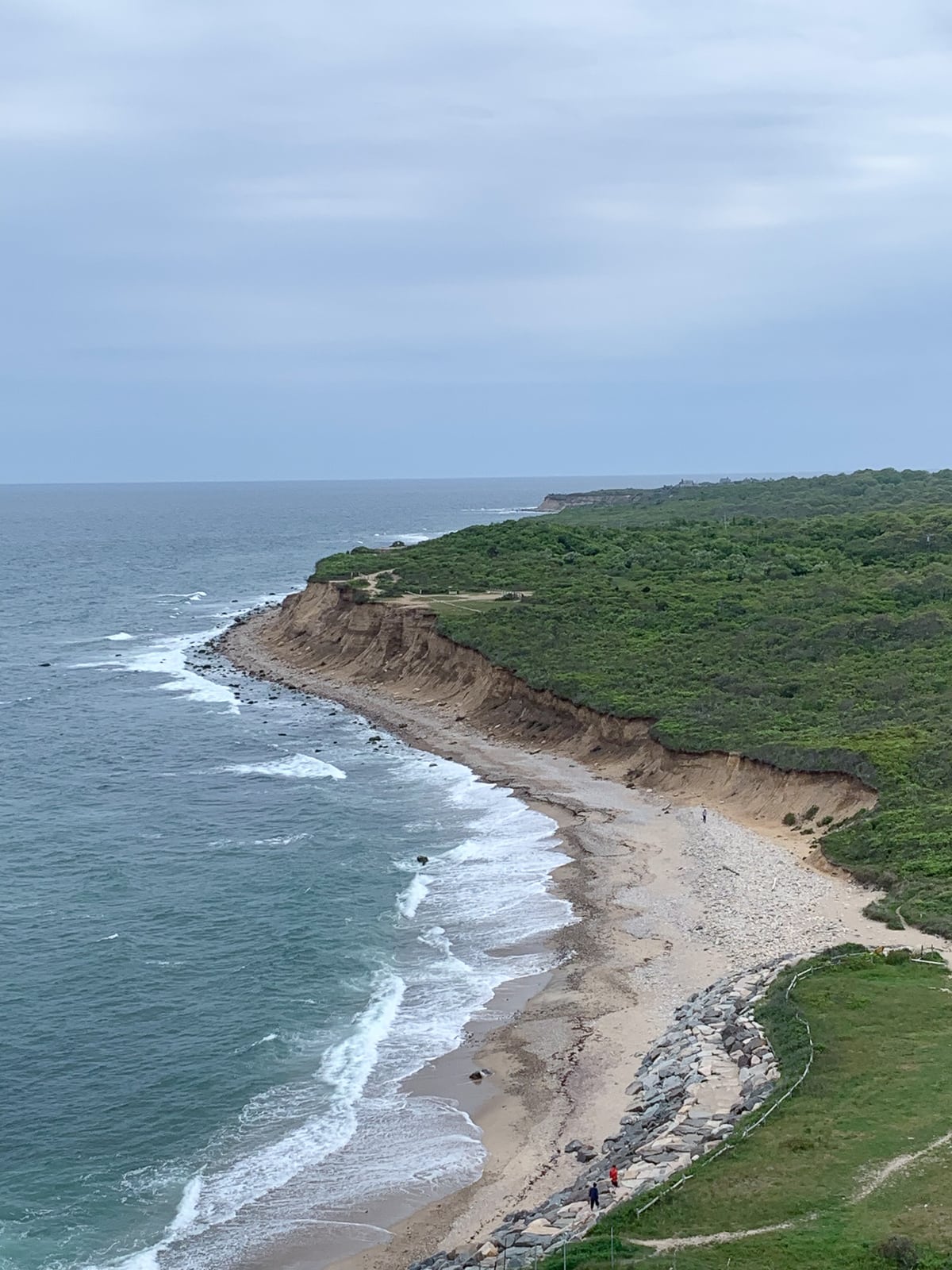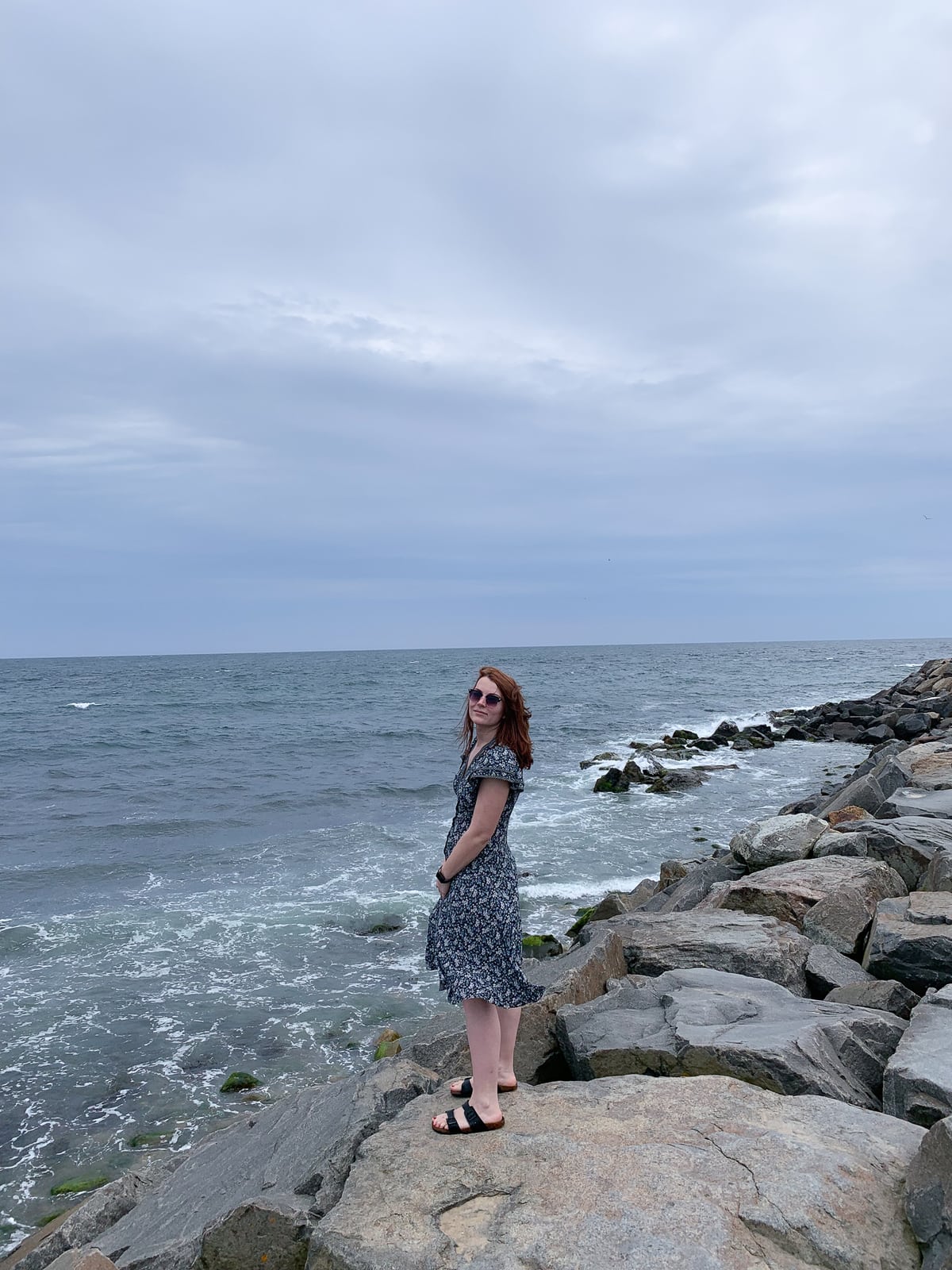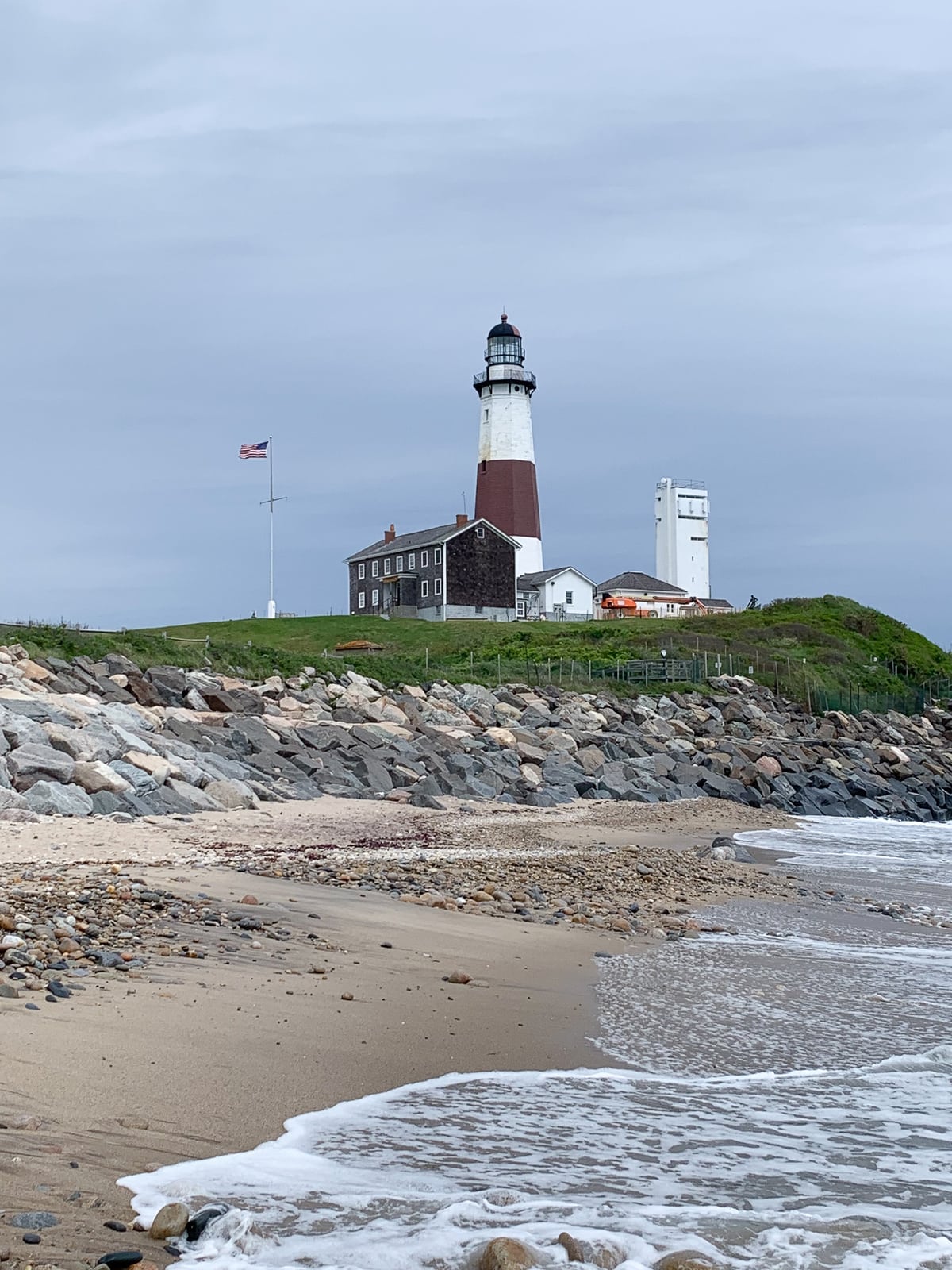 Shopping: In the afternoon one day, we drove to East Hampton to do a bit of shopping. The main road there has a large collection of stores, so you have lots of options! We bought a few things from J.Crew and Brandy Melville before heading back to Montauk.
What We Packed for Montauk
In our experience, the weather in Montauk is pretty different than what we are used to in New York City. It was almost June when we visited, but I definitely needed a light jacket most of the time!
If you are going towards the beginning of summer, I would recommend bringing extra layers. I mostly brought dresses, and I felt cold the majority of the time. It's probably different later in the summer, but the breeze from the ocean makes it feel cool (especially at night).
During our stay, we also had some intense thunderstorms. One night, the thunderstorm was so severe I was a little afraid that the ceiling was going to cave in. If you're driving to Montauk, I would recommend stashing an umbrella in the car just in case you need it. We were definitely glad that we had ours on hand.
Until Next Time, Montauk!
The trip went by way too fast, but I hope we make it back there one day! I would love to explore the Hamptons a bit more, and I would like to see Montauk during the height of the summer season.